New Director for Kew
UK
19 May 2006
New Director to start in October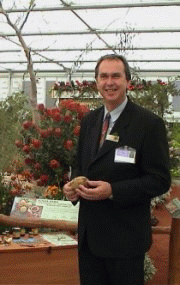 New Director for Kew is arriving from
Australia this autumn
Trustees of Kew are announcing the appointment of a new Director for Kew; Professor Stephen D. Hopper, currently Foundation Professor of Plant Conservation Biology at the University of Western Australia, and former Director of Kings Park and Botanic Garden, Perth.
Professor Hopper will take over from Professor Sir Peter Crane in October this year. Peter Crane will leave Kew in mid-September after seven years as Director.
Professor Hopper has an impressive reputation and broad experience in plant science and plant conservation. He is the author of more than 200 publications, including eight books.
He is a passionate conservation biologist and has been engaged in practical plant conservation for almost 30 years.
For seven years he was Director of King's Park and Botanic Garden in Perth, followed by five years as CEO of the Botanic Gardens & Parks Authority, an Australian Government body run by an independent Board.
Professor Hopper, who is married with three children, is already well-known to some of the staff at Kew, and participated in the 2001 Science Audit, which provided an introduction to the breadth of Kew's scientific work.
Lord Selborne, Chairman of Trustees at Kew, said, "We are fortunate to have found in Stephen Hopper an unusual combination of excellence in plant science research and conservation, coupled with in-depth experience of managing a large and complex visitor attraction. We look forward to working with Professor Hopper in the years ahead and especially the planning leading up to Kew's 250th Anniversary celebrations in 2009. Professor Hopper has a proven track record in attracting funding to the organisations for which he works, and has successfully managed stakeholder relationships through a period of change and development at Kings Park and Botanic Garden. This experience, together with his strong background in science and plant conservation, will be invaluable here at Kew.
He said, "I am delighted to accept the post at Kew. With its worldwide profile, important national and local presence, and rich diversity of botanical and mycological programmes, Kew is superbly placed to speak for, inspire and demonstrate best practice in plant conservation - the basis of life on earth, and one of the world's greatest challenges."
Professor Hopper holds a Doctor of Philosophy in Evolutionary Botany (1978) from the University of Western Australia. In 1990 he was the Senior Fulbright Scholar and Millar Visiting Professor of Botany at the University of California, Berkeley and the University of Georgia.
Professor Hopper's research experience includes: evolutionary, systematic and conservation studies on plants of Australia; evolution of Mediterranean-climate plants; pollination ecology, flora conservation, and conservation genetics of Australian flora; collaborative international programmes on granite outcrop floras; eight books and numerous papers; currently developing and testing new theory on the evolution and conservation of biodiversity on the world's oldest landscapes; various public positions, including membership of the Western Australian Premier's Science Council, which advises Government on science policy, innovation and communication.
Professor Hopper's management experience includes: Kings Park and Botanic Garden, which is a 400 hectare public reserve incorporating a botanic garden, situated within walking distance of Perth's city centre. It is Western Australia's most frequently used tourist and outdoor recreation venue.
Professor Hopper over 12 years led the delivery of improvements to programs and infrastructure at Kings Park and Botanic Garden to world-class standards.