Botanical Garden Leads the Way in Sustainable Design
NEW YORK, USA
2 May 2006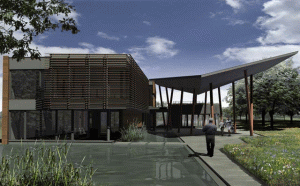 Beauty goes more than skin deep - a digital
impression of the new QBG Visitor/Administration
Building featuring a water-collecting roof and
cleansing biotope amongst other sustainability
features. Image credit: The Brooklyn Digital Foundry
Queens Botanical Garden has completed the first phase of an innovative $17.5 million sustainable building project. The master plan promotes conservation, education and environmentally friendly buildings, and is leading the way in sustainable botanic garden design.

A winner in NYC's 2004 Green Building Design Award Competition, the new 15,831 square-foot Visitor/Administration building will include a green roof, a rainwater collection system, a gray water system, a cleansing biotope, a constructed wetland, an exemplary degree of natural ventilation and daylighting, a geothermal heating exchange system, and photovoltaic roof panels.
Additionally, the landscapes will feature woodland, prairie, and aquatic plant communities native to the New York region.
"The Botanical Garden is proud to be going green," said Susan Lacerte, executive director, Queens Botanical Garden. "QBG has long been the place where people, plants, and cultures meet. Now we're taking the first step in becoming a worldwide model for sustainable design."

The two-storey, 15,800-square-foot structure also will feature a reception area, gallery spaces, meeting rooms, offices and a 147-seat auditorium.

Construction of the new 6,229 square-foot Horticulture/Maintenance building, that includes a rainwater collection system, was completed in February. When it rains, the water runs off surrounding surfaces into a "bioswale" where it evaporates or is absorbed by the soil and plants within 48 hours. The plants are specifically chosen for their ability to withstand both wet and dry conditions.
"It's the biggest capital investment that we've had in a long time," said Jennifer Ward Souder, Queens Botanical Garden's assistant director and director of capital projects. The new building is sited on what was a visitors' car park.

Souder said the structure was strategically placed so that it would not "eat up any green space" at the facility, which is in a densely populated neighborhood.
Ms. Souder explained that once the project is complete the Visitor/Administration Building will use 40% less energy from nonrenewable sources than a typical building of its size, and reducing CO2 equivalent to permanently removing 9 cars from the road.The project is also designed to achieve 100% stormwater management on site and boasts one of the first NYC composting toilets in a public building. The toilet uses almost no water, and together with other building features, will help reduce the building's water consumption by 30%.

The renovation project, which is being funded by the city, has been eyed by other botanical gardens as an example of how public gardens can use "green" principles in their landscapes and building designs, experts say.

"A number of botanical gardens have sustainable [environmental] practices, but it is not employed in its entirety," said David Yocca, a senior partner with the Illinois-based Conservation Design Forum.

Historically, botanical gardens have focused on plant collections and helping people understand local plants, he explained. However, these days, more public gardens want landscapes that educate the public about healthy plant environments.

Last year, the New York Botanical Garden in the Bronx installed the Nolen Greenhouses, a $24 million project that uses a solar roof and glass wall systems to capture the sun's heat to warm the eight buildings within the complex that is on the southwest corner of the facility, said garden spokesman George Shakespear.

This year, the Bronx public garden plans to install a new air-conditioning system for the LuEsther T. Mertz library building that will have a green, sustainable heat-pump system. The system will rely on five 1,000-foot wells that will be sunk around the building, which will store summer heat from the building and extract cold air from underground to maintain a temperature of 55 degrees year-round, Shakespear added.

Brooklyn Botanic Garden officials are also mulling plans to create a visitors' center that will incorporate green principles, said Leeann Lavin, a garden spokeswoman.

"We're in the conceptual design phase," Lavin said. "We don't have architectural plans, but we're bullish on creating green buildings."

Meanwhile, Souder is pleased that Queens Botanical Garden's upgrade includes a new water management system.

"Rainwater will be harvested and flow throughout the new building," she said, adding that the recycled water will help minimize the need for irrigation systems that use city water.

"We'll be able to conserve water," she said.
The plans have been designed to achieve the highest (platinum) Leadership in Energy and Environmental Design (LEED) rating. The LEED rating system is a nationally recognized standard for sustainability that guides every aspect of planning, design, construction, and operations.