Technology Boost for Chinese Farmers
CHINA
25 April 2006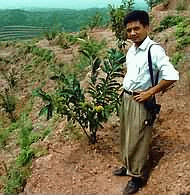 Farmer Yin with one of his chestnut
bushes grown by grafting short stems
onto a root stock, to produce a first
crop within a period of 18 months.
Image © Beifan.com
Millions of Chinese farmers are to gain access to new technologies and be taught how to use them under a US$8 million project launched last week (20 April).
The initiative is a collaboration between the United Nations Development Programme (UNDP) and China's Ministry of Science and Technology (MOST), and the China International Center For Economic and Technical Exchanges (CICETE) under the Ministry of Commerce.

Entitled "Alleviating Rural Poverty through Innovative Technologies Transfer," the four-year project is designed to link farmers with innovative, environmentally-friendly technologies in order to increase their income and promote sustainable rural development.

Vegetable production in China has traditionally been an activity of millions of smallholder growers working areas of fractions of a hectare. In recent decades, they have been using in their production practices pesticides that may leave undesirable residues on vegetables presented for sale. Through policy and regulatory changes, government agencies are moving to stem such practices, particularly since China's entry into the World Trade Organization.

For most traditional farmers the adoption of new techniques is not easy. Many of them have not gone past primary school, and it may be difficult for them to understand how the changes work. Also, new methods may require extra or higher cost inputs, which cash-strapped smallholder farmers cannot afford. On top of all this, most farmers, like most people, are fundamentally conservative; they do not like change.
Khalid Malik, UN Resident Coordinator and UNDP Resident Representative in China, says the project will "offer innovative and environmentally friendly technologies to Chinese farmers to increase their income and promote sustainable rural development".

"Integration, innovation and partnerships are the three key words I would use to characterize this project," said Malik. "The project is also very timely as it is closely connected to the Government's commitment to build the socialist new countryside by applying scientific development approaches."

The project will build on an existing MOST programme that sends 'technical task forces' (TTFs) to the countryside to help farmers adopt relevant technologies, such as better irrigation techniques and seed varieties.
China's deputy science minister, Liu Yanhua, said that as well as introducing new technologies, farmers will be given advice on which technologies are most suitable for their needs.
Liu Yanhua noted that UNDP was the first international development organization to work with MOST to develop and enhance the TTFs. He added that since 2002, a total of 598 counties in 24 provinces are piloting the new market-oriented mechanism by providing farmers with new technologies and skills for better livelihoods.

"Through this new initiative with UNDP, we hope to bring TTFs to a higher level by emphasizing balance between economic growth, social development and environmental protection to promote sustainable development in rural China," said Liu.
So far, the ministry has sent more than 20,000 technicians to rural communities in about 400 of China's 2,500 counties.
The UNDP is investing US$1 million in the project and MOST is providing US$3 million, with the remainder coming from local governments and smaller organisations. With a total fund of US$8 million, the Technical Task Forces (TTFs) will not only introduce better technologies to farmers but also innovative organizational methods for farmers to receive tailor-made technological services to increase their income.

Malik said he hoped that the UNDP's participation would and help spread the success of the project to other developing countries.

Despite China's rapid economic growth, the gap between urban and rural incomes has widened in recent years. In 2005, urban workers earned on average 10,493 yuan (US$1,300) — more than three times the rural average.