Unesco Approves Qur'anic Botanical Garden
DOHA
3 April 2006
A proposal to set up a botanical garden based on the scientific and aesthetic concepts contained in the Holy Qur'an has been approved by the Unesco headquarters.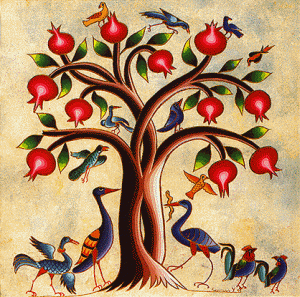 Pomegranates are a good candidate for a Qur'anic Garden


The proposal is currently being produced and will then be distributed by Unesco via the National Commissions in Qatar, Bahrain, Kuwait, Oman, Saudi Arabia, and the United Arab Emirates, said Dr Benno Boer, ecological sciences adviser for Unesco - Arab region.

The proposal will be distributed to any party that would like to establish a Qur'anic Botanical Garden, he said.

The expert team that authored the proposal consists of architect Guido Licciardi, vegetation ecologists Dr Shaukhat Ali Chaudhary and Dr Benno Boer, horticulturists Dr Rashid Idriss, Islamic expert and botanist Dr Mohamed al-Farooqi, and landscape architect Grant Donald.

Dr Farooqi is the author of The Plants of the Qur'an, and the Medicinal Plants in the Tradition of Prophet Muhammad.

According to these books, the Holy Qur'an mentions a number of plants, including date palms, figs, grapes and pomegranates.

The garden features will be based on the verses (more than 150) that mention the Gardens of Paradise (Jannat al-Firdaws) in the Holy Qur'an.

Over the centuries, these meaningful verses have inspired a good number of Islamic gardens, embodying a physical recall of heaven on earth, and have influenced some of the most beautiful landscape architectures all over the world.

The Qur'anic verses describe the basic role of water and shade, as well as plants, walls, gates and pavilions.

The proposed project would help achieve important objectives in the fields of environmental conservation, scientific research, education and recreation, the Unesco said.

A living display of plants mentioned in the Holy Qur'an, arranged as a traditional quadripartite garden, will be extremely useful to carry out appropriate training programmes in the field of environmental conservation, as well as to spread the knowledge on the Holy Book, the Unesco said.

Preserving biodiversity is one of the important fields of Unesco's activities and it is well-known that biodiversity is an important natural resource to ensure the survival of humankind as well as of all biological organisms.

The Qur'an Botanical Garden will also be a meaningful opportunity in the field of scientific research, in order to study the sophisticated link between biodiversity and ecosystems, the adviser said.

The cost of preparing the proposal will be borne by Unesco, the Doha office said. However, the gardens will have to be set up by those interested at their own cost.

There could be three kinds of gardens, depending on size.

A small one, the size of a normal room, could be established for a "few thousands of riyals". Such a garden may be attached to a mosque, for instance, he said.

On the other hand, developing a full-fledged Qur'anic garden could cost "millions of riyals", Dr Boer said. A medium garden could cost anything in between the two sizes.