New $23 Million Laboratory for Plant Genomics
NEW YORK, USA
14 March 2006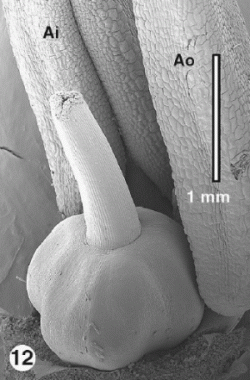 Dichorisandra thyrsiflora comes under
the electron microscope at NYBG
The New York Botanical Garden is nearing completion of a $23 million project to build a plant genomice research centre. It's first new laboratory in 50 years will triple the Garden's current research capabilities and provide much-needed quarters to educate and train the next generation of plant scientists.

The Pfizer Plant Research Laboratory, opening on May 16, 2006, will further the Botanical Garden's urgent mission to discover, decipher, document, and defend Earth's vast biodiversity.

The state-of-the-art laboratory will house the Lewis B. and Dorothy Cullman Program for Molecular Systematics Studies and the Garden's Genomics Program, including the New York Plant Genomics Consortium. It will also serve as a home base for the Botanical Garden's large Graduate Studies Program and provide meeting rooms for visiting scholars.

Gregory Long, President of The New York Botanical Garden, observes, "The Pfizer Plant Research Laboratory will give the Botanical Garden the most powerful modern tools to investigate plants and fungi. It will provide scientists and graduate students with a laboratory research facility equal in stature to the Garden's recently opened William and Lynda Steere Herbarium, LuEsther T. Mertz Library, and Nolen Greenhouses for Living Collections."

The light-filled, two-story, 28,000-square-foot laboratory will provide highly advanced scientific research facilities, including robotic workstations and a high-throughput DNA sequencer. It will form a center for collaborative research in molecular systematics and plant genomics, serving scientists and graduate students not just from the Botanical Garden, but also from the region and indeed the whole world.
The laboratory, as well as its research program, "is a bold initiative, a departure for American botanical gardens," said Michael J. Donoghue, a Yale University professor of ecology and evolutionary biology, who is the director of Yale's Peabody Museum of Natural History.
Dr. Donoghue said the laboratory's research would add to scientific knowledge about conservation, biodiversity, climate change and the interaction of plants and humans. Thanks to its focus on plant genomics, the study of how genes function in plant development, the laboratory will enable the botanical garden "to carve out a very interesting world niche," he said.
The New York Botanical Garden will mark the grand opening of its new laboratory with a multi-day program, "In Celebration of Plant Science", expected to be attended by Nobel laureate James D. Watson, co-discoverer of the structure of DNA, Edward O. Wilson, the biologist and Pulitzer Prize-winning author, and Oliver W. Sacks, the author and neurologist.
The celebration begins on Tuesday, May 16, 2006 with the dedication and ribbon-cutting for the Pfizer Laboratory and continues through the weekend. It will include behind-the-scenes tours of the new laboratory and other key parts of the Botanical Garden's science campus, a scientific symposium, exhibitions on genomics, family and children's programming, lectures, demonstrations, and other events.