BGCI Joins Global Trees Campaign
GLOBAL
10 March 2006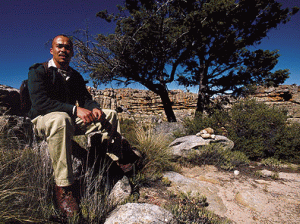 The Clanwilliam cedar (Widdringtonia
cedarbergensis) of South Africa is one of the
endangered trees in the campaign.
In a major international plant conservation initiative, BGCI is joining forces with Fauna & Flora International (FFI) in support of the Global Trees Campaign. The new partnership will ensure that the strengths of BGCI in bringing together the botanical community and supporting their efforts for plant conservation are fully utilised for the benefit of tree conservation. In particular, the skills and experience of the BGCI network in botanical research, education and awareness and ex-situ plant conservation will complement FFI's strengths in in-situ conservation of species and habitats and the improvement of livelihoods.

The Global Trees Campaign was established seven years ago to save the most threatened trees and the habitats where they grow. Input from individual botanic gardens in countries such as Brazil, Mexico, Russia, South Africa, UK and the US has already been important in developing protocols for species conservation and educating the public on aspects of tree conservation and sustainable use. BGCI will continue to support these activities and will also take the lead on IUCN red listing for tree species, providing the Secretariat for the IUCN/SSC Global Tree Specialist Group which coordinates this work. The tree red listing work will help to enhance conservation information in BGCI's PlantSearch database and support conservation planning worldwide.

Dr Georgina Magin, Global Trees Campaign Coordinator for FFI, said: "We are delighted that BGCI is becoming a core partner in the Global Trees Campaign. The strengths of BGCI will be a huge asset to the Campaign and its goal of conserving threatened trees, and we look forward to working closely with the BGCI network for the benefit of tree conservation around the world."
Find out more about Widdringtonia cedarbergensis in cultivation on the BGCI Plant Search