Director Sought For Top Botanic Garden
UK
23 November 2005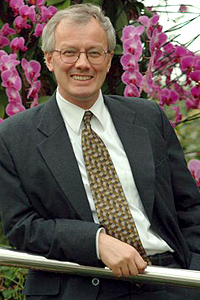 Sir Peter Crane, the director of the Royal Botanic Gardens, Kew, in England, has announced that he will resign his position there to accept a faculty appointment in the University of Chicago's Department of the Geophysical Sciences and the College effective July 1, 2006.
The Royal Botanic Gardens, Kew announced today that Director, Professor Sir Peter Crane FRS will step down in summer 2006 after seven years in the job. He will return to the USA to take up a new position at the University of Chicago in order to devote more time to research, teaching and writing in plant science, evolutionary biology and conservation. The search for his successor in one of the world?s most prestigious botanical-horticultural posts will begin immediately.
Crane's appointment as the Marion and John Sullivan University Professor will bolster an already first-rank faculty in evolutionary paleobiology, said David Rowley, Professor and Chairman of the Geophysical Sciences Department.
Crane said leaving Kew was a difficult decision, but he is delighted to be returning to the city where he built a career and where family and friends reside.
"The University of Chicago has the most influential group of evolutionary biologists and paleontologists anywhere in the world." Crane said. "I look forward to working with them and my other colleagues at the University and in the community."
Declared a UNESCO World Heritage Site in 2003, Kew Gardens holds the world's largest collection of living plants, with more than seven million specimens. Kew employs more than 650 scientists and other staff, and its Millennium Seed Bank project has developed partners in 17 nations to secure the long-term conservation of more than 20,000 plant species.
Lord Selborne, Chairman of Trustees, said Peter has been an inspiration to all who work for Kew. The Trustees wish to put on record their appreciation for the leadership that Peter has given since 1999. In his time as Director, Kew's contribution to plant science has been of global importance and its reputation as a centre of excellence has never been higher. We send him, Elinor and his family our very best wishes for their future in Chicago.
The Royal Botanic Gardens, Kew receives 60% of its annual funding from the Department for Environment, Food and Rural Affairs. Speaking in London today Lord Bach, minister with responsibility for the Royal Botanic Gardens, Kew, said: "The announcement of Sir Peter Crane's departure next year as Director of the Royal Botanic Gardens, Kew gives me the opportunity to record his considerable achievements in the last 6 years."
"Sir Peter has encouraged greater access - for education, science and pleasure - to the Royal Botanic Gardens sites at Kew and Wakehurst Place. The Government places great emphasis on this aspect of his achievements which is of benefit to over one-and-a-half million visitors annually."
Peter Crane said "Kew has been at the centre of my life for the past seven years. It is very hard to let go. However, world-leading organisations like Kew need a regular infusion of new ideas and energy to stay at the top of their game. This is also the right time for me to return to Chicago. "
The period of Sir Peter's tenure at Kew has seen momentous development and change. In 2003 the Gardens were inscribed on the UNESCO list of World Heritage Sites. Its scientific and conservation programmes have been strengthened at home and abroad. The Millennium Seed Bank project is now working with partners from 17 countries from its base at Kew's country estate, Wakehurst Place, to secure long-term conservation of more than 20,000 plant species. Vast, newly created, electronic databases are dispersing Kew's knowledge freely throughout the scientific world, and the staff is active in over 40 overseas countries, working with local communities and specialists on conservation and biodiversity projects. Meanwhile, over the past six years, Kew and Wakehurst Place have reached out more effectively to family audiences. Attendance at Kew has increased from 862,000 in 1999/00 to a projected 1.35 million in 2005/06. At Wakehurst attendance has increased from 275,000 in 1999/00 to a projected 430,000 in 2005/06.
In addition to overseeing Kew's operations, Crane has continued his own research, integrating studies of living and fossil plants to understand the large-scale patterns and processes of evolution. He is the author of more than 100 scientific publications, including several books on plant evolution.
Sir Peter, the 12th Director of the Royal Botanic Gardens, Kew, is married to Elinor Hamer Crane from Chicago who he met while working in the US. She is a graduate of the University of Illinois at Chicago. They have two children, Sam (10) and Emily (15), who attend schools in south-west London.