Renowned Botanic Garden Patron Dies
NEW YORK, USA
28 October 2005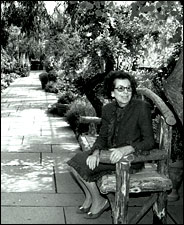 Enid A. Haupt, who devoted much of her considerable fortune to creating public gardens and preserving horticultural institutions, died on Tuesday at her home in Greenwich, Conn. She was 99.

The woman who stated 'nature is my religion' was inspired by horticulture at an early age when she came upon a pot of huge purple orchids displayed in a friend's house in Milwaukee when she was a child. At her marriage, a friend presented her with 13 tubs of cymbidiums from England.

A principal beneficiary of this passion was the New York Botanical Garden in the Bronx. Over the years it received more than $34 million and will also receive a substantial gift from her estate. A major portion of her gift went to the resurrection of the garden's glass-domed Victorian conservatory, which by the 1970's had become a sodden and broken-paned ruin. The conservatory now bears her name.

"People are refreshed, their minds are cleared, when they take a walk in a garden," she once said, explaining her interest in making public spaces beautiful. "It's a marvelous escape from reality."

Other beneficiaries included the Enid A. Haupt Garden at the Smithsonian Institution in Washington, four acres of Victorian formal gardens, a section of which is entered through nine-foot-high moon gates, and another area with North African accents. A $1.5 million Haupt endowment maintains the gardens at the Cloisters in Upper Manhattan.

She also contributed $1 million to buy River Farm, a former home of George Washington in Alexandria, Va., for use as the national headquarters of the American Horticultural Society (with a stipulation that the 27 acres be open to the public). Another $1 million went to help the restoration of Bryant Park, adjoining the New York Public Library, once a haven for drug dealers and now a Midtown oasis. The library itself received more than $1.5 million, including $300,000 for a 1989 exhibition of flowers.

Mrs. Haupt's other important philanthropies included a multimillion-dollar gift to the Wildlife Conservation Society, some of which went to the restoration of Bronx Zoo Jungle World and some to an endowment fund for the project. She underwrote the Haupt Fountains on the Ellipse in Washington, between the White House and the Washington Monument. Other sizable contributions went to the restoration of the glass conservatory in the Cooper-Hewitt Museum and to the Enid A. Haupt Library Annex of the Horticultural Society of New York. There were also gifts to the Monet garden in Giverny, France, and the National Wildflower Research Center in Austin, Tex. A gift of Édouard Vuillard's "Place Vintimille" to the National Gallery of Art in Washington in 1998 was valued at $3.5 million.

A dreamer who was able to see many of her dreams take shape, she was also a realist, aware that even the best-laid plans require follow-up, and she devoted considerable time to the projects in which she took a particular interest. She was once asked how often the projects she supported ended up as she had visualized them. "When they think I'll see it," she said.

Once committed to a project, she never wavered. When she wanted additional funds, she disposed of cherished possessions, seemingly without a qualm. Nineteen pieces from her collection of jewels brought more than $2 million at auction in the early 1970's. The money went immediately to her horticultural interests. In 1983, when she wanted $25 million to provide an ambulatory care center at Memorial Sloan-Kettering Cancer Center, she sold 15 of her French Impressionist paintings, including works by Gauguin, Cézanne, Renoir and van Gogh, to her brother, Walter H. Annenberg, the publisher, philanthropist and former ambassador to Britain. He died in 2002.

Mrs. Haupt was the fourth, and last surviving, of eight children of Sadie and Moses L. Annenberg, the publisher who founded Triangle Publications, whose holdings eventually included The Philadelphia Inquirer, The Philadelphia Daily News, The Daily Racing Form, TV Guide and radio and television stations. She was one of seven sisters, all of whom devoted much of their inherited wealth to public institutions.

Mrs. Haupt was married in 1936 to Ira Haupt, the founder and senior partner in a Wall Street securities concern, a marriage that lasted until Mr. Haupt's death in 1963. An earlier marriage to Norman Bensinger of Chicago, whom she had met while horseback riding, ended in divorce.

An intensely private woman - Mrs. Haupt often wandered through the New York Botanical Garden when she felt there was little chance that she would be recognized - she became less interested in the trappings of wealth as she grew older.

The gift that gave her the most satisfaction, she said, was one of her earliest and least heralded: the Enid A. Haupt Glass Garden, a playground for children who are patients at the Rusk Institute of Rehabilitation Medicine at New York University Medical Center. In 1959, she enveloped the playground, which was almost immediately nicknamed the Garden of Enid, in a greenhouse with soft music and made it a serene wheelchair-accessible haven for patients of every age and for staff members and visitors. Almost $1 million was donated for an endowment to maintain it.