Honolulu Names Award-Winner
HAWAII
21 October 2005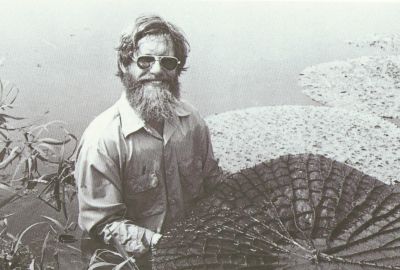 Sir Ghillean Prance, noted rain forest explorer and acclaimed botanist, will receive the Robert Allerton Award for Excellence in Tropical Botany or Horticulture at an event in Washington, DC on Monday, October 24. The award is an honor bestowed biennially by the National Tropical Botanical Garden (NTBG), which is headquartered in Hawaii.
Sir Ghillean has had a long, illustrious career and is widely known for his studies of the ethnobotany, ecology and systematics of tropical plants. He started as a Research Assistant in the early 1960s at The New York Botanical Garden, became the first director of NYBG's Institute for Economic Botany, and later its Senior Vice President of Science before assuming directorship of the Royal Botanic Gardens in Kew, England.
One of his many accomplishments while at Kew was spearheading the creation of the Millennium Seed Bank Project.
Since his retirement from there in 1999, Sir Ghillean has served as the Director of Science of the Eden Project in Cornwall. During 2001, he occupied the McBryde Chair at the National Tropical Botanical Garden, where he collaborated in a botanical and ethnobotanical survey of three islands in American Samoa, and taught graduate-level tropical ethnobotany classes.
While at NTBG, he collaborated with NTBG scientists on a comprehensive botanical and ethnobotanical survey of the National Park lands on three islands in American Samoa and participated as an instructor in an NTBG course in tropical ethnobotany for graduate students. He has also served at the same time in an advisory capacity to a number of organizations and agencies, including his appointment as Chairman of the Tropical Rainforest Task Force Species Survival Commission of the World Conservation Union (IUCN).
Prance has been interested consistently in the patterns of plant diversity in the New World tropics, where biological diversity is one of the greatest and where it is disappearing rapidly. He has spent a lifetime collecting plants in the tropical rain forests of Amazonia, and devoted much attention to the relationship between plants and humans. To that extent, he lived with at least 16 Indian tribes in the Amazon.
Promoting the understanding and responsible management of the vital relationship between plants, people, and resources that can lead to a sustainable future is of utmost importance to Prance. "We have not yet identified all the plants on Earth," he says, "and we're losing them, I'm afraid, faster than we can catalog them. We are greatly reducing the opportunity for our children and grandchildren to benefit from the amazing properties that plants provide for us, from developing renewable building materials to repairing devastated soils to controlling emerging viruses."
Chipper Wichman, Chief Executive Officer and Director of the National Tropical Botanical Garden, lauded Prance's outstanding contributions to science and went on to say that his sharp scientific mind, vision, leadership skills, and the wonderful way he relates to people is a rare combination. This has contributed to his success and makes him one of the most influential individuals in the botanical world. He has had a profound effect on two of our world's major botanical institutions, NYBG and Kew. The importance of what he has done during his lifetime will last far into the future. Upon hearing that he had been named to receive the award, Prance responded, "I feel deeply honored to be receiving this prestigious award from the National Tropical Botanical Garden, an institution whose work I greatly admire. They are playing a major role in the conservation of plants of the Pacific region and I greatly enjoy my association with them."
The National Tropical Botanical Garden is a not-for-profit institution dedicated to saving and studying the world's tropical plants and to sharing what is learned. NTBG has over 1,800 acres, in gardens and preserves in Hawaii and Florida, which serve as havens for endangered species and as living laboratories and classrooms.