Botanic Garden Promotes Healthy Eating in New Zealand
NEW ZEALAND
17 December 2004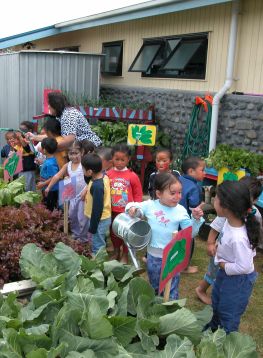 For the last three years, the Auckland Botanic Garden in New Zealand has been reaching beyond the garden fence in a campaign to promote healthier eating amongst the Pacific Island Community, Auckland's largest ethnic group. This community has one of the country's highest rates for diabetes and an epidemic of obesity. Working in partnership with the Auckland Regional Public Health Service (ARPHS) Pacific Island nutrition team, the Garden staff have been teaching early childhood teachers how to grow healthy and nutritious food.
The Garden is working with teachers from Pacific Island Early Childhood Development Centres, including teachers from Cook Island, Niuean, Samoan, Tongan and Maori ethnic groups. Following training by the botanic garden staff, the teachers and children have established sustainable food gardens at the Centres and the consumption of fruits and vegetables is promoted through a "five-plus a day" campaign. As well as fruits and vegetables, the teachers are also encouraged to cultivate traditional Polynesian plants, which has proved to be an effective way of connecting people with their culture and heritage.
In early December, a contest amongst the food gardens was held and the joint first prize was awarded to Akoteu Tuingapapai and Fakatouato Language Schools both from the Tongan community. This food gardening project has now become very competitive and a source of great fun amongst the various ethnic groups.
As well as producing healthy food, the gardens are extremely useful in the teaching of various curriculum-based disciplines, such as literacy, numeracy and sciences. Parents and grandparents who still remember their island gardening skills have also become interested in the project. The gardens provide the ideal environment for indigenous knowledge and stories about traditional plants to be passed on, from one generation to the next.
Information provided by Steve Benham, Botanical Records / Conservation Officer, Auckland Regional Botanic Garden.