Buenos Aires Botanic Garden to be Given a New Lease of Life.
2 December 2004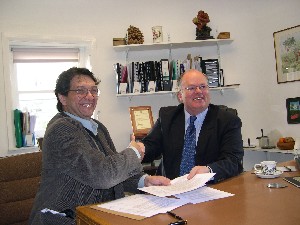 The historic Jardín Botánico 'Carlos Thays' will be restored to its former glory under plans recently discussed between the Government of the City of Buenos Aires and BGCI.
The garden was built on what was then the edge of Buenos Aires over 100 years ago, but today finds itself close to the centre of the city facing very different challenges. As with other cities around the world, Buenos Aires has to contend with the environmental challenges posed by noise and air pollution from vehicles, litter and waste management and an increasing separation of people from nature and rural areas.
Jardín Botánico 'Carlos Thays' still maintains a mature collection of trees and shrubs in a layout which has changed little since its creation. This is further enhanced by a number of interesting cast iron glasshouses and a historic building in the centre of the garden. Plans for the restoration of the central building and the basic infrastructure of the garden are already underway.
Marcelo Vensentini, the Environment Subsecretary for Buenos Aires, recently visited BGCI in London to develop the plan and to sign the MOU. Whilst in London, Marcelo Vensentini took the opportunity to visit several gardens in the area to see different approaches to botanic garden management.
The commitment of the City's authorities to the redevelopment of the garden has been indicated by both its commitment to use the International Agenda for Botanic Gardens as a guide for the process and by the signing of a Memorandum of Understanding with BGCI in November 2004.
The Memorandum of Understanding will provide a framework for BGCI and the City of Buenos Aires to discuss the development of the strategic plan and its component projects and activities.