Steve Hopper Leaves Kings Park, Australia
AUSTRALIA
29 November 2004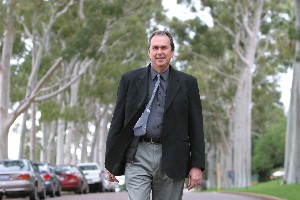 Dr. Steve Hopper leaves Australia's Kings Park and Botanic Garden after 12 years as Director/CEO to take on a new role as Foundation Professor of Plant Conservation Biology at the University of Western Australia.
The article below is reproduced from the Friends of Kings Park with permission:
Dr Steve Hopper: 12 Years in Review

In the 2002/03 Annual Report for the Botanic Gardens and Parks Authority, Dr Steve Hopper reviewed his 10 years in the position as Chief Executive Officer. In writing about Steve's achievements, I have borrowed heavily from that review, and added some extra information to cover the 12 years that Steve spent with firstly the Kings Park Board, and then with the Botanic Gardens and Parks Authority.
Steve was one for setting a vision. He was always challenging staff and volunteers to think outside the box; not to be satisfied with what appeared to be obvious and to look for other ways of thinking about an issue or achieving the outcome.
Steve was instrumental in deciding on the Authority's vision to:
Create and provide world-recognised botanic gardens and parks and to inspire the conservation of biodiversity.
Steve lived this vision and inspired all those associated with Kings Park and Botanic Garden to do the same. Steve's mission was about delivering excellence in all his activities, and those who participated with him in delivering the many outcomes of the Authority will attest that he lived this mission.
He was not just content with dealing with the here and now, he was always interested in what was just around the corner (or just over the next granite outcrop). He took the long view, and understood that stewardship of Kings Park and Botanic Garden was about leaving it in better condition than we found it, and this often involves making hard decisions for which the various benefits might not be seen for several years. Examples of this approach include the restoration of the scarp and the removal of woody weeds from the bushland.
The last major injection of state government funding for Kings Park came along in the 1960's with the establishment of the Botanic Garden. Funding was tight for many years following this, and it wasn't until the mid 1990s that significant new capital works funding was provided for urgent and necessary improvements. In many ways, the period of Steve Hopper's tenure might be termed the Golden Years. With an agreed vision, and the support of staff, volunteers and successive Boards, the government provided over $20 million from 1995 - 2004, and with additional funding from partners such as Lotterywest, Western Power and WMC Resources Ltd, to deliver major improvements and new facilities. It is important that we don't see another 30 or 40 years pass before a new round of major capital funding is provided to Kings Park and Botanic Garden by government!
Steve would be the first to admit that the range of activities delivered in his time at Kings Park and Botanic Garden was a result of teamwork. Steve managed and led that team which delivered the following projects:
Lotteries Family Area at Hale Oval 1997
Fraser Avenue Tree Lights 1998
State War Memorial landscape refurbishment 1998
DNA sequencer for genetics research 1998
Mt Eliza Scarp safety fence 1998
Water Garden refurbishment including the Centenary of Women's Suffrage Memorial 1999
Flame of Remembrance 2000
Automatic reticulated irrigation project 2000
Fire Fighter's Memorial Grove 2000
Mt Eliza Scarp restoration research 2001
New signage project Kings Park and Bold Park 2001
Restaurant precinct landscaping project 2001
Western Power Parkland 2002
Botanic Garden entry project 2002
Lotterywest Federation Walkway 2003
Bali Memorial 2003
Kings Park Bushland restoration Stage 1 1996-2004
Mt Eliza Scarp restoration project Stage 1 1999-2004
WA Ecology Centre, Bold Park 2004
Steve has previously indicated that the natural advantage and attractions of Kings Park and Botanic Garden have always been the outdoor experiences offering fine views, blue skies, clean environment, tranquillity, great trees and birdlife, stunning wildflowers, much-used picnic areas and playgrounds etc. These are less costly than indoor facilities to maintain provided they are thoughtfully managed and cared for. Hence the greater focus on improvements to outdoor infrastructure and visitor experiences has seen a sensible change in infrastructure policy, planning and development.
Steve's vision has also seen enhancements in visitor experiences through the incorporation of outdoor cinema, concerts and theatre in the events calendar.
Steve has always been a strong advocate and supporter of the Friends of Kings Park. In fact, it was his support that originally led to the Friends of Kings Park being formed in 1993.
Congratulations Steve, on all these achievements and, on behalf of all West Australians, we extend our thanks for your leadership of the activities, which have elevated the profile of Kings Park and Botanic Garden to an international level.
Tom Alford Past-President, Friends of Kings Park