Argentina's Botanic Garden Network Joins Global Biodiversity Information Facility (GBIF)
ARGENTINA
22 November 2004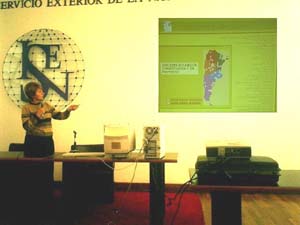 On 13 October, 2004 the Argentinean Botanic Garden Network (RAJB) was invited to join the National Biological Collections Network (RNCB). In so doing, RAJB became a member of GBIF and its member gardens are now able to apply for GIBF Argentina Project grants. This is an important achievement because funds from GBIF will allow every garden to have a computer and a data-entry officer to "capture" and register relevant information for the database of living collections.
Since 5th March 2002, when the Ministerio de Relaciones Exteriores, Comercio Internacional y Culto de la Nacion signed a Memorandum of Understanding with the Global Biodiversity Information Facility (GBIF), Argentina has been an Associate Participant to GBIF, whose mission is to make the world's primary data on biodiversity freely and universally available via the Internet. The Museo Argentino de Ciencias Naturales "Bernardino Rivadavia" (MACN) was appointed as the National Node for the RNCB in Argentina. This network initially included only the collections preserved in museums and herbaria of Argentina, and as first step 13 "pilot" institutions with collections of over 1,000 accessions received "seed" funding to make the information on biodiversity available on line.
During the 3rd Meeting of the RNCB is was also announced that the Programa Iberoamericano de Ciencia y Tecnología para el Desarrollo (CYTED) had approved the proposal of the MACN to promote the establishment of an Ibero American Network of Biodiversity. To this end, annual regional workshops will be organised during the next 5 years. This project will be useful to strengthen the local RNCB.

For more information, visit: http://www.gbifargentina.org.ar/
Photo: Dr. Ana Maria Molina, President of the Red Argentina de Jardines Botanicos (RAJB) during the III Meeting of the National Biological Collections Network (RNCB).