Vienna Botanical Garden Receives Europe's First Wollemi Pine
AUSTRIA
12 November 2004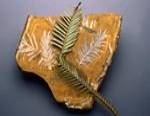 In a handover ceremony in Vienna on 2 November 2004, the Australian Ambassador to Austria, Ms Deborah Stokes, presented an Australian Wollemi Pine to the Vienna Botanical Garden, in celebration of the Garden's 250th anniversary. The gift of Australia's oldest and finest botanical treasure represents the strong and enduring friendship Australia enjoys with the people of Austria, she said.
The Vienna Botanical Garden will be the first botanical garden in Europe to have a Wollemi Pine on public display.
The Wollemi Pine (Wollemia nobilis) is one of the world's oldest and rarest trees. The species is estimated to be up to 200 million years old and was thought to be extinct until it was discovered by chance in 1994 by a NSW National Parks and Wildlife Officer, in the Wollemi National Park within the Blue Mountains area outside Sydney. The discovery of the Wollemi Pine is considered to be one of the major botanical finds in recent history, akin to finding a dinosaur on earth today.
As of 7 November the tree will be on display at the "Victoriabecken" during regular opening hours of the Vienna Botanical Garden: http://www.botanik.univie.ac.at/hbv/english/hbv.htm
As part of conservation efforts, the Wollemi Pine is being cultivated and will be available for purchase from late 2005.