National Science Foundation Awards $310,000 Grant to Brooklyn Botanic Garden
NEW YORK, USA
8 November 2004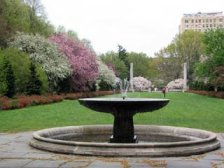 Historic Grant Will Provide Funding To Enable Internet Access to The Garden's "AILANTHUS Grows in Brooklyn" Database of Tri-State Flora
Brooklyn Botanic Garden (BBG) was awarded its first-ever grant by the National Science Foundation (NSF). The $310,000 grant will make the Garden's Herbarium catalog holdings universally accessible via the web and expand the existing data available in AILANTHUS, the Herbarium database.
The NSF grant of $310,000 will allow work to be completed for the curation, data capture, and presentation of specimens collected from New York, New Jersey, and Connecticut. Under the direction of Dr. Kerry Barringer, curator of BBG's Herbarium, BBG staff will make the data on 90,000 contemporary and historical specimens from the tri-state area available on the internet via the Garden's Web site. In addition, the grant supports adding data on 60,000 historical specimens from the region to the existing Herbarium database, AILANTHUS (All Integrated LiterAture, NomenclaTure, and HerbariUm System. At the same time, BBG staff will reorganize Herbarium specimens from New Jersey and Connecticut to provide better access to those specimens. The Garden will share the results of this project, Web AILANTHUS, with the scientific and educational communities, thus increasing awareness of the Herbarium's holdings and of AILANTHUS.
"The result of this project will be increased awareness of BBG's Herbarium collection as an unparalleled scientific and environmental resource," said Judith Zuk, president Brooklyn Botanic Garden. "BBG is a leader in the study of our native flora and the urban environment. Our Herbarium, which includes important historical collections, is global in scope with a strong concentration in plants found growing in the New York metropolitan area. Now, through generous NSF funding, BBG will provide easy online access to unique data that was previously unavailable. Everyone from researchers and students to environmental enthusiasts will possess the ability to use the data from our Herbarium collection in their work," Zuk said. "We are very honored that NSF awarded the grant to BBG, allowing us to deliver on a key component of our mission, which is engaging in research in plant sciences to expand our knowledge of plants and disseminating the results to professionals and the general public." Zuk added.