Grand Cayman Botanic Park Hit by Hurricane Ivan
CAYMAN ISLANDS
28 October 2004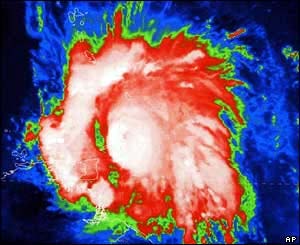 In the early morning hours of 11 September Hurricane Ivan (the sixth most powerful hurricane in recorded history) made a direct hit on Grand Cayman at category 5 strength. Sustained winds of 165 mph and gusts of over 200 mph.
The Queen Elizabeth II Botanic Park's plant collection suffered massive damage though the buildings surprisingly suffered only minor damage. The Park's staff and their families all survived unhurt but some staff lost their homes while others suffered minor to major damage at home.
The botanic park has been open to the public since 1994 and is a popular visitor attraction, combining biodiversity conservation with displays illustrating local cultural traditions. The park contains a protected area of native woodland, which includes 40% of Grand Cayman's 674 native plant species. Collections include endemic species from the Orchidaceae (such as Cyrtopodium punctatum), Palmae and Cactaceae and also the native Nymphaea amazonum. Cultivated and traditional crops and ornamentals are particularly highlighted in the garden.
After nearly 3 weeks, the Botanic Park (as well as most of Grand Cayman) still does not have electricity, running water or phone service (except cell phone). "We are chainsawing what we cannot save and doing our best to salvage what we can - difficult without running water" said Andrew L. Guthrie, General Manager.
With 95% of all buildings in Grand Cayman damaged to some degree, 20% of all buildings damaged beyond repair, and so many people suddenly homeless - the Botanic Park will not be a top priority. "We believe that it will take a least a year before we can open to the public again but only if we have the funds to repair and replant".
BGCI is collecting donations which it will pass on to the garden. Donations can be made via our website but please send us an email indicating that the donation is for the Grand Cayman appeal.