Fairchild Botanic Garden Looted During Hurricane Frances - Cycads Stolen
FLORIDA, USA
28 October 2004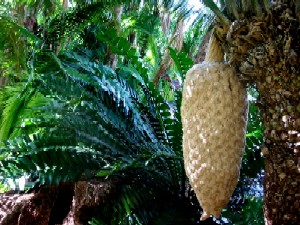 Fairchild Tropical Botanic Garden, one of the world's premier tropical botanic gardens, suffered a serious theft of endangered cycads on September 9th as Hurricane Frances passed through South Florida. Fairchild, situated in Zone 2 of Miami-Dade's mandatory evacuation area, was closed to the public. During that time, thieves illegally entered the garden and stole over thirty highly endangered plants, representing twenty species of cycads. Some of the plants were old specimens that had been in the garden's collection for decades.
Cycads are one of the oldest plant groups on earth, surviving over 200 million years of evolution. All cycads are endangered in their natural habitats and protected by CITES, the Convention on International Trade in Endangered Species. Fairchild began collecting and conserving cycads since its founding in 1936, and now has one of the most important collections in the world. Researchers from around the world visit the garden to study these plants, and Fairchild scientists are actively working on cycad conservation and evolutionary studies.
Unfortunately, illegal poaching of these plants to supply a black market trade is an increasing problem for conservationists and botanic gardens. In August 2002, Fairchild had over forty cycads stolen from its conservatory and rainforest exhibits. This latest theft represents another severe blow to cycad research and conservation worldwide. Some of the specimens are irreplaceable.
"As we worked to protect Fairchild's staff and property from the effects of Hurricane Frances, the looters saw an opportunity to take some of our most valuable plants," said Dr. Mike Maunder, Director of Fairchild Tropical Botanic Garden. "Sadly these thieves are undermining the good reputation of Florida's legitimate plant enthusiasts and nurserymen and have damaged Fairchild's work in conserving endangered cycads, these plants are amongst the world's most threatened plant species".
In an effort to recover the lost plants, Fairchild is offering a reward for information leading to the arrest and conviction of the persons involved in the theft. National and international authorities are cooperating with the investigation. "We've already received promising leads that are being investigated, and we intend on pressing charges and seeking full restitution," added Maunder.
Anyone with any information of this theft is urged to contact the Coral Gables Police Department (Tel: 305-460-5434), or Dr. Mike Maunder, Director, Fairchild Tropical Botanic Garden, 10901 Old Cutler Rd., Coral Gables, FL, 33156 (Tel: 305-667-1651 x3333, E-mail: mmaunder@fairchildgarden.org).
For a list of the plants stolen please visit http://www.plantapalm.com/ftg-cycads-stolen-2004.htm