Lyon Arboretum in Hawaii Faces Closure
HAWAII
28 October 2004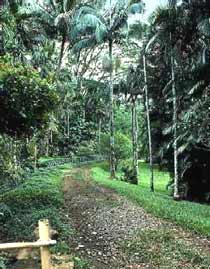 The University of Hawaii has closed the Lyon Arboretum to the general public because of serious health and safety concerns. The 194-acre site in upper Manoa valley was closed to the public on Friday, August 27.
The Lyon micropropagation lab and the seed conservation program are still open and still accepting material, but all school field trips, University class visits, community meetings, etc have been cancelled or moved to alternate sites. Volunteers are also denied entrance, jeopardizing the maintenance of the collections.
Staff are still allowed entry and their jobs are intact, but the future is very uncertain. There has been no plan for the reopening, nor solutions offered to remedy the issues, and the University administration has stated that the arboretum is not a high priority for funding.
Lyon was established in 1918 by the Hawaii Sugar Planters for research and reforestation efforts. It was given to the University in the 1950s to be used as a botanical garden, with a mission of research, education and community service. It is a small 194 acre site located in the tropical rainforest, 10 minutes from the main University campus, 15 minutes from Waikiki and the heart of downtown Honolulu. The arboretum houses living plant collections, comprising about 15,000 accessions that encompass more than 6,000 species, varieties, and cultivars.
It is the only university arboretum in the United States located in a tropical rainforest, and it has one of the largest collections of palms of any botanical garden in the world. Emphasis is placed on Native Hawaiian plants, including research on propagation and restoration of endangered species, on restoration of Hawaiian ecosystems, and on ethnobotany of the Hawaiian islands.
For information about upcoming classes, educational programs and other activities that were scheduled to take place at the Lyon Arboretum, call (808) 988-0456.