Brooklyn Botanic Garden Awarded Prestigious $150,000 Grant
BROOKLYN, NEW YOK
11 November 2004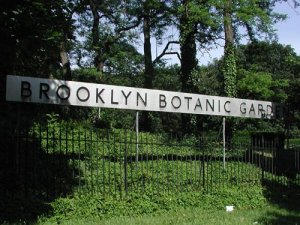 Brooklyn Botanic Garden (BBG) was awarded a major grant from the Institute of Museum and Library Services (IMLS) for the second year in a row. The three-year $150,000 grant, Where Plants Come to Life: Interpreting the Garden for the 21st Century, will fund BBG in its mission to promote lifelong learning through an innovative interpretation program that will convey essential information about the environment, while demonstrating to visitors that plants are both fascinating and essential to life. The goal of this program is to give BBG the institutional capacity to provide visitors with a better understanding of the vital role plants play in their lives, and consequently, to become better stewards of the environment.
The IMLS Museums for America grant will enable BBG to develop a formal, institution-wide interpretation program dedicated to conveying the vital conservation message, "Plants are essential to life." This important message will target the Garden's more than 750,000 annual visitors. Specifically, the grant will fund the development of the Garden's first interpretive master plan, the creation and testing of a variety of interpretive devices to be used onsite at BBG, and staff development to facilitate this program. The Garden will pilot new signage and install new interpretive signs in order to create a long-lasting awareness of the importance of plant conservation.
"Receiving a prestigious IMLS grant for the second time is an enormous honor for BBG," said Judith Zuk, president Brooklyn Botanic Garden. "This year's award goes right to the heart of our mission which is to educate the public about the importance of conserving plants - our most vital and threatened resource. Our new interpretation will communicate our plant conservation message and encourage visitors to see their trip to the Garden not as a one-time experience, but as a starting point to lifelong learning about the environment," Zuk explained. "This vital funding from IMLS will help us capture visitors "imaginations" perhaps the most powerful way of engaging and exciting people - with the hope of encouraging visitors to develop a more active and responsible relationship to the world around them," Zuk added
According to Dr. Robert S. Martin, Director of the Institute of Museum and Library Services, "We are pleased that Brooklyn Botanic Garden will use this grant to enrich the visitor's learning experience and communicate an important message that plants are essential to life. BBG's new signage efforts are impressive; they will be comprehensive, interpretive communication vehicles," Dr. Martin added. "The purpose of Museums for America grants is to help museums advance their roles as trusted resources that serve communities by creating and sustaining a nation of learners. Receiving this competitive award is a great accomplishment and demonstrates the ability of BBG staff to provide highly valued museum services," said Dr. Martin.
IMLS is an independent federal grant-making agency dedicated to creating and sustaining a nation of learners by helping libraries and museums serve their communities. IMLS Museum of America grants reinforce the ability of museums to serve the public more effectively by supporting high-priority activities that advance the institution's goals. The grant application process is highly competitive; this year IMLS received 829 applications for the Museum of America grants, and distributed 190 awards totaling in $16 million.
Julie Warsowe, Director of Continuing Education at BBG will direct this three-year program. "I am honored to have been selected to head up this groundbreaking project. The grant allows us to provide a useful and easy-to-understand interpretation of the plants in the Garden with the twin goals of inspiring curiosity about plants in our lives and facilitating a deeper understanding of the importance of plant conservation," said Warsowe. "BBG's new signage efforts will make it one of the only gardens in the country with this kind of comprehensive, interpretive communication vehicle. We will develop an interactive, creative interpretative program to encourage visitors to physically interact with the Garden in a new way. Traditional signs and brochures will be re-designed, and non-traditional mechanisms, such as storytelling or new ways of using the website, will be introduced to help our visitors better understand and enjoy BBG's collections," she explained.
In 2003 IMLS awarded BBG a Learning Opportunities Grant to support the Garden's role in creating Brooklyn's first environmental high school in partnership with the NYC Department of Education and the Prospect Park Alliance. Brooklyn Academy of Science and the Environment (BASE) opened its doors in September 2003 to a starting freshman class of 125 students. Last year's grant enabled Brooklyn Botanic Garden to develop curriculum for BASE and to fully utilize the Garden's staff to evaluate the curriculum's success. In addition, the grant gives BASE students access to BBG's world-class botanical resources, including its plant collections, Library, and Herbarium as part of the high school campus. BASE students ended their first year with an impressive average attendance rate of 90%, and over 75% of the students passed the Living Environment regents exam at a level to qualify for a Regents diploma.
Further information: http://www.bbg.org/