European Botanic Gardens Meet in Scotland
EDINBURGH, SCOTLAND
17 December 2004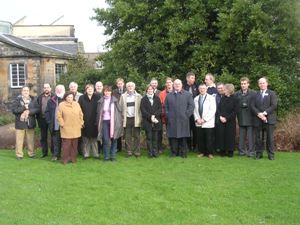 The Edinburgh Botanic Garden recently played host to the European Botanic Garden Consortium. The meeting, which took place on 4 - 5 December 2004, was considered a landmark for the consortium, as it included for the first time, representatives from the accession countries of Eastern and Central Europe. The expanded European Union now includes 25 countries and 22 of these were represented in Edinburgh.
The meeting provided an opportunity for an exchange of experiences on national botanic garden activities, as well wide ranging discussions on issues of regional importance. Among the items on the Agenda were plant exchange and the development of the International Plant Exchange Network, the development of a website for the Consortium, the European Botanic Gardens Action Plan, ideas for the next EuroGard Conference and an initiative towards a UNESCO World Botanic Garden day.
The impact that national phytosanitary regulations can have on the movement of seeds between botanic gardens was raised, and it was agreed that this important topic should be discussed in more detail at the next Consortium meeting, which will take place in Greece in June 2005.
Members of the European Botanic Garden Consortium are: Austria, Belgium, Cyprus*, Czech Republic, Denmark, Estonia, Finland, France, Germany, Greece, Hungary, Ireland*, Italy, Latvia, Lithuania, Luxembourg, Malta, Netherlands, Poland, Portugal, Slovakia*, Slovenia, Spain, Sweden, United Kingdom, BGCI and IABG. A representative of Switzerland also attended the meeting as an observer.
* Not represented at the meeting.