5th BGCI Workshop in China
SHENZEN, CHINA
24 November 2004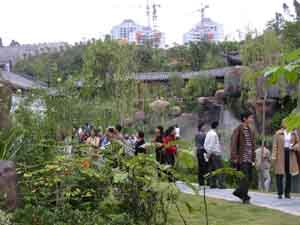 The fifth national workshop on biodiversity for botanic gardens in China was held at Fairy Lakes Botanical Garden (FLBG) on 15-18th November, 2004 in Shenzhen, China. Eighty Chinese botanic garden staff from 22 gardens convened at FLBG for a training workshop with the theme of "Plant Conservation: from Theory to Practice."
Speakers and participants comprised of botanic garden staff from Mainland China, Hong Kong, Taiwan, Australia and the USA. Speakers presented case studies and examples of plant conservation including integrated conservation, collection policy, collections management and environmental interpretation.
Invited speakers included: Kay Havens (Chicago Botanical Garden), Steve Meredith, (Adelaide Botanic Garden), Kingsley Dixon (Kings Park Botanic Garden), Fuh-Jiunn Pan(Taiwan Forestry Research Institute [Taipei Botanic Garden]),Lawrence K. C. Chau (Kadoorie Farm & Botanic Garden Corporation), Yu Yong-Fu (China Wild Plant Conservation Association), Fu De-Zhi (South China Institute of Botany of China Academy of Science), Xiang Xiu-Fa (Sanxia Botanic Garden of Rare and Endangered Plants), Xing Fu-Wu (South China Institute of Botany of China Academy of Science), He Shan-an (Nanjing Botanic Garden. Mem. Sun Yat-Sen), Huang Hong-Wen (Wuhan Botanic Garden of China Academy of Science), Hui Lam Hing (Hong Kong Zhonggang Biotechnology Centre) and Jiao Gen-Lin (Shenzhen Fairy Lake Botanic Garden).
Participants were also treated to a tour of the Second National China Flower Expo in Shenzhen city and Shenzhen Futian Mangrove National Nature Reserve. At this workshop, it was the first time that Chinese version of the Darwin Technical Manual (translated by Jin et al., 2004) as well as the Chinese version of BG-Recorder (translated by Lin, 2004) was made available.
This workshop was supported by the Investing in Nature partnership and the host botanic garden, Fairy Lakes Botanical Garden and the Shenzhen Urban Management Bureau. Many thanks to the organisers for the smooth running of this well received event.