That's a Wrap! "Plants for Life" Poster Launch
GLOBAL
22 November 2004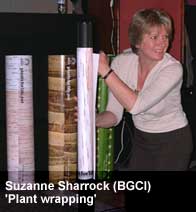 An innovative series of posters were launched during at the 2nd World Botanic Gardens in Barcelona by BGCI.Close up textural images of plants have been used to promote a new website, developed to provide information on the use of plants, plant conservation and the role of botanic gardens in plant conservation to the general public.
The posters have been designed to be wrapped around man-made objects to make them look like plants. Five designs; bamboo, silver birch, coconut palm, the coffin tree (in the yew family) and a cactus, were selected to celebrate the diversity of plants and for their structural beauty. BGCI, the organization behind the posters, hopes that its members and other interested parties will join in with the "Plants for Life" plant wrap campaign by using the posters as imaginatively and creatively as possible within their gardens.
Twenty-five posters (5 of each design) will be sent to every BGCI member within the next couple of weeks, along with details and ideas of how they can be used and how to involve local communities and the media in the campaign.
"This project is something really new, fun and exciting. The more gardens get involved using the posters, the more people it will reach and in so doing, spread botanic garden messages about the importance of plants" said Julia Willison, BGCI's Head of Education.
http://www.plantsforlife.net is already up and running and, although still under development, has a fabulous introductory animation, showing the "plant wrap" posters being used to turn a dreary cityscape into a green forest. It is hoped that the website will provide a hook for the public to learn more about plants and get involved with activities to support plant conservation. Anybody wishing to find out more about the campaign should email info@bgci.org or check out the website: