BGCI's Five Year Plan 2007 - 2012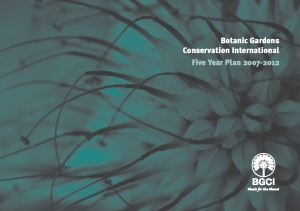 Since our establishment in 1987, BGCI has responded in a flexible manner to identified needs, taking into account global, national and local priorities and circumstances.

Looking ahead, our Five Year Plan for 2007 – 2012 explicitly addresses the current and fundamental concerns related to the impact of climate change on plant diversity and the understanding that biodiversity conservation is essential to ensure sustainable development and improved human well-being. In implementing the plan, we will build on our successes over the past 20 years in plant conservation, environmental education and promoting sustainability.
As the world's largest plant conservation network BGCI is strategically placed to lead global efforts to reverse the impending extinction crisis faced by the world's plant diversity. Over the next five years our efforts will focus on securing a future for threatened plant species through a variety of mechanisms and techniques. Our specific aims are to:


Reverse the loss of key plant species and their habitats by targeted recovery and restoration programmes enhancing in situ conservation efforts of our partner organisations, in support of Targets 5 and 7 of the Global Strategy for Plant Conservation (GSPC).
Ensure that 50 % of threatened plant species are in accessible ex situ collections (preferably in the country of origin) including 75% that are Critically Endangered, acknowledging our global facilitating role for Target 8 of the GSPC.
Enhance the conservation and sustainable use of threatened medicinal and nutritional plants to address human well-being and livelihood issues as a contribution towards Targets 3 and 13 of the GSPC.
Lead international efforts to address the impacts of climate change on wild plants through the implementation of a global action plan agreed with botanic gardens and conservation partners.

BGCI's greatest strength is its worldwide network of botanic gardens. They are centres of botanical expertise, horticultural knowledge and environmental education and it is their knowledge base that underpins all our actions. BGCI will, over the next five years, focus on ensuring that the appropriate information, skills and expertise are available throughout the global network to ensure that plant conservation targets can be met. Our specific aims are to:

Ensure that comprehensive information on threatened plants, the impact of climate change on plant diversity and the consequences of loss of plant diversity on human well-being are available to all our members and the wider biodiversity community, through the development of our unique global databases, comprehensive website and respected publications, in support of all the GSPC Targets and in particular Target 2.
Assist botanic gardens to develop communication, education and public awareness programmes that i) communicate the importance of plant diversity and ecosystem services in sustainable livelihoods and ii) promote informed action, as a major contribution towards Target 14 of the GSPC.
Enhance the skills and expertise of botanic gardens staff in horticulture, plant conservation techniques and environmental education through training, staff exchanges, provision of relevant information and networking, as a major contribution towards Target 15 of the GSPC.
Hold a series of global congresses for the botanic garden community with a focus on securing plant diversity, promoting plant-focused environmental education, and enhancing science-based knowledge for the benefit of people and the planet, as a major contribution to Target 16 of the GSPC.

BGCI is respected for its role in policy development and implementation relating to plant conservation. It is generally agreed that without the policy work of BGCI, the GSPC would not have been developed and adopted by the Convention on Biological Diversity (CBD). While working in partnership with the world's leading biodiversity conservation organizations, BGCI will continue to maintain its position as a leading advocate for plant conservation, with specific aims to:

Act as a leading advocate ensuring that the conservation and sustainable use of plant species is fully addressed by international biodiversity policy and related agreements with a focus on CBD and CITES to support all the targets of GSPC.
Promote the work of botanic gardens related to plant diversity conservation, human well-being, environmental education and climate change to policy and decision makers, as well as the wider public, both nationally and internationally.
Engage with policy makers and wider society to ensure that the CBD continues to pay full attention to the conservation and sustainable use of plant species beyond 2010, addressing the urgent threat of climate change.
Ensure mechanisms are in place to facilitate informed decision making by forging links between conservation best practice and biodiversity policy.

Programme Delivery and Organisational Development
BGCI will implement its Five Year Plan through the deliver of both global and regional programmes. Continued success will depend on enhancing strategic engagement with BGCI's broad constituency. The networking modus operandi that BGCI has adopted allows it to maintain a small, flexible staff base while maintaining the capacity to implement ambitious programmes. As BGCI moves forward, emphasis will be placed on ensuring the continuing strong support and expansion of its membership base and enhancing its strategic partnerships including the further development of private-sector engagement.
Botanic Gardens Conservation International Five Year Plan 2007 - 2012 - PDF (1.33 MB)



Influencing Decision-Making and Policy
BGCI is well-known and widely respected for its role in policy development and implementation relating to plant conservation. Over the next five years, BGCI aims to achieve some ambitious goals in the area of influencing policy to secure plant diversity.