Conservatoire et Jardin botaniques de la Ville de Genève
Switzerland - Chambésy-Genève
Institution Code: G
International Agenda Registration: Yes
BGCI Member: Yes
About the Conservatoire et Jardin botaniques de la Ville de Genève
The Conservatoire et Jardin botaniques de la Ville de Genève is a city museum. It hosts one of the world's largest herbarium and botanical libraries and manages an associated garden. Its goals are to explore the environment worldwide; extract botanical collections and associated data; ensure the conservation of living and fixed collections; perform research based on these collections in the realms of flora, vegetation, and evolution; teach botany; and contribute to the conservation of environment and species.
Main Address:
Conservatoire et Jardin botaniques de la Ville de Genève
Ch. de l'Impératrice 1 / Case postale 60
Chambésy-Genève
1292 Switzerland

Telephone: 41 (0)22 418 51 00
Fax: 41 (0)22 418 51 01
URL: www.cjb-geneve.ch
Primary Email: raoul.palese@ville-ge.ch
AEPY Ethnobotanical Project in Asunción, Paraguay
This project is the result of a long-running partnership between the Conservatoire et Jardin botaniques de la Ville de Genève and Jardin Botanico y Zoologico, Paraguay.
By working with farming communities to raise environmental awareness and support cultivation, trade and reforestation using native medicinal plants the project aims to:
Supporting sustainable livelihoods
Conserving biodiversity through culture
Environmental education in Paraguay & Geneva
PARTNERS OVERSEAS
For the past decade, the Conservatoire et Jardin botaniques de la Ville de Genève (CJB) has cultivated an educational cooperation policy involving many southern-hemisphere countries. The policy recognises that although most well-established botanic gardens are located "outside the belt of tropical biodiversity that encircles the planet", they have a responsibility to collaborate with tropical botanic gardens which are rich in biodiversity.
As a result, CJB currently works with partners in Bolivia, Brazil, Ivory Coast, Burkina Faso, Senegal and Paraguay to improve these botanic gardens' ability to counter loss of natural and cultural diversity, establish ethnobotanical policy and expand environmental education.
PARAGUAY & GENEVA
Paraguay has experienced some of the world's highest levels of deforestation in the last fifty years, as a result of forest clearance for timber, coal mining and, more recently, for pasture and the growth of cotton and soya. Amid such destruction, assisting local organisations to protect their country's rich biodiversity is paramount.
ABOUT
Ethnobotany (from "ethnology" - study of culture - and "botany" - study of plants) - the scientific study of the interactions between plants and people.
Whether for flavouring maté or treating medical complaints, use of medicinal plants is deeply ingrained in Paraguayan culture. Such plants are the basis of a thriving trade which supports plant gatherers, peasant farmers, street sellers and market traders, with several laboratories and dispensaries exporting the plants as far afield as Argentina and Brazil.
An ethnobotanical study in 1996 revealed that, of the 700+ plant species used for traditional medicine in Paraguay, 70% originated from the Asunción region. CJB, together with Asunción Botanical Garden, used this research as the basis of a project to apply ethnobotany to environmental education.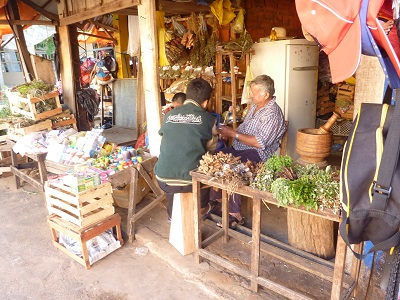 Medicinal plants on sale, Asunción.
© Conservatoire et Jardin botaniques, Geneve

Running for over ten years, the AEPY project is a collaboration between CJB, Asunción Botanical Garden and 29 peasant farmer associations. The project improves livelihoods by supporting the domestication and sustainable cultivation of Paraguayan medicinal plants while conserving the region's natural biodiversity through reforestation and raising conservation awareness.
In 2009 the collaboration produced a comprehensive reference work of taxonomic, horticultural, ethnobotanical, conservation and phytopharmaceutical information on Paraguayan medicinal plants. With Swiss Red Cross funding, this manual has been distributed free of charge at markets to peasant farmers, gatherers and retailers. Further to this, the technical education establishment Campotech was set up for young people of school-leaving age from peasant farmer families. Campotech aims to prevent large-scale migration to urban areas by creating professional opportunities for adolescents within their own communities.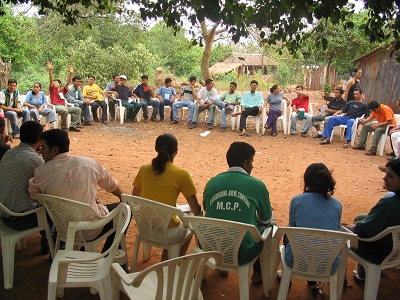 Campotech meeting.
© Conservatoire et Jardin botaniques, Geneve

A further success is the Medicinal Garden housing a living collection of over 500 medicinal plants used in Paraguay, now praised as one of the finest medicinal plant collections in South America. Other project outputs include secondary plant collections at the National University of Asunción and Patino Aregua Ethnobotanical Gardens; several cottage and community gardens; numerous publications, educational resources, television and radio programmes.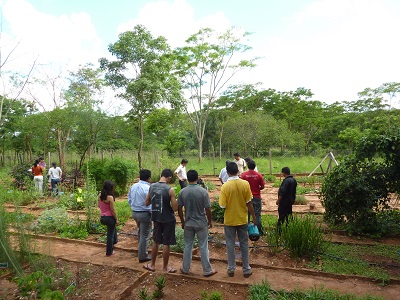 Medicinal Garden.
© Conservatoire et Jardin botaniques, Geneve
IMPACT
This project has produced educational resources and establishments which will be an enduring part of Asunción's botanical and cultural heritage. It successfully supports communities protect their environment and adapt traditional livelihoods to be more resilient and sustainable.
Workshops and courses open to the Paraguayan general public help to spread the project's ethnobotanical conservation message beyond peasant farmer communities. As well as press coverage in Paraguay, CJB has promoted the project in Geneva through their Cap au Sud exhibition (2002).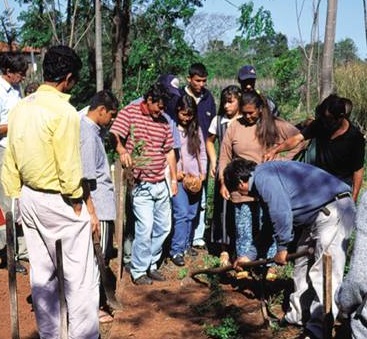 Planting techniques.
© Conservatoire et Jardin botaniques, Geneve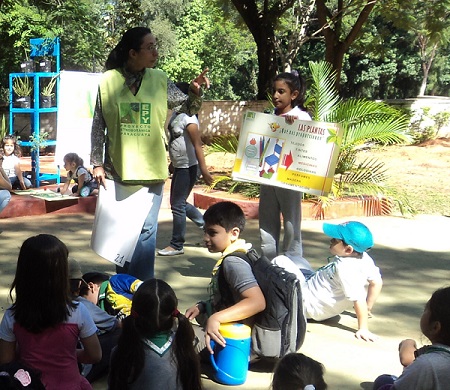 Children at AEPY educational event.
© Conservatoire et Jardin botaniques, Geneve
WHAT'S NEXT?
The project is currently in the process of becoming self-sufficient through a new intermediary association, Asociación Ethnobotanica Paraguaya which is championing the project in-country.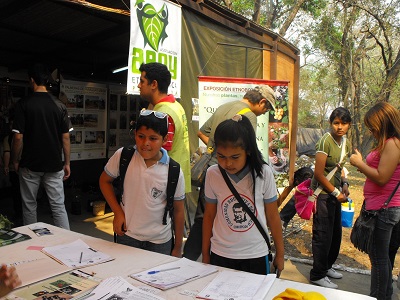 AEPY raising awareness.
© Conservatoire et Jardin botaniques, Geneve
PRACTITIONERS
Pierre-André Loizeau, Director at CJB
Magali Stitelmann, Scientific Mediator at CJB
Didier Roguet, Curator of CJB
PARTNERS & SPONSORS
Asunción Botanical Garden, Paraguay
Asociación Ethnobotanica Paraguaya
Municipalities of Asunción & Geneva
Swiss Red Cross
City of Geneva Solidarity Fund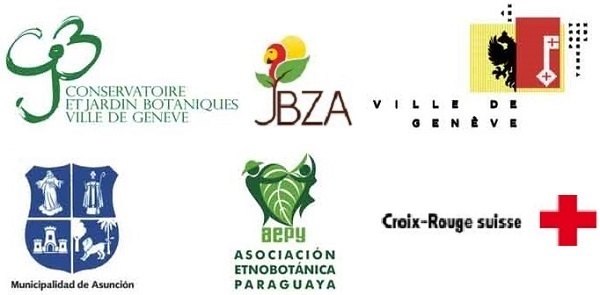 ---
Edelweiss Gardens
By planting an alpine garden in the middle of a city, Conservatoire et Jardin botaniques de la Ville de Genève (CJB) project aims to:
Practical education garden in deprived urban area
Academic learning & cultural integration
Collaboration between professionals & local institutions
ABOUT
Starting in 2010, the CJB has worked with local cultural institutions to establish a rooftop alpine garden at Pâquis-centre primary school. The school is part of Geneva's Réseau d'Enseignement Prioritaire or Priority Education Network, which comprises institutions and schools in deprived areas highlighted as equal access and education priorities.
The Edelweiss Gardens project aims to support pupils' academic learning and cultural integration from a citizen education perspective, encouraging networking and hands-on participation. The edelweiss, one of nine alpine species grown in the garden, is also the theme of a CJB exhibition and links the garden to Swiss culture and tradition.
By working with CJB gardeners to establish and maintain their garden, the pupils have the opportunity to try out gardening and learn new skills in a multi-sensory, active manner. Teachers use the garden to cement and extend classroom lessons and encapsulate aspects of botany, culture, art and history under the edelweiss theme. Local libraries assist pupils with bibliographical research on the garden's alpine plants.
The project's strong cultural angle encourages each pupil to collect traditional tales about plants from their family's country of origin. The tales have now been consolidated with the help of professional storytellers and illustrators.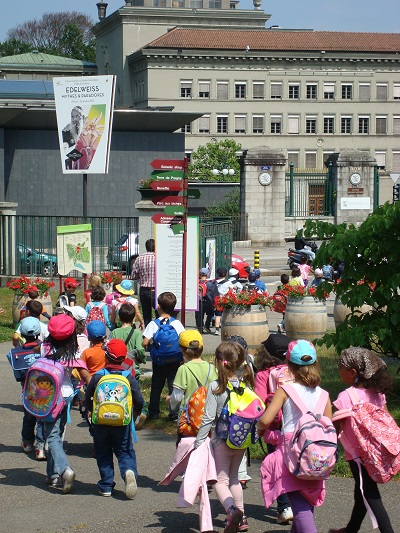 © Conservatoire et Jardin botaniques, Geneve
IMPACT
Today, some 400 pupils benefit from the garden, using the area to practice horticulture and bibliographical research and study biodiversity, art and cultural history. Pupils and their teachers have the opportunity to interact with professionals, develop new skills and participate in garden planning, maintenance and themed events.
The project has produced a wealth of educational resources including the alpine garden itself, an associated exhibition and a collection of cultural tales. A "project community" has been created by establishing strong links between the school, cultural institutions such as local libraries, and professional gardeners, illustrators and storytellers.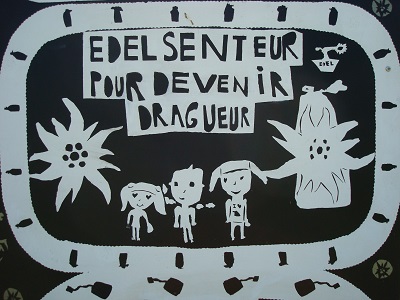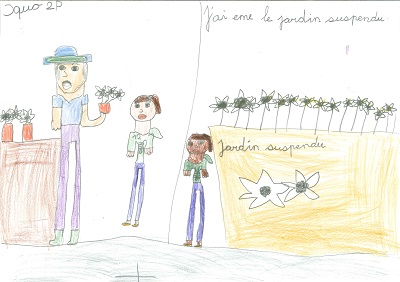 Children's Edelweiss drawings.
© Conservatoire et Jardin botaniques, Geneve
WHAT'S NEXT?
This is an ongoing project, expanding in 2013 to incorporate a teacher training module: "The EDDelweiss: a symbolic plant to tackle EDD".
PRACTITIONERS
Pierre-André Loizeau, Director of CJB
Magali Stitelmann, Scientific Mediator of CJB
Didier Roguet, Curator at CJB
PARTNERS & SPONSORS
Pâquis-centre primary school, Geneva
Department for Public Education, Canton of Geneva
Geneva Culture Department
City of Geneva
Live Together Fund
---