National Tropical Botanical Garden
United States of America - Hawaii - Kalaheo
Institution Code: PTBG
International Agenda Registration: No
BGCI Member: Yes
National Tropical Botanical Garden is a nonprofit organization, headquartered in Hawaii. Within NTBG's holdings are four gardens and five preserves in Hawaii, and a garden in South Florida.
About the National Tropical Botanical Garden
The mission of the National Tropical Botanical Garden is to enrich life through discovery, scientific research, conservation, and education by perpetuating the survival of plants, ecosystems, and cultural knowledge of tropical regions.

The institution has four gardens and five preserves in the tropics (Hawaiian Islands) and a garden in the sub-tropical area of South Florida.
Main Address:
National Tropical Botanical Garden
National Headquarters
3530 Papalina Road
Kalaheo
Hawaii 96741 United States of America

Telephone: (808) 332-7324
Fax: (808) 332-9765
URL: www.ntbg.org
Primary Email: administration@ntbg.org
Forest Restoration on Kaua'i
At one time in Hawai'i, dry forests occupied much of the leeward lowlands of all the main islands and were rich in native tree species. But they were nearly all eliminated by agriculture, livestock grazing, and development by the 1950s. Less than 10 percent of Hawaiian dry forests remain today as scattered remnants in only a few leeward sites across the state.

On Kaua'i the Lāwa'i Forest Restoration Project run by NTBG is innovative and strategically significant By developing a dry forest restoration site, we are creating a habitat for at least 100 native plant species that can eventually be planted there. Many of these species are threatened with extinction and no longer have a viable home in the wild on Kaua'i. The site of this restoration project is located directly below the NTBG Headquarters on the west slope of the Lāwa'i Valley. The site is approximately 10 acres. Introduced species of brush and grasses currently dominate the area. When completed, the restored site will feature three to four distinct dry forest types based on variations once found throughout Hawai'i. We will achieve these variations utilizing Kaua'i species only. The forest will contain mixed assemblages of tree species with individual species grouped in small stands.


---
Restoring Hawaii's Endangered Tropical Rainforest
Many of Hawaii's ecosystems have become endangered as a direct result of human activities such as agriculture, timber extraction and construction. Introduction of feral pigs has had a devastating effect on the island ecology, destroying the tropical rainforest understory and allowing highly competitive alien species to gain a foothold.
The National Tropical Botanical Garden manages the Upper Limahuli Preserve in Kauai, where some of the most pristine montane wet forest left in Hawaii can be found. The NTBG has fenced out feral pigs from the Preserve and is eliminating invasive plant species. Rare local plant species are being propagated and planted in the Preserve, restoring precious habitat for rare bird populations.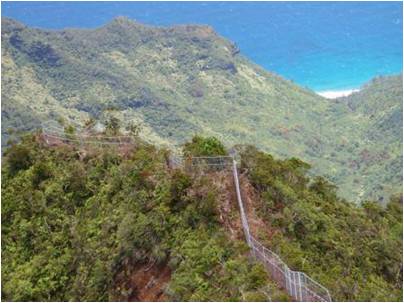 ---