Chicago Botanic Garden
United States of America - Illinois - Glencoe
Institution Code: CHIC
International Agenda Registration: Yes
BGCI Member: Yes
The Chicago Botanic Garden's Lake Enhancement Program continues to improve water quality, heal eroded shorelines, and enrich aquatic habitat in its 60-acre system of lakes. The Gardens of the Great Basin, completed in 2002, greatly expanded its aquatic plant collection to include tens of thousands of aquatic plants native to Illinois.
About the Chicago Botanic Garden
The Chicago Botanic Garden, with its world-renowned plant collections and displays, is one of the country's most visited public gardens and a preeminent center for learning and scientific research. The Garden features 23 display gardens and three native habitats, uniquely situated on nine islands surrounded by lakes. The 385-acre living museum is owned by the Forest Preserve District of Cook County and managed by the Chicago Horticultural Society.

The Garden is open every day of the year, except Christmas, from 8 a.m. until sunset. The Garden is located on Lake Cook Road in Glencoe, one-half mile east of the Edens Expressway. Admission is free; select event fees apply. Parking is $15. On Tuesdays, senior citizens age 62 and older pay just $7 for parking.

The Chicago Botanic Garden is a BGCI Patron Institution, and hosts BGCI's U.S. office. The Garden is accredited by the American Association of Museums and is a member of the American Public Gardens Association, the Association of Science-Technology Centers, Chicago Wilderness, and the Center for Plant Conservation.
Main Address:
Chicago Botanic Garden
1000 Lake Cook Road
Glencoe
Illinois 60022 United States of America

Telephone: (847) 835-5440
Fax: (847) 835-4484
URL: www.chicagobotanic.org
Primary Email:
Restoring McDonald Woods
McDonald Woods is a 100-acre remnant oak woodland at the northeast corner of the Chicago Botanic Garden on land owned by the Forest Preserve District of Cook County. The woodland encompasses five community types: northern flatwoods, mesic woodland, dry-mesic woodland, upland forest, and savanna. Although the site was historically subjected to the negative influences of agriculture and logging, it retained remnant populations of six state-listed plant species. The site also is noteworthy in that it contains several species not found before in the Chicago region: Carex digitalis, Deschapsia flexuosa, and Carex hyalinolepis.
Since restoration and management began in 1988, the woodland now supports self-sustaining populations of Aster furcatus, Carex tuckermanii, Carex formosa, Carex bromoides, Oenothera perennis, and Viola conspersa (state-listed species). Baseline inventories of herbaceous, shrub & tree populations, small mammals, birds, butterflies, mycorrhizal fungi, bryophytes, litter spiders, mites & springtails have been completed. Ongoing surveys are looking at the response of each of these groups to restoration. Restoration and management has involved (and continues to involve) removal of invasive species; seeding to enhance existing plant populations and re-establish species thought to occur historically; and controlled burning.
Read more about this project on the Chicago Botanic Garden website, here and here.
Click here to watch a video about the ecological restoration work at Chicago Botanic Garden.
McDonald Woods, Chicago Botanic Garden
---
Restoring Chicago's native vegetation
Approximately half of the property of Chicago Botanic Garden (CBG) is under ecological restoration, including 100 acres of oak woodland, 15 acres of prairie, 20 acres along a river corridor and 80 acres of lakes/lakeshores. The Garden also consults on restoration projects throughout the greater Chicago area. It maintains a regional seed bank which has the goal of having 15-20 accessions from each of 2500-3000 native species from the upper Midwest. Currently there are about 1500 species banked. A project is being piloted to use vacant lots in the city to grow locally-sourced, locally-grown, native seed for restoration projects in the region.
At a national level CBG participates with the Seeds of Success (SOS) and Native Plant Materials Development (NPMD) programs. CBG plans to continue building the seed bank, producing seed for restoration, determining best practices for ecological restoration and conducting research related to restoration ecology.
Click here to find out more about Chicago Botanic Garden restoration projects.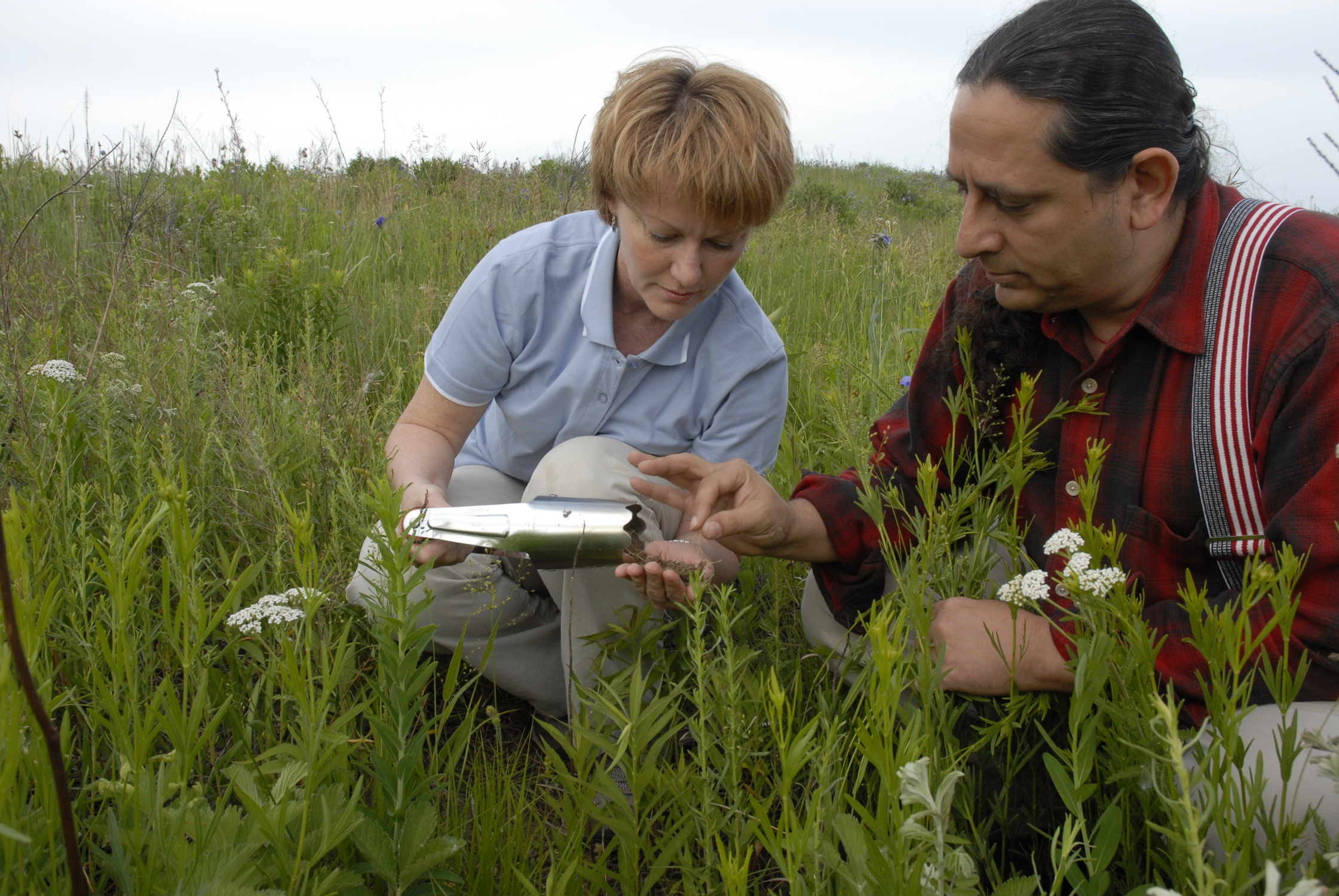 Soil monitoring in the field. Credit Chicago Botanic Garden.
---
Conservation and restoration in the Colorado Plateau
Chicago Botanic Garden is running a project to assess plant and pollinator communities in degraded and undegraded sites in the Colorado Plateau, specifically on Bureau of Land Management and National Park Service lands in and around Zion National Park (Springdale, Utah, Washington Colorado) and Black Canyon of the Gunnison (Montrose, Colorado). Together with students, we performed pollinator observations, insect and vegetation surveys, and collected seed and soil data at eight sites at each respective location. Four of the eight sites were found to be in need of restoration (dominated by invasive species such as cheatgrass), and the four remaining sites were not in immediate need of restoration. A second component of this project has mapped the distribution of cheatgrass (Bromus tectorum) and focal forb species throughout the Colorado Plateau. To map historic and present occurrences of targeted taxa, 1996 was used as the first year in present time (due to the marked spike in fire activity). Using collection records available from the Global Biodiversity Information Facility (GBIF) and Southwestern Environmental Information Network (SEINet), a database of 89 species and approximately 39,453 unique occurrence records was compiled. This database allows us to map current and historic collection localities and will provide a baseline from which to begin making projections of changes to species ranges under various scenarios of future climate change.

The next phase of this project, Learning from native 'winners' will identify native species and populations that can perform well in degraded sites and potentially facilitate succession to diverse native communities. Long-term, this project will help inform restoration, plant-material selection, and strategic SOS collections around model workhorse or 'winner' plants that can endure degraded states to foster biodiversity and ecosystem functioning.
Click here to find out more about Chicago Botanic Garden restoration projects.
---