Jardin Botanique de Bordeaux
France - Bordeaux
Institution Code: BORD
International Agenda Registration: No
BGCI Member: Yes
About the Jardin Botanique de Bordeaux
Location: BORDEAUX
Founded: 1862
Garden Name: Jardin Botanique de la Ville de Bordeaux
Address: Esplanade Linné, F-33000 BORDEAUX.
Status: Municipal
Herbarium: Yes Approx. no. of herbarium specimens: 85,000
Ex situ Collec
Main Address:
Jardin Botanique de Bordeaux
Esplanade Linné, F-31000 Bordeaux
Bordeaux
France

Telephone: 33 5 56 52 18 77
Fax: 33 5 56 51 22 96
URL: http://www.bordeaux.fr/ville/jardin-botanique
Primary Email: j.botanique@mairie-bordeaux.fr
A grocer's shop and a botanical garden
The Jardin Botanique de Bordeaux has been working with the Solidarity-based Grocery to engage local communities in issues related to health and nutrition. The garden provides vegetables, and the grocery offers free cooking workshops that make use of this produce. This partnership is one of many solidarity-based initiatives focussed on social inclusion that have gained popularity in France.

Project start date: 2008
Project end date: Ongoing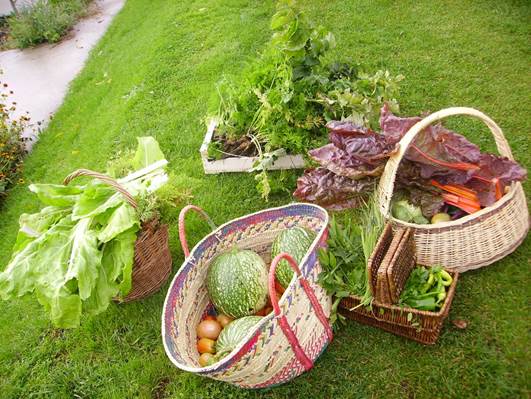 Vegetables harvested from Jardin Botanique de Bordeaux.

©

Jardin Botanique de Bordeaux
ABOUT
The Solidarity-based Grocery, originally set up in 2007, is an association that helps individuals like single mothers, the elderly, the unemployed and those recovering from addictions who are referred by social services. It provides these groups with a place to shop as well as providing information related to health. The association also runs twice-weekly cooking workshops free of charge, where people can come together to make and share a meal.
In 2008, Jardin Botanique de Bordeaux became partners with the Solidarity-based Grocery. Together they have continued to work towards community cohesion and social inclusion. Originally, the garden provided vegetables to be used in its cooking workshops. Now, Jardin Botanique de Bordeaux invites the association's community groups to harvest their own fruit and vegetables, with the help of an educator, and also provides the groups with the opportunity to engage with plants in the garden's library and exhibitions.
The partnership has helped Jardin Botanique de Bordeaux widen its audience demographic and obtain a recognised social role. It has also helped the garden achieve the city's sustainable development commitments (as listed in Bordeaux Agenda 21) by expanding the uses of the plants it grows.
Food grown in the Garden is used in cooking workshops.

©

Jardin Botanique de Bordeaux
IMPACT
The project has evolved significantly from when it was first created in response to community groups' needs:


2008
- One box a month of fruits and vegetables collected and delivered by the Jardin Botanique de Bordeaux gardeners to the Solidarity-based Grocery

2009
- Small group of 3-5 individuals from association's communities harvest their own fruits and vegetables, twice a month
- 50kg of produce harvested

2010
- 10 individuals from communities harvest three times a month

2011
- Participants now engaging more with plants; researching topics on nutrition at the Jardin Botanique de Bordeaux's library, and creating their own posters about food and health at the Solidarity-based Grocery and information panels for the garden
- Variety of foods from different cultures made at cooking workshops- all recipes available online
- 80 kg of produce harvested

2012
- Jardin Botanique de Bordeaux expands the number of edible plant on display at garden
- 100kg of produce harvested


Today, the partnership between botanic garden and the Solidarity-based Grocery has featured in a number of newspaper articles and television documentaries. It has become a model example of solidarity-based initiatives that have recently become popular in France.
Working in the Garden and posters at the Grocery.

©

Jardin Botanique de Bordeaux
WHAT'S NEXT?
The Jardin Botanique de Bordeaux is continuing to work with the Solidarity-based Grocery, and hopes to develop partnerships with other similar organisations.

PRACTITIONERS & SPONSORS
Mélissa Garrigue, Educator at Jardin Botanique de Bordeaux, m.garrigue@mairie-bordeaux.fr

Jardin Botanique de Bordeaux

The Solidarity-based Grocery (in French)
---