Jardin Botánico de Mérida
Venezuela - Mérida - Mërida
Institution Code: MERC
International Agenda Registration: No
BGCI Member: No
Entrance of the Botanical Garden
About the Jardin Botánico de Mérida
The Jardin Botanico de Mérida belongs to the Universidad de Los Andes, Mérida Venezuela. Its mission is to be a space open to the public to learn the importance of nature and cultural inheritanc of the Venezuelan Andes, for conservation and enjoyment.
Main Address:
Jardin Botánico de Mérida
Facultad de Ciencias, Apdo. postal 52
La Hechicera
Mërida
Mérida 5101 Venezuela

Telephone: +58 (0)274 240 1294
Fax: +58 (0)274 240 1297
URL: http://www.botanica.ciens.ula
Primary Email: yeltleon@ula.ve
Environmental Education without Boundaries
Introduction
For over a decade, the Mérida Botanic Garden has been disseminating knowledge about plants, promoting conservation and developing conservation campaigns. Its flagship SELVA (Sowing Environmental Values) environmental education programme is attended by 9000 children every year from 'low-resource' schools. The garden also supports special-needs children through gardening and outdoor recreational events. Participation and inclusion of all communities in order to preserve the environment and improve quality of life is at the heart Mérida Botanic Garden's public engagement activities.
In 2014, the garden began its Environmental Education without Boundaries (EEWB) project. Its aim was to empower blind and visually-impaired audiences to participate in reliving issues related to biodiversity and the environment.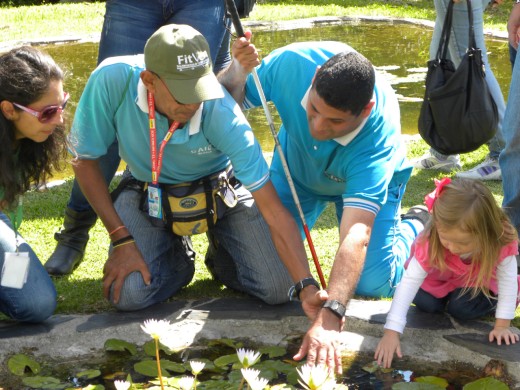 Visitors at an EEWB event, exploring the gardens. ©
MBC
Project start date: January 2014
Project end date: July 2015
About
The EEWB's main objectives were:
To develop an education programme suitable for blind and visually-impaired audiences
To develop high quality teaching materials to enhance learning and outreach of local biodiversity
To encourage and support blind and visually-impaired audiences to generate and disseminate information about environmental issues in the Venezuelan state of Mérida
The project involved a multidisciplinary team of biologists, gardeners, teachers, graphic designers, special needs educators as well as consultation of Mérida's Integral Aid for the Visually Impaired Centre.
Since 2014, EEWB has worked with the blind and visually-impaired community to develop sensory-guided tours. The project has developed an audio guide that describes the plant and bird species found in Mérida Botanic Garden. This is accompanied by tactile educative material, texturized graphic descriptions and Braille. Two members of the blind and visually-impaired community have also been recruited as garden guides.
Impact
An estimated 500 to 2000 people have benefited from the EEWB project at Mérida Botanic Garden. Not only has there been an increase in blind and visually-impaired visitors to the garden, but also people from other groups. The sensory activities have become so popular that visitors have requested that they are included in schools and other public places.
More formal assessment of the project is expected. The impact of print material and panels has been assessed on both visually-impaired and non-visually-impaired visitors. This was done during garden tours, and used Analysis of Interconnected Decision Areas (AIDA) assessment techniques. A four-month evaluation, with blind and visually-impaired visitors, on the other formats of education material (audio, tactile, visual-adapted) is to follow.
What's Next
EEWB has provided Mérida Botanic Garden with new perspectives on environmental education. The garden believes the project has helped integrate blind and visually-impaired individuals into the wider community of Mérida.
The garden wants to develop similar programmes for other groups of the population, such as senior citizens. It also hopes its work will be replicated in other institutions, so that environmental education can reach people at a national scale.
Practitioners and Sponsors
Claudia Garbiso, scientific co-ordinator at Jardín Botánico de Mérida, cgarbis@ula.ve
Integral Aid for the Visually Impaired Center
---