Tooro Botanical Gardens
Uganda - Fort Portal
Institution Code:
International Agenda Registration: Yes
BGCI Member: Yes
About the Tooro Botanical Gardens
Located in Western Uganda, this botanic garden undertakes reforestation using indigenous tree species in collaboration with local partners.
Staff at Tooro botanical gardens are experienced in the propagation of many indigenous species, maintain a medicinal plant garden and undertake education programs.
Main Address:
Tooro Botanical Gardens
P.O. Box 840
Fort Portal
Uganda

Restoring degraded forest in Uganda
Tooro Botanic Garden in Western Uganda have been propagating native tree species since their establishment in 2004. With a strong knowledge of the native trees, their medicinal and other uses and how to propagate them, the garden has embarked on a number of restoration projects.
As part of a joint project with BGCI, Tooro Botanical Garden is working in collaboration with local communities and government, to restore three degraded forest areas, two outside of the botanic garden and one site within the botanic garden grounds. All three sites are designated Local Forest Reserves, but the original forest was illegally cut down, the sites were then replanted with Eucalyptus, which was subsequently felled.
Tooro Botanic Gardens has selected which native tree species to incorporate into restoration sites, based on species performance in previous restoration trials, and the needs and desires of local communities. On all sites, native trees have been intercropped with leguminous vegetables in plots that are managed by communities living next to the sites. Please contact Godfrey Ruyonga for more information about the restoration work carried out by Tooro Botanic Garden.
As part of the project Enhancing tree conservation and forest restoration in Africa, BGCI is fundraising to set up additional botanic garden-led forest restoration projects across Africa. Please contact Kirsty Shaw for more information about this project.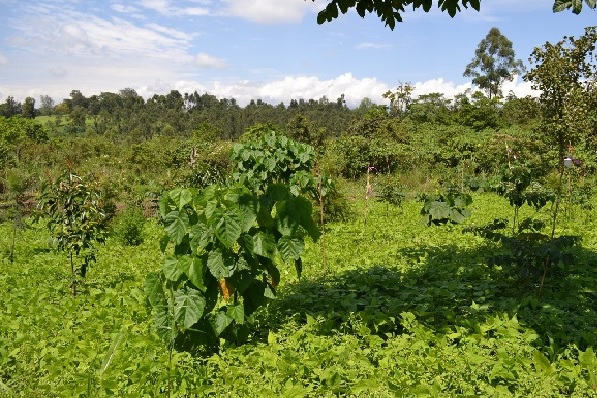 Two year old forest restoration research plot within the grounds of Tooro Botanical Garden, Fort Portal. Indigenous trees are intercropped with leguminous vegetables, which improves tree growth rates and provides a source of food.
---