Royal Botanic Garden
Jordan - Amman
Institution Code: JARBG
International Agenda Registration: Yes
BGCI Member: No
About the Royal Botanic Garden
The Royal Botanic Garden of Jordan is a non-profit organization, founded in 2005. It is located in Tell Ar-Rumman, just north of Amman, overlooking King Talal Dam.

The Botanic Garden covers 1,800 dunums (180 hectares), with more than 300 m of elevation change within its boundaries and a variety of soil types, allowing for the possibility of hosting a high percentage of the plant species that grow naturally in Jordan.

The RBG ethos is to practice and advocate biodiversity conservation at the whole-systems level.

Two key premises guide our work. The first is habitat-based conservation, such that we consider all biogeographic conditions, the complete watershed area, soil condition and exposure to the elements.

The second premise is that man is an integral part of the biotic whole. In contrast to many conservation approaches, the RBG does not exclude humans and livestock.

The Garden is intended to function as a giant demonstration site, showcasing sustainable water management, energy strategies, grazing, and environmentally compatible income generation. Every strategy used at the RBG should be replicable by the average Jordanian.

Our work is divided into four main components:

1. Science and Conservation
The RBG aims to become an internationally recognized research facility for all aspects of biodiversity and conservation in arid-land environments.

2. Education and Community Development
We are raising awareness and disseminating the results of our research on Jordan's biodiversity to the public, while encouraging nature-related projects in local communities.

3. Sustainable Living
In addition to its botanical components, the Royal Botanic Garden will be a demonstration site for sustainable land use, water harvesting practices, and eco-living.
Main Address:
Royal Botanic Garden
P.O. Box 99
Amman
11910 Jordan

Telephone: +962 6 541 3402
Fax: +962 6 541 3404
URL: http://RoyalBotanicGarden.org
Primary Email: info@royalbotanicgarden.org
Community-Based Rangeland Rehabilitation (CBRR)
RBG Jordan: A Young Garden

Traditional pastoral families have inhabited and worked the land within and surrounding the site of the Royal Botanic Garden (RBG) of Jordan for generations. When the RBG was founded in 2005, it had to fence off an area of land that local livestock owners had previously used for grazing. In response, herders began cutting the fence to take their animals inside the site illegally. To find mutually beneficial solutions, the RBG held community meetings and established the Community-Based Rangeland Rehabilitation (CBRR) project.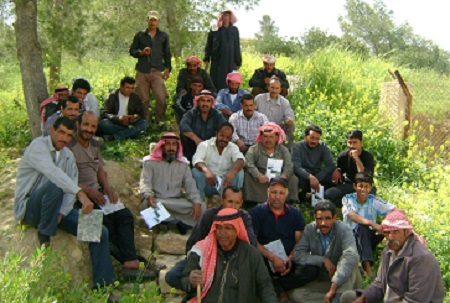 Herders workshop © RBG Jordan
CBRR Project

The project works to improve the livelihoods of herding families while conserving and regenerating biodiversity within the Garden's grounds and throughout the surrounding rangelands. Community involvement is fundamental to build trust, acceptance and a mutually beneficial partnership of land management.
Community engagement & conflict resolution
Improving flock productivity
Training for alternative livelihoods
Assessing site sustainability & protecting biodiversity
Local knowledge: traditional plant use & herding practices

Duration: Ongoing since 2007
ABOUT
The CBRR team first offered free barley to livestock owners in exchange for them not grazing their flocks on RBG land. Meanwhile, vegetation surveys, biomass estimates and grazing behaviour studies were conducted.
Amongst other things, these studies found that spring grazing was preventing plants from seeding the earth, perpetuating a cycle of land degradation. It was also noted that when lush vegetation was available, sheep were satisfied after just a few hours of grazing.
Based on the collected data, the CBRR team developed managed grazing plans that have led to a significant rise in biomass and plant diversity on formerly overgrazed land, while allowing herders to graze their flocks inside the RBG site on a supervised basis. Managed grazing regimes take pressure off the environment, allowing the land to re-generate naturally.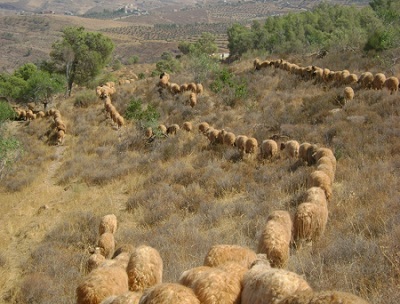 Managed grazing © RBG Jordan
The team also work hand-in-hand with the local community, hosting workshops to advise, train, listen, and facilitate communication. In particular, the CBRR provides training on herd management, family hygiene, herd health, and feed supplements. Two local individuals have been trained as para-veterinarians, to assist the CBRR veterinarian in recognizing diseases, controlling parasites, administering vaccinations, distributing low-cost medicines, and updating a herd recording system.
Parallel to its work with livestock owners, the CBRR has also implemented micro-projects with local families to encourage sustainable livelihoods, develop alternative income sources and empower women. So far (2013), a dozen families have received training in production of honey, sun-dried yogurt or jameed, and mushrooms for culinary and medicinal use. Women receive additional training in sewing and handicrafts, reducing marginalization by offering income sources separate to those of men within the community.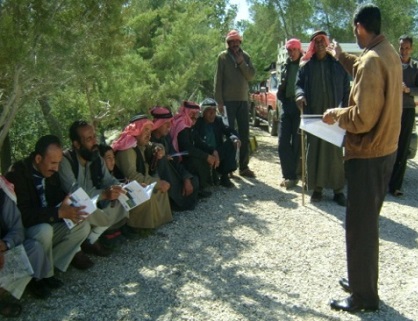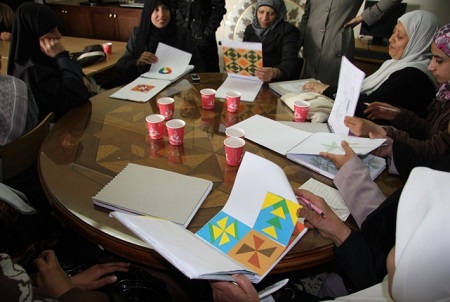 Community group training © RBG Jordan

Such training ensures that families are no longer solely dependent on sheep and goat herding for income, addressing chronic poverty and lack of opportunity; in 2012, net profits from honey production exceeded $3,600, a significant sum for families in this poor area. Additionally, the introduction of shared business ventures has helped cultivate a sense of community pride, and, by offering alternatives to livestock herding, the micro-projects indirectly support biomass regeneration and reduce land degradation.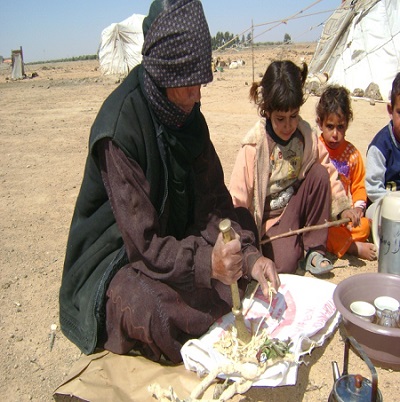 Bedouin woman grinds medicinal herbs © RBG Jordan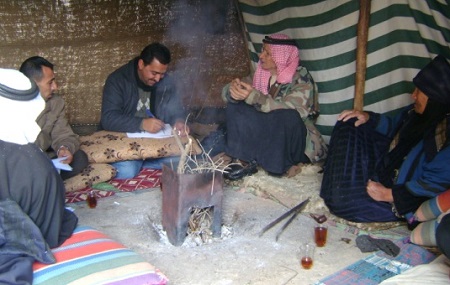 Family visit © RBG Jordan
IMPACT

Participation in the CBRR project rose from 5 local families in 2007 to 38 in 2013. Within two short years, livestock owners who once grazed the site down to bare earth were policing themselves and others to protect the rapidly reviving rangeland ecosystem. Local community members who were once very much against the establishment of the RBG are now firm supporters of the garden and ambassadors for rangeland rehabilitation and biodiversity conservation.
The CBRR's managed grazing plans have caused a return of profuse vegetation to RBG land, helping to mitigate erosion, biodiversity loss and drought. Biomass surveys found that the site's biomass increased by thirty percent from 2008 to 2009, a further thirty percent from 2009 to 2010, and ten percent per year thereafter. In six years, the number of wild plant species on site increased by over a hundred.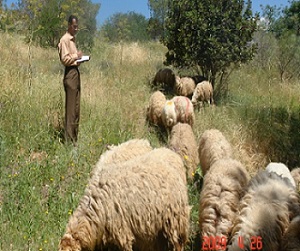 Herd management © RBG Jordan

Hygiene training has helped improve the health of local families. By the end of 2012, the CBRR team had vaccinated and treated approximately 10,000 head of sheep and goats. Sheep herds have become healthier and more productive, with lambing rates rising from 40% to 60% in 2007, to between 85% and 97% per flock in 2012. This not only indicates better herd health, but also heralded a significant rise in herders' incomes.
The CBRR was recognized as a 2012 Katerva Award nominee. It published a study in the Pastoralism Journal in May 2012 on livestock, medicinal plants and rangeland viability, and has other papers currently awaiting publication. The CBRR's work in the last five years has led to the development of a model for community development that can be adopted by other communities, the government, NGOs and international agencies. The CBRR has been recognized as an authority in the field and has been approached by several groups, including a world heritage site committee, interested in applying CBRR practices in their communities.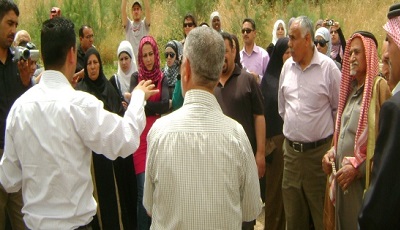 Community visit to the Garden © RBG Jordan

The impact of the CBRR project is apparent on many levels. Not only has the work of the CBRR been instrumental in the regrowth of biomass and the return of a wider diversity of native plants to the RBG site, but also it has had a marked effect on community spirit. The CBRR has brought hope for the future. Young people now have more prospects for earning a living locally, and are no longer feeling the need to move to larger urban areas.
Several local participants in the CBRR programme have bought land, are building homes, and are making concrete plans for the future. Healthier and more productive sheep and goat herds are providing better products for market, while yielding higher incomes for livestock owners. While still in their early stages, the alternative income generating micro-projects should continue to grow and offer more opportunities. In addition, local people have an increased awareness of the importance of conserving biodiversity and managing the rangeland appropriately.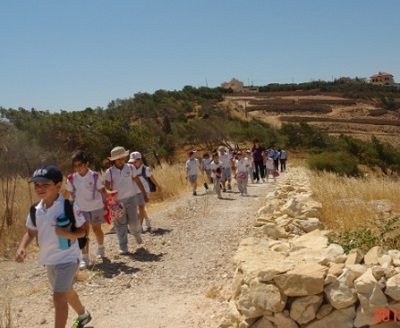 School children visit the Garden © RBG Jordan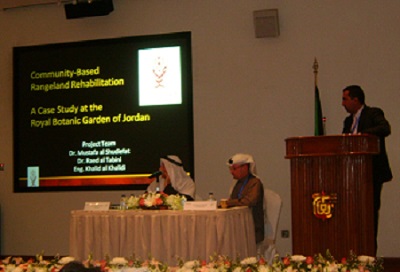 CBRR presentation at Hima workshop, Kuwait, 2012 © RBG Jordan
PROJECT EVALUATION

The success of the CBRR project is being judged on the basis of positive community response, good feedback from representatives of the International Union for Conservation of Nature (IUCN), the Royal Society for the Conservation of Nature (RSCN) and other groups of visitors, nomination for a Katerva award, and publication of results in several scientific journals. Read RBG Jordan's most recent paper, Ethnobotanical Study of Medicinal Plants Commonly Used by Local Bedouins in the Badia Region of Jordan, published in the 2013 edition of Journal of Ethnopharmacology.

WHAT'S NEXT?

The CBRR addresses issues that are not limited to localized pastoral communities, as rangeland degradation is a chronic and nearly ubiquitous challenge in the semi-arid land of Jordan. The next step is to extend the CBRR project to different areas of the country, as it may well prove to be part of the solution to the growing problem of climate change in the region.
LINKS

CBRR project at RBG Jordan
Beekeeping
Dairy production
Katerva Award



PRACTITIONERS, PARTNERS & SPONSORS

Dr Mustafa Al-Shudiefat, Researcher, RBG Jordan
Dr Raed Al Tabini, Rangeland Expert, RBG Jordan
Tariq Abu Taleb, Executive Director, RBG Jordan
Eng. Khalid Al-Khalidi
, Project Coordinator, RBG Jordan
United Nations Compensation Committee
Higher Council for Science and Technology
Ministries of Agriculture and Environment, Jordan
Badia Research and Development Center
National Center for Agricultural Research and Extension (NCARE)
Association Française de Développement (French Development Association)
Fonds Français pour l'Environnement Mondial (French Fund for the Global Environment)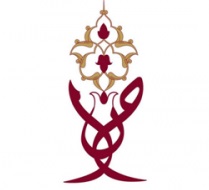 ---
Community-Based Rangeland Rehabilitation, Jordan
When the Royal Botanic Garden (RBG) of Jordan was founded in 2005, it identified food security as a major challenge facing Jordan. Climate change, overgrazing, desertification and a rapidly expanding population in Jordan are combining to create huge imbalances between food security and natural resource management. To address habitat loss and food security problems at a fundamental level, the RBG set up the Community-Based Rangeland Rehabilitation project (CBRR) in 2007, starting with five families living near the RBG site. Participation rose to 38 families by 2013.

The local herding community initially opposed the creation of the RBG, when an area of land traditionally used for grazing was fenced off for the Garden. Like most unregulated rangeland areas in Jordan, the condition of the land at that time was poor, due to constant overgrazing, illegal wood cutting and picnicking. The vegetation was sparse, erosion rampant, and the soil dry and unhealthy.

The CBRR's first step was to hold meetings with community members. Local livestock owners were offered forage replacement (barley) in exchange for not grazing on the site while the RBG conducted vegetation surveys, estimated the biomass and developed sustainable stocking rates. Based on the collected data, the CBRR team established stocking rates and developed managed grazing plans that have led to a significant rise in biomass and plant diversity, and better soil conditions. The formerly overgrazed land can now bank more rainfall and retain moisture in the dry summer months, all the while allowing herders to graze their flocks inside the RBG site on a supervised basis.

The CBRR's managed grazing plans have caused a return of profuse vegetation to RBG land, along with more wildlife. The site's biomass increased by over 30% in a three-year period, as measured by biomass surveys. The number of native plant species growing wild on the site increased from 436 in 2006 to 580 in 2012, some of which have not been recorded in the area since the late 1800s.

As part of the project, local families are also learning how to earn income from sources other than herding. A dozen families have been trained to produce bee products, sun-dried yoghurt (jameed) and mushrooms. Furthermore, local women have been taught sewing and handicraft skills, which empowers them by attaining new skills. The CBRR is successfully improving the livelihood of sheep and goat herders and improving family hygiene, which has greatly decreased illness among the community. The multi-faceted activities of the CBRR have brought higher and diversified incomes for local livestock owners, community mobilization, and greater understanding of sustainable land management practices, all of which are key to achieving enhanced food security locally and throughout the country.
More information about the RBG and the CBRR project are available at www.royalbotanicgarden.org.
Within RBG, they are also developing a premaculture-based demonstration site, as part of an EU-funded project called SIDIG-MED. The project aims to restore a large tract of arid land and turn it into a productive area that teaches practical, replicable skills to local community members. Project components include growing food and useful native plants, beekeeping, natural buildings, water harvesting, solar energy and food processing techniques, among other things. As they participate, local people are earning money, learning sustainable living techniques, and becoming more aware of the need to restore the environment.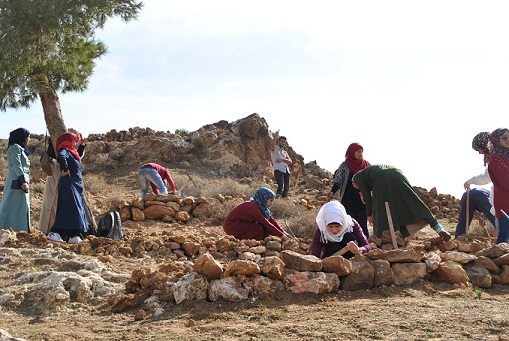 Building terraces at RBG Jordan
---