Therapeutic Horticulture Program
Dallas Arboretum's Therapeutic Horticulture Program is designed to connect people of all abilities and life experiences with the outside world through hands-on activities in a therapeutic setting. Active and passive interaction with nature and participation in horticultural activities provides countless benefits to the mental, physical and social well-being of participants.
Reaching out to diverse groups of all ages and abilities
Connecting people with the natural world
Using horticultural activity to increase well-being

ABOUT
The program offers formalized horticultural therapy and informal therapeutic horticulture activities to a wide variety of audiences at senior care facilities, schools, hospitals and rehabilitation centres. The aim is to give participants the opportunity to engage in, and successfully complete, hands-on plant and nature craft-oriented activities tailored to their individual goals and abilities.

What can therapeutic horticulture do?
Research supports how therapeutic horticulture activities positively influence health, including lowering blood pressure and heart rate and improving fine and gross motor skills and coordination. The activities provide an outlet for meaningful action with psychological benefits, such as reducing stress and anxiety, elevating mood, stimulating social interaction, and offering opportunities for self-expression and achievement. Therapeutic horticulture can work within the context of a treatment plan and complement existing treatment modalities.
Participants have described or demonstrated positive responses to participating in therapeutic horticulture activities; benefits include improved mood and concentration, stress reduction and increased opportunities for expressing creativity, recall and reminiscence of past memories, and connecting with others.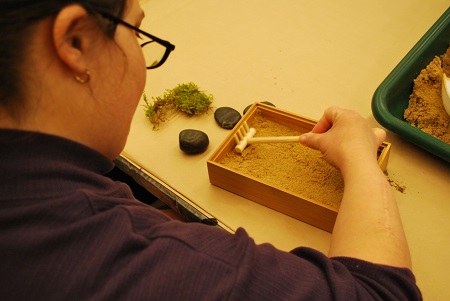 Table-top Zen garden © Dallas Arboretum and Botanical Garden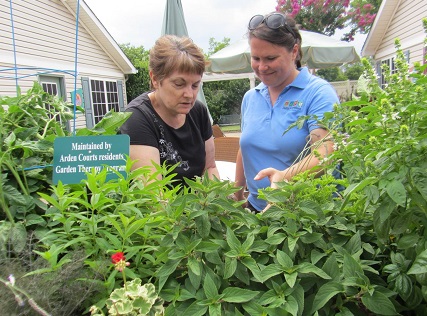 Therapeutic garden raised flowerbeds © Dallas Arboretum and Botanical Garden

Bringing nature outside the garden…
Garden Therapy-on-the-Go is an outreach service where the Arboretum horticultural therapist and trained volunteer assistants travel outside the Arboretum to offer programs to participants at agencies where they attend or reside. Agencies served include senior care facilities, rehabilitation and other medical centres, adult day programs, schools, and other human service organizations. Participants complete plant- and natural craft-oriented activities modified for their therapeutic goals and abilities.
Planned activities range from pressed flower artwork to plant propagation and are designed to actively engage each participant. Adaptive tools and techniques are employed to facilitate participants' access and their ability to successfully engage with program activities. Examples include extended reach and ergonomic gardening tools, hand over hand or task-sharing techniques, and strategies on how materials and equipment are set up to exercise participants' own therapeutic goals.
Additional program offerings include the A la Carte service, which gives agencies the option to work with Arboretum staff to develop custom programs tailored for their clients and site. A la Carte options include a vocational training program in landscape horticulture for resettled refugees and a program of design and implementation of accessible raised flower beds for older adults with dementia at memory care residences.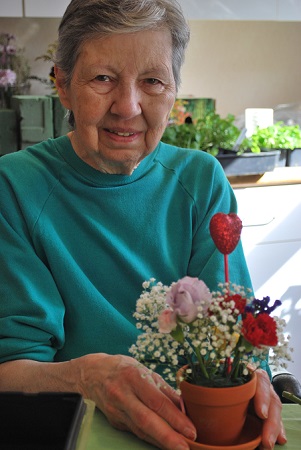 Flower arranging © Dallas Arboretum and Botanical Garden
IMPACT
Since the program's launch in April 2012, a diverse group of more than 1000 participants have been a part of the Arboretum's Therapeutic Horticulture activities. Participants thus far have included children and adults with developmental and physical disabilities, retired adults, seniors with Alzheimer's disease and dementia diagnoses, resettled refugees, military veterans, individuals living with illness, and youth and adults from disadvantaged backgrounds. Arboretum volunteers have contributed over 1400 hours in preparing supplies for programme use and assisting with program delivery.
Garden Therapy-on-the-Go has helped the Arboretum reach underserved audiences and expanded their ability to connect plants and nature with people, regardless of ability, financial means, and other barriers that might otherwise prevent participation. It has expanded the Arboretum's ability to reach out beyond its gates and serve individuals who may not otherwise have access to the garden. The program has also increased public awareness about the Arboretum as a community resource and the benefits of individuals' participation in therapeutic horticulture activities.
Each therapeutic horticulture session is evaluated to determine the number of participants and other attendees (such as family members, caregivers, agency staff, or other observers), describe how the activity worked towards the group's identified therapeutic goals, and record individual responses to the activity. Paperwork is completed following each session and shared with agency staff.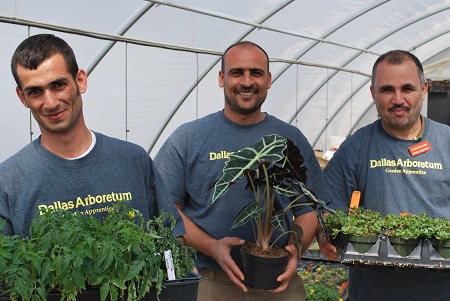 Horticultural training © Dallas Arboretum and Botanical Garden
WHAT'S NEXT?
Started in April 2012, the project is ongoing.
PRACTITIONERS & SPONSORS
Susan Morgan, Senior Manager of Therapeutic Horticulture, Dallas Arboretum and Botanical Garden
Project currently funded by agency participants
ADDITIONAL LINKS
Dallas' Therapeutic Horticulture Program was featured in the Dallas Morning News (2012)
More information about the Therapeutic Horticulture Program is available on the Arboretum's website
---