European Carnivorous Plant Exhibition and Exchange 2013
18 April 2013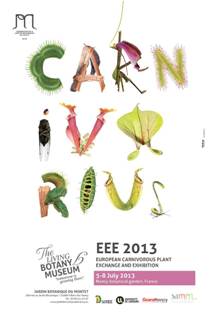 The 2013 European Carnivorous Plant Exhibition and Exchange is to be held at the Nancy botanical garden, France on the 5th -8th July.
The programme includes presentations of carnivorous plant collections, plant sales, and an extensive range of lectures and workshops, from the medical applications of
Nepenthes
, to the ultra-fast suction trap of
Utricularia
.
The lecture programme runs from 5–7 July and there will also be a weekend event for the general public with lectures, workshops and tours (6-7 July).
On July 8th attendees will be treated to the breathtaking sights of the Vosges mountains, with a visit to the alpine garden of
Haut Chitelet
, a tour of natural peatland sites, and lunch in a typical French farmhouse.
The event is organized by Dionée (the French Organization of Carnivorous plants enthusiasts) and Nancy botanical garden.