BGCI Education awarded fellowship from The Noyce Foundation Leadership Institute
21 March 2013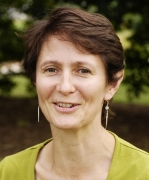 BGCI's Director of Education, Julia Willison, has been selected to become a fellow of The Noyce Foundation's Leadership Institute year-long programme.
The Noyce Leadership Institute (NLI) brings together leaders in informal science education from around the world with an aim to increase the public impact of science centres, museums, and related institutions. The fellowship experience provides access to knowledge, tools, promising practices and professional networks that will help to hone the leadership talents of participants, increasing their capacity to manage change, focus outwards, and to advance innovation in their own institutions, their local community, and beyond.
Including the 2013-2014 cohort, 105 Fellows and 76 Sponsors have participated in NLI, representing 80 institutions from 25 nations.
"The NLI Fellowship will help to prepare the next generation of leaders to extend the impact of science centres and museums deeper into their local communities and to increase understanding and excitement about science." – Dr. Geno Schnell, NLI program director.
BGCI's Director of Education, Julia Willison, will take part in the 2013-2014 Fellowship commencing this month, with BGCI Board Member Kathy MacKinnon as her sponsor.
BCGI's Strategic Initiative for the programme is to "engage with 20 botanic gardens throughout Europe to support them to develop their social role for the benefit of local communities and for long-term sustainability and plant conservation."
This is a fantastic opportunity for BGCI as the knowledge, skills and experience to be gained from this programme will both complement and greatly enhance our existing community outreach and social inclusion activities, helping us to promote plant conservation to a broader and more diverse audience.
The NLI is run in partnership with the Association of Science-Technology Centres (ASTC), the European Network of Science Centres and Museums (Ecsite), and the Association of Children's Museums (ACM), and is funded by the Noyce Foundation, the Institute of Museum and Library Services (IMLS), and the Gordon and Betty Moore Foundation.