Education centre
> Making Your Garden Come Alive – Environmental Interpretation in Botanic Gardens
Making Your Garden Come Alive – Environmental Interpretation in Botanic Gardens
Konig,M. (2000) Making your Garden Come Alive! Environmental Interpretation in Botanical Gardens. Southern African Botanical Diversity Network Report No. 9. SABONET, Pretoria.
ISBN: 1-919795-50-2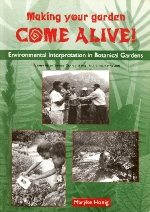 This excellent book, produced by the Southern African Botanical Diversity Network (SABONET), provides practical guidelines on how to develop an interpretation programme in a botanic garden. In a very clear format, with illustrations and diagrams throughout and with inspirational examples and ideas, this publication provides botanic garden educators with a very valuable tool to use in interpretation design.
It includes sections on planning guided walks, self-guided trails, interpretative signs and visitor orientation, as well as newer ideas such as discovery carts, educational theatre and roving interpreters. It also explores the importance of deciding upon and using themes and having an overall plan for your site interpretation.
This resource is available electronically on the BGCI CD Rom, 'Plants for the Planet', but is no longer avalaible hard-copy. Contact us to order a copy of the CD Rom or use the links below to download the chapters.
Preface and Chapter 1 - What is interpretation?
Why have interpretation?
Characteristics of good interpretation
Ways to make your garden come alive!
Chapter 2 - Planning an interpretation programme
Begin with an end in mind
Match the programme to your needs
A team effort
Ask for help
Evaluating the environment
Adding a professional touch
Chapter 3 - Thematic interpretation
Why use themes?
Practising themes
Theme gardens
Chapter 4 - Planning a guided walk
Planning the walk
Tips for interpretive guides
Making walks more interactive and fun
Evaluating walks
Engaging with visitors
A bag of tricks
Chapter 5 - Interpretive signage
Types of signage
Built-in evaluation
Maintenance
Making signs more interactive
Chapter 6 - Making interpretive signs
Before you start
Choosing a concept
Organisning the information
Writing
Testing the concept
Designing and making the sing
Using illustrations
Chapter 7 - Planning a self-guided trail
Trail design
Accessibility
Interpreting the trail
Trail maintenance
Chapter 8 - Visitor orientation
At the entrance
Garden maps
Garden layout
Directional signs
A signage manual
Chapter 9 - Expanding your options
Roving interpretation
Discovery stations
Specially for children
Educational theatre
Chapter 10 - Ideas and inspiration - Part I
Chapter 10 - Ideas and inspiration - Part II
Examples of interpretive materials

Harry Potter's Magic Plants
Flowers so deadly a single touch can be fatal, fruit that makes you believe you can fly and leaves that allow you to conquer the highest mountains. It might be hard to believe, but in real life the plants of Harry Potter are stranger than fiction itself.