ESD Case Studies
Roots with Shoots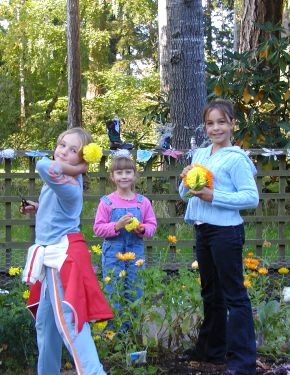 "Roots with Shoots" is a hands-on education programme run at the Milner Gardens and Woodland, British Columbia, Canada. School children (Shoots), staff and volunteer mentors (Roots) learn together during food gardening and woodland experiences. The multi-visit on-site programme balances time and space with school field trips, pre-school programmes and summer camps. Off-site, a Spring Seed Dispersal program is taken to classrooms to share native plant and organic vegetable planting activities and information. Over a thousand 'Shoots' and many 'Roots' have already participated in the programme and this season, for the first time, students have been granted special 'Research Permits' to collect native plants and begin a Shoots with Roots herbarium.

A resource library of gardening and nature books, and information manuals for various programmes, is accumulating and available to share with others. See the link at the bottom of this page for more information.


Big Answers to Big Questions
Encouraging public debate is the essence of the "Big Answers to Big Questions" programme run by the Botanic Gardens Trust, Sydney, Australia. The aim of the programme is not to preach but to empower the public to make up their minds about subjects such as "Will the next world war be fought over water?" or "Is landscape preservation about yesterday, today or tomorrow?" or "Is a genetically modified crop better than one doused with pesticides?"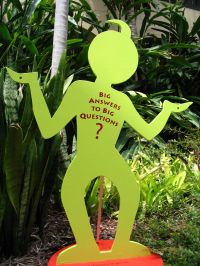 A pilot programme was implemented with funding from the Environmental Trust of the Government of New South Wales, with the aim of tackling three contentious environmental and scientific issues, providing balanced information and encouraging public debate. Water was the first hot topic, with the theme encompassing a range of pertinent issues, not the least being the shortage of potable water in Australia, the driest inhabited continent.
The Community Education Unit of the Botanic Gardens Trust devised a holistic programme, comprising evening lectures, weekend events, theatre, debates, tours and other public programmes. The programme reached a diverse audience including visitors, Friends of the Gardens, schools and the general public. The overall reach (direct and indirect) was estimated at 2,000,000. The web-based component, radio and other media gave a wider audience access to the programme and the chance to contribute to the discussion.    
Find Out More
Big Answers to Big Questions
Big Answers to Big Questions was an extensive public program about water, heritage landscapes and genetically modified organisms held at the Royal Botanic Gardens Sydney from March to August 2005. BABQ aimed to present new perspectives and give everyone the chance to contribute to informed debate.
Roots with Shoots
In 2003 Milner Gardens and Woodland (MG&W) began an intergenerational gardening program for schoolchildren (Shoots) and volunteer garden mentors (Roots), called "Roots and Shoots". It is a hands-on nature/ecology program in which 'Shoots' and 'Roots' share laughter and learning.