7th International Congress on Education in Botanic Gardens success!
BGCI's 7th International Congress on Education in Botanic Gardens was hosted by the stunning Durban Botanic Gardens, South Africa from 1st to 5th November 2009.
This was the first time the education congress had been held in Africa and 110 delegates from 23 countries participated; an excellent turnout considering the global economic situation.
The congress was run over five days and showcased the innovative ways in which botanic gardens through education are:
1) achieving the GSPC and Millennium Development Goals (MDGs),
2) encouraging environmental justice,
3) addressing climate change, and
4) highlighting the Decade of Education for Sustainable Development.

Three days were held at the International Conference Centre (ICC) in Durban and the first and fourth days were run at Durban Botanic Gardens.
A key note speaker set the scene each day at the ICC.

• On Monday, Professor Brian Huntley, former Chief Executive of South African National Biodiversity Institute, presented a global overview of the role played by BGCI in identifying goals, targets and processes towards achieving the 2010 GSPC goals. He also highlighted the successful contributions made by South Africa's network of botanic gardens.

• On Tuesday, Stella Simiyu, BGCI/SCBD Global Strategy for Plant Conservation Officer emphasised the need for botanic garden education to be relevant to current environmental and economic situations. She stressed the need for work to be aligned with the MDGs and to ameliorate the negative drivers of environmental degradation identified by the Millennium Ecosystem Assessment.

• On Thursday, Caroline Lewis, Director of Education, Fairchild Tropical Botanic Garden presented the inspirational Fairchild Challenge programme run in six botanic gardens throughout the USA, Costa Rica and Venezuela. She called on educators to scale up their programmes, to maximize their impact and to light fires in the hearts and minds of young people who are increasingly disconnected from nature.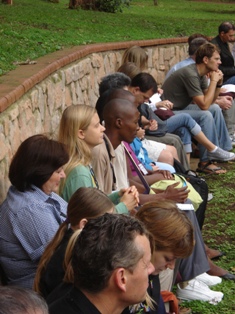 In total 43 papers and 20 posters were presented and 33 workshops were run. A Knowledge Café was held with all delegates to gather views and contributions on education and the GSPC. Interesting points were raised, highlighting the importance of educators in linking science and policy with public programmes and communication. Six national and regional botanic garden network meetings were also organised, providing delegates with an opportunity to discuss relevant issues and plan collaborative activities. The film 'The Age of Stupid' was screened, inspiring a range of reactions and a lively debate.
Many thanks to all those who made this such a successful Congress.