Education centre
> Communities in Nature: Growing the Social Role of Botanic Gardens
Communities in Nature: Growing the Social Role of Botanic Gardens
BGCI supports and encourages the commitment of botanic gardens to work with their local communities on common issues of social and environmental importance, for the enduring benefit of those communities, the gardens themselves, and towards a sustainable future for our planet.
Find out why this work is important by reading our groundbreaking report (see below), discover the range of projects we've supported and explore how botanic gardens are working with communities across the world. If your garden is interested in collaborating with BGCI to develop its social and environmental role, please let us know by completing this form. For some animated inspiration take a look at our video produced by Cognitive Media. To get started on growing your garden's social role click on the Manual below.
| | | |
| --- | --- | --- |
| | | Botanic gardens are working with communities world-wide to support environmental awareness, sustainable development and social inclusion. This applet allows you to explore projects that are happening across the globe. |

'Towards a New Social Purpose Redefining the Role of Botanic Gardens' reports on a year-long research study into the social relevance of UK botanic gardens, drawing on international good practice. Read the full report and the executive summary
Following the research, BGCI ran two pilot projects: 1) Winterbourne House and Garden, University of Birmingham who set up 'Urban Veg', a community based vegetable garden and 2) Ness Botanic Garden who ran series of science focused workshops for students from a deprived area of Liverpool. Find about the projects and read the evaluation.
During 2012, BGCI supported four UK botanic gardens to develop their social roles through a programme of workshops and funded small-scale projects. Read about the projects, download the gardens' reports and view a short film about each project.
Join in the conversation and visit the Communities in Nature Blog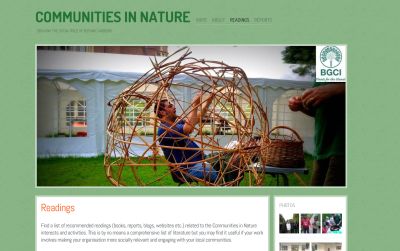 Supported by