Resources for Communicating about Climate Change
A number of organisations have published educational resources for teaching climate change. Using a range of resources helps students to understand different perspectives and arguments on the subject and to identify bias and conflicting evidence.
Action Aid has a tool kit for secondary schools entitled 'Power Down'. This includes photo cards, activities and a DVD with video clips. Pupils are encouraged to reflect on their own actions and responses to the evidence of climate change. www.actionaid.org.uk/101018/powerdown_e_news.html

Children in a Changing Climate have produced an extensive audit of educational resources on different aspects of climate change, aimed at teaching key stage 3 curricula in the UK. http://www.childreninachangingclimate.org/climate_change_key_stage_3_resources_audit_publish.html

DCSF have created a carbon detective kit which looks at auditing the school building and school grounds. www.carbondetectives.org.uk/content/home/toolkit/backgroundinfo

Oxfam has produced a range of resources for students aged 9-11. They provide an overview of the causes and consequences of climate change, and help teachers to explore its impact on everyone, especially people in the developing world. http://www.oxfam.org.uk/education/resources/climate_chaos/

UNICEF has published a short booklet looking at the impact of climate change on children. www.unicef.org/publications/files/Climate_Change_and_Children.pdf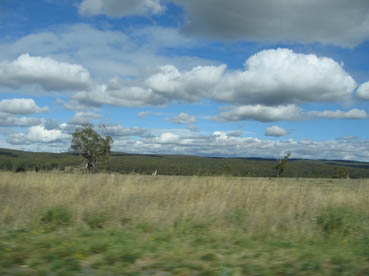 Australia has been suffering from extreme weather conditions, from drought to flooding, which may be attributable to climate change.
Photo: S.Kneebone
Roots 5:1, New horizons: tackling climate change (published April 2008) explores the issue of climate change and how gardens can build it into their public awareness and education programmes. There are many ideas and resources for investigating the issue with audiences and encouraging individuals to take responsibility for climate change and its solution.
UK Rivers Network - finding out about global warming and climate change
An extremely comprehensive set of web links and resources covering all aspects of climate change, from causes to impacts and solutions. Excellent range of sources that could provide the basis for an exhibition, presentations or education programme.
Friends of the Earth climate change resources
Mad about climate change – poster for 5 – 10 year olds and Shout about climate change – activity pack for 11- 13 year olds. Both free to download.
Contents of the activity pack include educators' notes with a list of useful resources, sections with information and activities investigating climate change: causes and effects, electricity: problems and solutions, heating: problems and solutions and transport: problems and solutions. The pack does have a UK focus but the activities are easily adaptable and the case studies are international. The poster is less specific, but provides a simple introduction to the issue and has an accompanying lesson plan.


Française and English
The resources below have been recommended by Laurel McIvor, curator of interpretation at the Nova Scotia Museum of Natural History
Learning for a Sustainable Future (Française & English):
Excellent resources with specific age-related recommendations & background about developmental readiness. Check under theme "Weather, Climate & Climate change"
Basic description of problems & focus on solutions. Check the links at bottom of page, there is good information under "impacts" on forests & imperilled ecosystems.
CBC news on climate change:
This has a whole section on climate change with several interactive components, including a great 'Arctic ice melt' map, illustrating some of the impacts of climate change.
USA-based resources, taken from the Atmospheric Science and Climate Literacy Workshop 2007
Climate Literacy – Essential Principles and Fundamental Concepts
This is a work in progress, begun at April 2007- an updated version is planned to be published for the 2008 National Science Teachers Association meeting:

Communicating and Learning About Global Climate Change: -An Abbreviated Guide for Teaching Climate Change
From Project 2061 at AAAS (PDF 33 MB)
Global Warming Cool It - A home guide to reducing energy costs and greenhouse gases
This booklet provides information to help individuals understand how they contribute to climate change, and how they can play an important part in reducing greenhouse gas emissions. It includes details of actions that individual can take in their own home to help combat climate change. It could be useful as a reminder or discussion piece when working with older groups, as the basis for a research project or to create an exhibition for the general public on the impact of their own actions.

Can algae save the world?
Focussing on biofuels, their possibilities and controversy surrounding their use, this online guide to climate change includes detailed information about the science behind biofuels. Good resource for using with secondary school students.
Spanish
The resources below have been recommended by Orlik Gomez Garcia, head of education, Jardín Botánico Francisco Javier Clavijero, Mexico.
This Website has been developed by Mexico's National Institute of Ecology in order to offer public access to information on climate change and its effects. Relevant information on activities and programs developed in Mexico is presented in this section.
Cambio climático. Una visión desde México (en español)
This book, by Julia Martínez y Adrián Fernández (editors) can be downloaded as a PDF. Julia Martínez and Adrián Fernández write "Climate change is not only considered a problem that falls only to developed countries. The quality and extent to which Mexican specialists tackle each of the themes of the book is clear demonstration of the great human potential that our country has, both in the area of research, as in the analysis of social and political climate change. We hope that this book achieves encourage scholars from other disciplines to come to the topic, so that the common people to understand the phenomenon could contribute to its solution, the legislators to boost the efforts of law to promote renewable energy in Mexico and decision-makers to allocate the necessary financial and institutional resources to deal seriously and effectively with the problem."

Para comprender el cambio climático (en español) (Understanding climate change)
This is dedicated for children and educators, with information directly or indirectly related to the topic of climate change. This section contains some answers to questions like what is climate change, where and why are we vulnerable, what is being done to mitigate it, and what can we do against these changes.

Sistema de publicaciones del Instituto Nacional de Ecología (en español)
This is the website of Mexico's National Institute of Ecology System of Publications. In this site you can find and search by theme, author or keyword. Publications about climate change are amongst the most reviewed. Many of them are downloadable, and also is possible to purchase others.

Centro de Información y Comunicación Ambiental de Norteamérica, A.C. (en español) (North American Centre for Environmental Information and Communication)
The Centre is a very complete resource about environmental themes, including climate change. Children and their families can find "10 tips para combatir el cambio climático" through a theme search.

El Correo del Maestro
This is an electronic journal for teachers from kindergarden to secondary school. You can find a very large pool of themes and some startegies to explain them to children. In the last issue of 2007 there is a pair of articles about climate change, looking to keep students interested on this theme through quite nice explanations and a series of practical activities:
Do please send in reviews of your favourite resources for looking at climate change with audiences - send them to education@bgci.org.