Plants that travel the world
Volume 5 Number 1 - April 2008
Christine Newton, Susan Allan and Mary Smith
French title: Les plantes qui parcourent le monde.
Spanish title: Plantas que viajan en el mundo.
Summary
There was a time when we in the UK were largely dependent on local supplies of vegetables and fruits. This meant that in some seasons there was an abundance of produce while in others, particularly in winter, we eked out our limited range of produce (including the many fruits that were harvested in autumn), while longing for the fresh vegetables and fruits that would arrive with spring and summer. Now in the 21st century, the shelves of supermarkets are filled with fresh vegetables and fruit from all over the world regardless of the season. Here we present an activity that can be used to stimulate awareness of issues related to sustainability and the environmental costs of bringing fresh food to our supermarkets. There are plenty of cross-curricular themes that can be developed. The questions and ideas offered can be used as a framework and can be adapted for a particular class or groups of students. It would be useful to have a world map - laminated if possible – for students to draw lines on. Alternatively an image of a world map can be projected onto paper on the wall.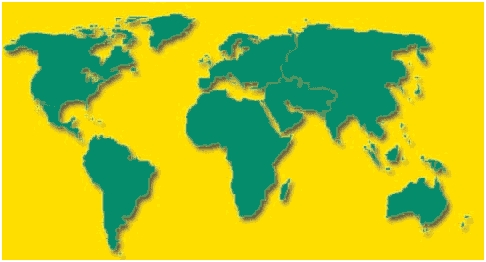 Food miles activity
Aim of activity: To help students understand where their food comes from and that there are environmental costs associated with bringing fresh food to our supermarkets
Age range: 8 – 12
Time needed: 40 minutes
Group size: whole class and small groups
Setting: Classroom
Key vocabulary: Food Miles, Environmental Costs
Preparation
Display a selection of foods for students to examine
Prepare a table (see below) for each student or group of students
Provide a laminated world map or use an overhead projector or computer to project one onto paper. Photocopied sheets could also be used
| | | | |
| --- | --- | --- | --- |
| Name of food | Country of origin | Distance travelled in km | "Damage points" (100 km = 1 point) |
| | | | |
| | | | |
| | | | |
| | | | |
Procedure
Show the class the display. Some foods like apples, melons or mangoes, have stickers on them saying which country they have come from. Ask the students to see if they can work out how far this food has travelled before it was bought.
Ask the students to select three foods and complete the table.
Ask students to write the names of the food in the first column and the country where they originated from in the second column. Then ask the students to find out approximately how far this country is from the UK and write this in the third column
Explain to the students that when we transport food across the world, we use up lots of fuel and create pollution, which damages the environment. Explain that we can get a rough idea of the damage caused to the environment by awarding 1 'damage point' for each 100 km travelled. Students can then work out their 'damage points' for each food and write this in the fourth column.
Ask the students to find the countries on a map of the world and draw a line to link the countries with the UK.
In groups, ask students to think and talk about the following questions.

Do we need to buy food from countries that are so far away or can we buy locally?
Do we really want to eat strawberries in the winter?
Chocolate and bananas will not grow in the UK. Think about how you could help the growers by choosing 'ethically traded' products.
How many forms of transport are used to bring foods to the UK?
Extension
Ask students to use this information to help produce a poster or to prepare an assembly to make other people think about where their food comes from.
Ask students to explore the different ways in which food is transported. Are there modes of transport that are less environmentally damaging than others? Ask students to prepare a leaflet about this.
Evaluation
Ask pupils to complete the following sentences:
From doing this activity, I learned..
I was surprised that...
I would like to know more about ...
Résumé
Il fut un temps où, au Royaume Uni, nous étions largement dépendants des provisions locales de fruits et de légumes. Cela signifiait qu'à certaines saisons, il y avait une abondance de produits et qu'à d'autres, particulièrement en hiver, nous vivions sur nos ressources peu diversifiés et attendions avec impatience les fruits et légumes frais qui n'arrivaient qu'avec le printemps et l'été, ainsi que de nombreux fruits qui étaient récoltés à l'automne. Maintenant, au 21ème siècle, les rayons des supermarchés sont remplis de légumes et de fruits frais presque en toutes saisons et qui proviennent du monde entier.
Nous présentons ici une activité destinée à sensibiliser aux problèmes liés au développement durable et aux coûts environnementaux induits par l'acheminement de produits frais dans nos supermarchés. De nombreux thèmes transversaux peuvent être développés. Les questions et les idées proposées peuvent servir de trame et être adaptées à une classe d'un niveau particulier ou des groupes d'étudiants. Pour mener cette activité, il sera utile d'avoir une carte du monde, si possible plastifiée, pour que les étudiants puissent dessiner des lignes dessus ou bien de projeter une mappemonde sur du papier au mur.
Resumen
Hubo un tiempo cuando el Reino Unido fue grandemente dependiente de la producción local de frutos y vegetales. Esto significa que en algunas estaciones hubo una abundancia de productos y en otras, principalmente en invierno, había un rango de producción limitada, que terminaba con el incremento en la producción de los vegetales y frutos que llegaban en la primavera y verano – y los variados frutos que cosechados en otoño. Ahora en el siglo 21, los anaqueles de los supermercados están llenos con vegetales y frutos frescos independientemente de la estación provenientes de todas las partes del mundo.

Aquí, nosotros presentamos una actividad que puede ser usada para estimular la conciencia de los temas relacionados con la sustentabilidad y de los costos ambientales de traer comida fresca a nuestros supermercados. Hay suficientes temas a través de la currícula que pueden ser desarrollados. Las preguntas e ideas ofrecidas pueden ser usadas como estructura y pueden ser adaptadas por una clase particular o grupo de estudiantes. Podría ser útil tener un mapa mundial –laminado si es posible. Para que los estudiantes dibujen unas líneas sobre ello. Alternativamente, una imagen de un mapa mundial puede ser proyectado sobre papel en la pared.

Adapted from an activity produced by RBG, Kew at Wakehurst Place and published on the Science and Plants in Schools (SAPS) website.

Christine Newton, Susan Allan and Mary Smith
Royal Botanic Gardens
Wakehurst Place
Ardingly
Nr Haywards Heath
West Sussex
RH17 6TN

Science and Plants in Schools
www-saps.plantsci.cam.ac.uk