In the Spotlight - Steve Meredith
- December 2007
This month, we shine the spotlight on Steve Meredith, Education Officer at the Botanic Gardens of Adelaide (Australia). If you would like to be "In the Spotlight", send an email to e-update@bgci.org.
How long have you worked in plant-based education? 19 years.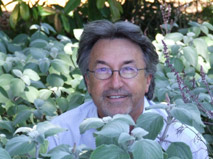 Steve in his natural habitat!



How did you become involved in plant-based education? The first school I was appointed to teach in consisted of weatherboard classrooms surrounded by a sea of bitumen. It looked a little like a soulless, prison camp. I set up an extracurricular program for students to 'green' the bitumen. For me the project unleashed the power of working with plants and the value of 'real' projects for developing environmental learning and values.

What would you say your philosophy is on education and learning? The relationship between teacher and learner is paramount. Preconditions for developing effective relationships and learning involve valuing what learners bring, being inclusive of differing learners needs, and attending to the different learning styles learners bring to the group. Purposeful, relevant and negotiated content drives motivation.

What is your most memorable moment as a plant-based educator? By chance I met some students who had participated in one of our plant discovery trails over four years ago. They passionately and excitedly recounted in great detail what they remembered and the meaning it had for them. Because so much of the longer-term impact of education is hard to measure, I found this moment to be especially inspiring.

What is your favourite teaching technique? From a theoretical point of view, talking with rather than at people, setting up two-way conversations to find out what they already know and encouraging them through purposeful activities to discover and build their own meanings. From a plant perspective, I enjoy using the curiosities of the plant world, like touch plants and water repellant leaves of the lotus, to arouse ideas about how such features work and how they might help the plant.

What teaching resource could you not do without? We have a large, 130-year-old strangler fig, the only one I know of growing in our city and for that matter our state. It's uniqueness to our area and striking aerial roots immediately arouse curiosity and questions. Couple this with its fascinating survival stories and you have an engaging introduction to the diversity of life in rainforests.

What is the one thing you want your audiences to go away knowing? Without explicitly saying it, I would want them to know the power of taking time to really tune all your senses into the natural world, to be curious about what you are noticing and to understand the profound effect our actions can have on it.

What one piece of advice can you offer to an educator starting up an education programme in a botanic garden? Think about the way you teach as much as what you teach.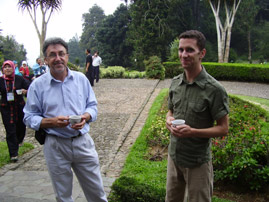 Steve and our very own Education E-update editor, Brian Johnson, working on a teacher training workshop in Cibodas Botanic Garden, Indonesia.

What is your favourite plant? Brachychiton ruspestre or Bottle Tree. It gets my vote because of the remarkable reactions it evokes in people. Sit nearby the one in our forest garden and you'll often hear squeals of delight that herald its discovery, followed by some serious tree hugging and then a rush of creative guessing to explain its bizarre shape. A crowd-winning plant.

For more information on education programs at the Botanic Gardens of Adelaide, email Steve Meredith (meredith.steve@saugov.sa.gov.au).