In the Spotlight - Patsy Benveniste
- November 2007
In the Spotlight this month is Patsy Benveniste, the vice president of community education programmes at Chicago Botanic Garden, Glencoe, Illinois, USA. Chicago Botanic Garden is the new home of the BGCI US office.
How long have you worked in plant-based education? Going on eight years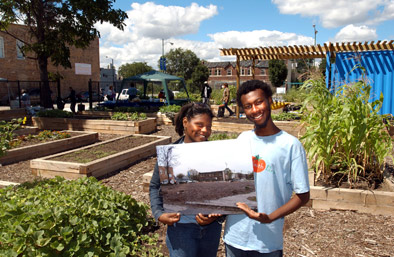 Students from the Green Youth Farm proudly showing their acheivements



How did you become involved in plant-based education? I came to the Garden from Lincoln Park Zoo, another museum in the Chicago community. There is lots of cross-talk, collaboration and personnel-borrowing between Chicago's museums, whether traditional or living collection. I tell people I just switched kingdoms.

What would you say your philosophy is on education and learning? I like to borrow a line from Ralph Waldo Emerson: "Nothing great was ever achieved without enthusiasm." I think the irreducible role of the educator is to light the fire and stoke the enthusiasm of the learner. That can be achieved using any one (or none) of the currently favoured pedagogical philosophies. I am a sucker for a fabulous lecturer, a verbal spellbinder, but most all of us -- and certainly young people – learn best by being fully engaged – hearts, hands, and minds.

What is your most memorable moment as a plant-based educator? I am not a teacher myself, so I can only look on at the wonderful impact that our educators have with our audiences, which include the youngest kids to the oldest nursing home residents. I guess that what sticks in my memory most is the undisguised delight with which our Green Youth Farm students – whether middle or high schoolers – share their knowledge and beginning mastery of the plant world with anyone who will listen to them. They are hungry to be "seen and heard" on this subject – it is part of their new empowerment as people of knowledge. They are enthusiastic and so have fulfilled Emerson's first requirement for achieving great things. Many Chicago Botanic Garden staff, donors and friends have the same reaction to these students.

What is your favourite teaching technique? Getting kids outside and in the hands of someone who really knows the woods, the water, the prairie or the garden and who can tap into the learner's (ages 2-92) genuine hunger to know.


Patsy could not do without a really good teacher - here one is working with students on the Green Youth Farm Project

What teaching resource could you not do without? A really good teacher. Take away the equipment and supplies and even the classroom, but never that teacher who has the magic.

What is the one thing you want your audiences to go away knowing? That they are hungry for more… that they want to come back to the Garden or to wetlands, woods and wild places.

What one piece of advice can you offer to an educator starting up an education programme in a botanic garden? Learn how to connect with people of talent and experience in your community who want to do the same thing you are doing, but don't need the pay. In other words, be a cultivator of volunteers who can help make your ideas take wings and bring some of their own genius to the table for free.

Read more about the Green Youth Farm Project in Patsy's article in Roots3:1 - Growing young people from the ground up.

Contact information:

Patsy Benveniste
Vice President
Community Education Programs
Chicago Botanic garden
1000 Lake Cook Road
Glencoe, IL 60022
847-8835-6945
pbenveni@chicagobotanic.org