In the Spotlight - Paola Sierra Manrique
- September 2007

BGCI Education Team

This month we shine the spotlight on Paola Sierra Manrique, Environmental Education and Interpretive Programme Coordinator, Bogota Botanic Garden 'José Celestino Mutis' and the National Network of Colombian Botanic Gardens. You can also read the full interview in Spanish.

How long have you worked in plant-based education? 10 years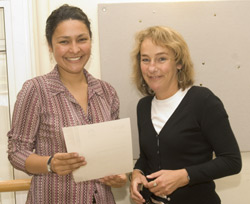 Paola receiving her certificate for the International Diploma in Botanic Garden Education from BGCI's Sara Oldfield, September 2006

How did you become involved in plant-based education? I became involved in plant-based education through the Bogota Botanic Garden 'José Celestino Mutis'. Initially I designed and implemented the children's environmental education programme and then I became involved in projects and programmes aimed at young people and adults. I love this work because botanic gardens are such fascinating places.
What would you say your philosophy is on education and learning? I think that education is a long term process that never ends. This process enables us to take part, make connections and transform our culture and society. Furthemore, I believe that learning depends to a large extent on the environment in which we live, the experiences we have and the stimulus we receive. For me it is very important that people learn in a natural and active way in environments that give rise to the construction of knowledge from relationships with other people.
What is your most memorable moment as a plant-based educator? The most memorable moment was when we created the Kids Plant Science Club at the Botanic Garden. I especially remember the graduation of the first group of children. I also remember a truly enormous expedition with 3,000 children, visiting the natural reserves outside Bogota.
What is your favourite teaching technique? Learning through collaboration, cooperation and direct expeience with the plant collection, I like visitors to have worthwhile relationship with science and to promote discovery and investigation during their visit.
What teaching resource could you not do without? The botanical collection and support materials (for example, magnifying glasses, boards for writing, pencils)
What is the one thing you want your audiences to go away knowing? They must know what strategies they can use to care for the environment and how to contribute to sustainable development.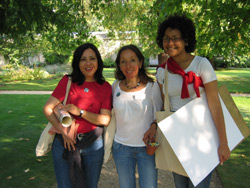 Paola and friends at the 6th International Congress on Education in Botanic Gardens

What one piece of advice can you offer to an educator starting up an education programme in a botanic garden? That they know the environments, the collections and physical space of their botanic garden so that they can design creative activities where they can promote the care and conservation of plants.

For more information about botanic garden education programmes in Colombia, email Paola Sierra Manrique (paosier@gmail.com) or visit the Garden's website.