In the Spotlight - Dr. Suzanne Kapelari
- August 2007
BGCI Education Team
This month, we shine the spotlight on Dr. Suzanne Kapelari, Head of Education, University Botanic Gardens, Institute of Botany, University of Innsbruck, Austria.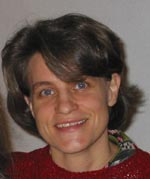 Dr Suzanne Kapelari

How long have you worked in plant-based education? Seven years.
How did you become involved in plant-based education? The primary school teacher of my daughter came up to me and asked me to do a guided tour through the Botanic Garden because it is in the school neighbourhood. She expected me, being a biologist, to know a lot about plants. I thought, "Such a boring thing for kids at that age (6-7 years) walking through a park listening to somebody talking about plants". So I prepared an activity program with learning games, a treasure hunt and an imaginary trip into very high mountains addressing various plant conservation-related topics—and it worked. I got such good feedback from participating children and the teacher, as well as accompanying parents, that I introduced public education at the University Botanic Gardens in Innsbruck. (At that time, only some guided tours were offered to public visitors each year.) I went to Kew Gardens and met Gail Bromley. She was very supportive and gave me very useful advice on how to set up a botanic garden education program from scratch. Today, we have an average of 3000-4000 children from 3-18 years attending activity programs at our garden each year.
What would you say your philosophy is on education and learning? Learning should be engaging, exciting and make people think.
What is your most memorable moment as a plant-based educator? Some years ago, a teacher booked a guided tour for her students, ages 16-17 years. She asked us not to do an intense and time-consuming program because her students get bored rather easily. She told us that it is so difficult to motivate students in that particular age group to learn much about plants anyway. The reason why she was able to convince them to come to the Gardens was the promise that after the visit, they would have some free time to go shopping in the town before heading home on the 6 o'clock train. We did a one-hour program (usually we do two hours), but as soon as we wanted to stop, the pupils begged us to continue because the learning was so exciting and they wanted to learn more about plants. They stayed for another hour, and I think the only one who wanted to go shopping was the teacher!
What is your favourite teaching technique? Inquiry-based teaching.
What teaching resource could you not do without? Living plants.
What is the one thing you want your audiences to go away knowing? Plants are interesting. It is worth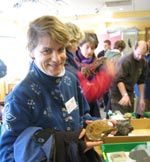 Suzanne with fossil find
at the BGEN conference 2005

learning more about them and caring for them

What one piece of advice can you offer to an educator starting up an education
programme in a botanic garden? Whatever you want to tell the audience, do not talk more than seven minutes without engaging people in active learning. Make it exciting and perfectly simple, but be sure it is correct.

For more information about the University Botanic Garden's programs, email Suzanne Kapelari Suzanne.Kapelari@uibk.ac.at or visit the Garden's website.