Print this Page
In the Spotlight - Malta Qwathekana
- June 2007
BGCI Education Team
Name: Nopasika Malta Qwathekana
Organization or institution: South African National Biodiversity Institute (SANBI)
Location: Pretoria in Gauteng Province, South Africa
Position: Director: Environmental Education
How long have you worked in plant-based education? 4 years
How did you become involved in plant-based education?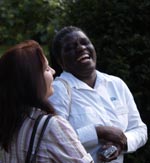 Malta with Alla Andreeva at the 6th Intnerational Congress on Education in Botanic Gardens

SANBI develops and manages botanical gardens throughout the country (South Africa) and I work for SANBI as the Head of Environmental Education (EE). In the Unit that I manage, we run EE Programmes that are intended to use plants in educating schools and communities on how to conserve our natural heritage. We therefore invite target audiences to the botanical gardens for these sessions. We also run parallel programmes called Outreach Greening programmes, where we assist in developing indigenous waterwise gardens in schools and communities.
These gardens are intended for beautification and for education purposes. Beneficiaries are therefore educated on the importance of plants as well as how to conserve plants in their immediate surroundings using these gardens as an education resource. Issues of conservation, endemism, threatened plant species, endangered plant species, rare plant species, and extinct plant species are emphasized using these developed gardens. Educating the target audiences about plants as habitats is emphasized by demonstrating how butterflies, birds and animals become dominant in the school and community gardens once they are developed. Plants of medicinal value and plants as food are also highlighted using the developed gardens. Fruit and vegetable gardens are also developed to complement the gardens as support to food security in schools and communities.
We also have a huge capacity-building component to empower educators in schools on how to integrate the gardens developed with and for them into the schools curriculum and hence using these gardens as teaching/learning resources. We also provide training on horticultural skills and other life skills to local communities so that they have alternative survival strategies other than heavy reliance on plants, and this assists in minimizing unsustainable plant harvesting.
We have recently introduced a huge R95.5 million-funded programme sponsored by the Department of Environmental Affairs and Tourism (DEAT) and called Greening of the Nation Programme, which focuses on developing gardens in schools and communities for beautification and educational purposes, job creation for beneficiaries as a strategy to alleviate stress to and over-dependence on natural resources, and training and capacity building to create more champions in plant conservation. Through developing and implementing all these complex but interesting programmes, I got involved in plant-based education.
What would you say your philosophy is on education and learning? Getting target audiences actively participating and taking ownership of processes involved, starting from the known (indigenous knowledge) to the unknown (scientific knowledge), and holistic approaches that take into consideration all the aspects involved.
What is your most memorable moment as a plant-based educator? When seeing how the use of plants to green and beautify the schools we are involved in has changed the face of the rural schools more than being used for educational purposes, the face of the rural projects we are involved in, the sense of ownership, the behavior of learners and educators when they realize how beautiful and professional their school yards look like after being landscaped and greened have been very inspiring and memorable moments to me.
What is your favourite teaching technique? Participatory, activity-based approach where learners get involved.
What teaching resource could you not do without? Worksheets for learners to demonstrate understanding of what was being taught and as follow-up exercises.
What is the one thing you want your audiences to go away knowing?
That the environment with all the natural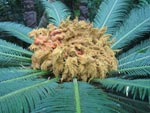 Malta's favourite plant - Cycad
resources, especially plants, is the basis for our existence, and without it as a foundation, development is unsustainable and our existence is threatened. Plants form the basis for our food (meat – we get meat from animals that eat plants; and vegetables); medication; building materials; and fresh air as plants act as pollution sinks.
What one piece of advice can you offer to an educator starting up an education programme in a botanic garden?
Think globally and act locally using integrated holistic approaches.
What is your favorite plant? Cycad
E-mail: Qwathekana@sanbi.org