'Geotourists' – The Next Big Thing for Botanic Gardens?
Volume 1 Number 1 - April 2004
Prof R. Benfield
Tourism is the world's largest industry with over 700 million international tourism arrivals in the world in 2002, and with receipts of approximately 501 billion Euros ($ 474 billion). In spite of a series of dramatic world events that adversely affected tourism growth since 2000, people have continued to travel. It is clear that the desire to travel for tourism purposes can only be delayed, not stopped.
One variable that stands out as a motivator for this latent demand is education. Tourists are becoming more educated and in turn demand more education. As a result, botanic gardens have a unique opportunity to impart their mission of conservation, education and sustainability to this latent receptive audience while increasing earned income. A recently released study of a current and potential consumer market in the United States, and of possible application to Europe, is what US researchers have called Geotourists. This study seems to identify and predict the garden tourist of the future, thus suggesting the market for botanic gardens.

Tourism Today
It has been popular over the last four or five years for tourism officials to blithely proclaim with some degree of certainty that tourism is the world's largest industry. These officials point out that there were over 700 million international tourism arrivals in the world in 2002, and that receipts amounted to some 501 billion Euros ($ 474 billion) or that $1.3 billion is spent every day on tourism. What has surely been understated over the last two years or so is the remarkable resilience of this industry to weather external influences and still post remarkable gains. For example, over the last two years, tourism has had to contend with terrorism (in such places as geographically divergent as the United States, Bali, Mumbai and Riyadh), war, SARS (not only in Asia but in such an unlikely place as Canada) and economic recession throughout the developed world. Although 2002 was certainly not an easy year, international tourism held up fairly well. According to data collected by the World Tourism Organisation, the number of international tourist arrivals grew by 2.7% in 2002 after a decrease of 0.5% in 2001. The 700 million mark was exceeded. Moreover, in those cases where international incidents of any nature dampen international tourism, in almost all cases domestic travel increases and compensates for the loss. It seems that little will stop people travelling.
What then are the motivators behind this demand to get away? Many studies have sought to isolate just what motivates people to travel. Stress relief, hedonism, bonding with family and thrills have all been attributed as causal factors, but the one item that correlates most closely with propensity to travel is education. It seems the more educated a person, the more that person travels and, in turn, the more of an educational experience they demand from their travels.
There is a certain irony in this trend. The ability and propensity to travel in the twenty first century is, in large part, both a part of and a result of the trend toward globalisation in the latter half of the twentieth century. The advent of free (or at least freer) trade, the transferability of employment in a global economy and increased consumption has meant a developed world with increased wealth and ability to consume travel destinations. In the process, environmental degradation has become a major concern and the drive toward sustainability is well underway. It is the conjecture of this, the first article in this special edition, that there is a strong, natural, and compelling link between education, tourism and gardens. In subsequent articles in this edition, the reader will see programmes from gardens putting into practice this link between education, tourists and gardens. As the reader takes in all the articles and examples he or she might come to conclude, as I have, that one of the primary missions of botanic gardens today should be to educate, and thus sensitise, the public toward the preservation of plant species. This part of our world heritage is increasingly under threat due to globalisation, and tourists as a major factor in the globalisation trend are quite possibly the primary agents to fulfill this preservation mission. In this way perhaps a loftier goal of seeing biological species as having an inherent worth may be attained.
The Importance of Tourists to Gardens and Gardens to Tourists
In the early nineties the journal Organic Gardening claimed that gardening was the most popular outdoor activity in America with some 78 million participants. In 1999 one-fifth of US residents, nearly 40 million Americans, went on a garden tour, visited a botanic garden or participated in some form of gardening related activity. This is more than visited Disneyworld and Disneyland combined! Botanic gardens are significant tourism attractions in themselves - in the United States, Chicago, Brooklyn and the New York Botanical Garden all boast visitation exceeding or close to a quarter of a million visitors per year while Kew Gardens, with almost one million visitors, is the twelfth most popular tourism destination in the United Kingdom.

Educational Travel
The learning aspect of travel has been documented by the Travel Industry of America, they found that about one-fifth of U.S. travellers, —30.2 million adults— have taken an educational trip to learn or improve a skill, sport or hobby in the past three years. Eighteen percent of travellers in the past year said that taking such a trip was the main purpose of their travel.

The Value of a Good Education
The link between a tourist population who demand participation and education is apparent in the data on education levels throughout a persons' lifespan. In the United States today, 80 % of the population has a high school education, up from 55% in 1970. In 2002, over 29% of the population had a higher or post-secondary degree of some kind, up from 15% in 1970. However, what is most remarkable is the rise of adult or lifelong learning. As the National Centre for Educational Statistics in the United States notes, lifelong learning can provide benefits for individuals and for society as a whole. Lifelong learning activities are formal activities including basic skills training, apprenticeships, work-related courses, personal interest courses, English as a Second Language (ESL) classes, and college or university credential programmes. Participation in adult education increased to 47% in 2001 from 34% in 1991. Most importantly to the world of gardens, work-related courses and personal interest courses were the most popular forms of adult education in 2001.

Participation in Adult Education
Table 8-1
Percentage of population age 16 and above participating in adult education activities, by type of activity: 1991, 1995, 1999, and 2001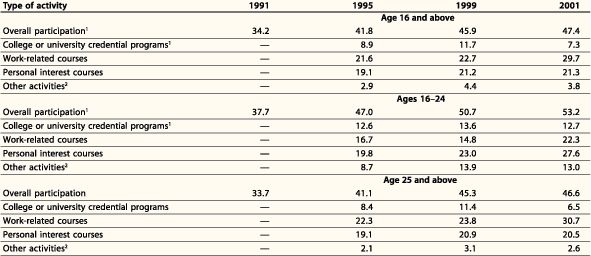 Source: National Centre for Education Statistics

Many educational professionals have concluded that the twentieth century industrial model of education for the young, work for the middle aged and leisure for the retired has been replaced in the post-industrial age with work, education and leisure being pursued by all three age groups. Seen in this way, gardens are unique in their ability to meet all the needs of this population - education, leisure and workplace relevance – the latter two by gardens specifically addressing stress relief, environmentalism and sustainability.

The Call of the Wild
It is rather unclear what role the natural biological nature of gardens and their conservation mission play in attracting tourists. It may be instructive to look at the link between the mission of zoos and aquaria, similar biologically based tourist attractions that presumably would have similar challenges. The mission of the American Zoo and Acquarium Association (AZA) states that "AZA zoos and aquaria are places where people connect with animals. The AZA is therefore dedicated to excellence in animal care and welfare, conservation, education, and research that collectively inspire respect for animals and nature".
A key component in the fulfillment of this mission is strengthening and promoting conservation education programmes for the public and the professional development for its members. The result of this commitment to conservation education in zoos and aquaria as living classrooms, is that zoos and aquaria teach more than 12 million people each year, and dedicate $52 million annually to education programmes. More than nine million students visit and enjoy onsite education programmes at zoos and aquaria each year - over three and a half million receive them free of charge.
Teachers are educated as well. Annually, almost 85,000 teachers profit from training workshops, special membership opportunities and free or discounted teaching materials. Virtually every group imaginable is reached through zoo and aquarium education efforts. Nine million people take advantage of onsite programmes for families, seniors, pre-schoolers and countless others.
Perhaps most pointedly, the public trusts the conservation message of zoos and aquaria. In a recent poll carried out by the Pew Charitable Trust (an independent non-profit organisation providing fact-based research and practical solutions), the public ranked zoos and aquaria among the most powerful and trusted sources on the environment today. It is this kind of trust in a garden's mission that gardens should surely wish to emulate.

Types of Tourists: the Importance of Geotourists
While it is a simple matter for gardens to find out who their current visitors are by means of entry or exit surveys, it is another matter to reach out to members of the general public not currently visiting the garden in order to fulfill this mission of education for a sustainable future. Unfortunately, mass marketing would probably be wasted, not to mention prohibitively expensive. Therefore, some method of isolating or segmenting these tourists who demand education, but with an environmental ethic, would be desirable.
In 2002, The Travel Industry Association of America (TIA) and National Geographic Traveller released results of the first, large-scale study of the current and potential American consumer market for what they called geotourism (www.tia.org/pubs/GeotourismPhaseFinal.PDF). This study claims there are 55 million Americans that can be classified as sustainable or 'Geotourists' and, most importantly, examines their travel habits and attitudes. It also identifies the travel habits of nearly 100 million travelling Americans who appear to be moving in the direction of geotourism.
The term geotourism was defined as "tourism that sustains or enhances the geographical character of the place being visited--its environment, culture, aesthetics, heritage, and the well-being of its residents". Obviously, the values and products most closely associated with gardens - environment, culture aesthetics, heritage and well-being are directly related to Geotourism.
The study surveyed a representative sample of 8,000 U.S. households and identified eight traveller segments or 'profiles' from the 154 million Americans who have taken at least one trip in the past three years. The top three segments that have the strongest correlation with a 'Geotourist' ethic were called:
Geo-Savvys (16.3 million adult travellers)

Urban Sophisticates (21.2 million)

Good Citizens (17.6 million)
These three segments represent over 55 million American travellers, more than one-third of the total travel market. It is worth looking at these tourists a little more closely for it will be of interest to gardens that all of these segments have a desire for more educational elements and active involvement in their travel experiences.
Geo-Savvys and Urban Sophisticates:
Show a distinct preference for culturally and socially-related travel.

Intellectual curiosity as reflected in their well-above average tendencies to participate in a number of educationally and culturally-oriented activities in their local communities.

More highly developed social consciences, engaging in pro-environment behaviors at home and actively support environmental and cultural organizations more than the other segments.

Geo-Savvys are distinguished by their well-above average interest in environmentally-oriented travel.

Urban Sophisticates are more oriented to large city destinations and the cultural opportunities they provide.

Good Citizens are older, with about half of them 55 years of age or older. They also show strong involvement in a variety of community activities, as well as heightened levels of cultural and environmental awareness and sensitivity, but these tendencies are less obvious in their travel behaviors.
The Geotourism study also identified three other segments of the tourism base as having good potential as Geotourism markets. They represent approximately 38 percent of all U.S. adult travellers (58 million) and are termed:
The Traditionals (16.1 million adult travellers), older and not as inclined to travel as many of the other segments

The Wishful Thinkers (22.3 million) are at the other end of the age spectrum, dominated by members of Generation X and Y

The Apathetics (19.9 million)
Traditionals and Apathetics, are conservative in their travel choices, looking for predictability, and high levels of cleanliness, safety and security. Wishful Thinkers want to travel more than they do now and be very busy and active when they do. They are looking to be entertained and to have fun when they travel.
The Marriage of Governments, Tourism and Botanic Gardens
This article began by suggesting that there was a new era beginning in travel and tourism, of a more education-seeking, active, multi-generational tourist. The tourism industry has responded to this realisation by reaching out to the other two stakeholders in tourism – government and industry – to coordinate the tourists' needs with the supply of appropriate products. On October 7, 2003, the World Travel & Tourism Council (WTTC) revealed its Blueprint for New Tourism, which issues a call to action for both government and the industry to make several long-term commitments to ensure the prosperity of travel and tourism. The Blueprint contains a new vision for tourism and strategies to guide its development. WTTC's latest projection for the industry is that a quarter of a billion people will work in tourism worldwide by the end of the decade, catering to over 1 billion international arrivals. Of the worldwide arrivals by 2020, 1 billion will be intraregional and 0.4 billion will be long-haul travellers. The total tourist arrivals by region shows that by 2020 the top three receiving regions will be Europe (717 million tourists), East Asia and the Pacific (397 million) and Americas (282 million), followed by Africa, the Middle East and South Asia. To meet this challenge the tourism industry is committed to sustainable growth into the future.
n order to meet the challenges ahead and achieve the vision, the Blueprint establishes three fundamental conditions:
Governments must recognise tourism as a top priority

Business must balance economics with people, culture and environment

All parties must share the pursuit of long-term growth and prosperity
To meet these conditions one of the requirements is for governments to plan for sustainable tourism growth, in keeping with cultures and character. New tourism focuses on benefits not only for people who travel, but also for people in the communities they visit, and for their respective natural, social and cultural environments – a focus for which botanic gardens are uniquely placed to respond with their products of education, conservation and sheer intrinsic beauty and enjoyment.

Résumé
Le tourisme est l'industrie la plus importante du monde, avec plus de 700 millions de touristes internationaux reçus dans le monde en 2002 et environ 501 milliards d'euros de recettes (474 milliards $). Malgré une série d'évènements dramatiques au niveau mondial qui ont affecté le développement du tourisme depuis 2000, les gens n'ont pas arrêté de voyager. Il est clair que le désir de voyager pour le tourisme ne peut pas être arrêté, mais seulement reporté. L'éducation est l'un des motifs qui ressort et qui permet d'expliquer l'envie de voyager. Les touristes sont de plus en plus éduqués et demandent, à leur tour, plus d'éducation.
C'est pourquoi les jardins botaniques ont une chance unique d'assurer leurs missions de conservation, d'éducation et de développement durable auprès de ce public potentiellement réceptif, tout en augmentant leurs recettes. Une étude parue récemment sur un marché actuel et potentiel de consommateurs aux Etats Unis et sur son application possible en Europe, désigne ces « Géotouristes », comme ils sont nommés par les chercheurs US. Cette étude semble annoncer et décrire les touristes de jardins du futur, et suggérer ainsi un marché potentiel pour les jardins botaniques

Resumen
El turismo es la industria más grande del mundo, con más de 700 millones de llegadas de turistas en el año 2002 y con percepciones de aproximadamente 501 billones de Euros ($474 billones de dólares). A pesar de los dramáticos eventos mundiales que han repercutido en el incremento del turismo desde el año 2000, la gente continúa viajando.
Es claro que el propósito del turismo de viajar, puede solo posponerse más no detenerse. Una variable que se vislumbra como motor de esta latente demanda es la educación. Los turistas tienen cada vez mayor nivel de educación por lo que demandan también más educación.
Como resultado, los Jardines Botánicos tienen una oportunidad única para impactar con su misión de conservación, educación y sustentabilidad para esta latente audiencia receptiva, incrementando asimismo sus ingresos. Un estudio reciente sobre el actual mercado de consumo de los jardines botánicos en Estados Unidos, y de posible aplicación en Europa, es lo que los investigadores norteamericanos llaman geoturistas. Este estudio pretende identificar y predecir el turista del futuro, por lo que brinda ciertas sugerencias para el mercado de los Jardines Botánicos.

About the Author
Professor R. Benfield is coordinator of the tourism program at Central Connecticut State University
1615 Stanley Street
New Britain
CT 06050
1 860 832 CCSU
benfieldr@ccsu.edu