Education Planning for Financial Survival
Volume 2 Number 2 - October 2005
Barbara McKean, Royal Botanic Gardens, Canada
Royal Botanical Gardens (Canada) prepared a Master Plan for Education over a one year period between Autumn 2002 and 2003. A request for proposals (RFP) was circulated to education and interpretation planning consultants. Due to increasing revenue generation pressures, a heavy emphasis was placed on business planning experience; rather than just education and interpretation planning experience. The winning proposal was a joint submission by an interpretation/education planning firm and a business management consulting firm.
A team composed of staff, the selected consultants, and community advisors worked cooperatively to articulate a mission and goals for education; look at the broader vision for programming and how it may be prioritised; examine best practices in education at other large gardens in Canada and the US.; and analyse financial performance of existing programmes.
New programmes were recommended, as were actions that could help the Education Department break even or generate a small surplus each year. These actions included some fee increases, new attendance targets, and new targets for soft dollar generation through donations, grants and sponsorships. The consultants developed a planning tool to help with decision-making and evaluation of programmes. This Compatibility and Financial Matrix evaluates programmes based on their actual or potential financial contribution and their institutional or mandate 'fit'. The obvious first choice are programmes that are financially successful; while advancing the mandate and meeting departmental goals.
Soon after the plan was approved by the RBG Science, Horticulture and Education Advisory Committee in 2004, revenue generation targets were again increased. In Summer of 2005, the Education Department has been tasked with the goal of being consistently profitable based on full overhead costs.
Introduction
While education has always been a key part of the work of Royal Botanical Gardens, it has definitely had its share of ups and downs over the past 10 to 15 years. Like education and interpretive programmes in many publicly funded heritage institutions, agencies and parks in Canada, our education budget was historically considered 'soft', and staff reduction and reorganisation through the 90s took a huge toll. For a short while, I was the only person left of what had been an eight to nine member team. With the help of strategic partnerships and outside support, we have managed to regroup and grow. Along with the rest of the organisation, we have had to become much more entrepreneurial in our outlook and operations.
By the early 2000s, after years of cuts, and some years of rebuilding, our programming load was diverse, popular and financially successful; but scattered. Along with being part of our core mandate, education had become a considerable source of income for the Gardens. Our four full-time staff were spread very thinly though, and taking advantage of new opportunities had become challenging – we were running flat out just to keep the current balls we were juggling up in the air. The time available to initiate new activities was limited (in fact, taking time to even think about initiating new activities was impossible! Does this sound familiar?). We had made huge steps towards a goal of a balanced budget; but the pressure was on to further increase revenue generation. The need to focus our efforts was apparent, and so in 2001 we applied for funding to develop a Master Plan for Education. As we stated in the request for proposals (RFP):
"In 2001, an internal reorganisation brought RBG's educational functions back into one division. These services include public programming, school programming, and interpretation. The development of a unified Education Department provides an excellent and timely opportunity for us to review our past activities, evaluate our current ones, and look ahead to the future. Our most basic programming goal is to offer a wide range of relevant and high-quality programmes that support our mandate, on a profitable basis. Our ultimate goal though, is the development of public understanding and appreciation of the relationship between the plant world, humanity and the rest of nature."
Our funding application was delayed for the better part of a year while our eligibility for lottery funds was reviewed, and in the intervening time, revenue generation became an even larger priority for us. By the time we received funding in mid-2002, the pressure to increase revenues were so great that the RFP I ended up preparing and distributing was quite different than what I had drafted a year earlier. The need for business planning expertise became a key selection criterion, with the winning bid jointly submitted by an education/interpretation planning firm and a business management firm.
The Process
In the RFP, we said that we were
"… searching for a consultant/facilitator who will work with our staff and a broad-based advisory group representing various sectors of our programme, to develop a vision and strategy for the future of education at RBG. We are not simply looking for an outside vision; but rather are searching for a person or team who can lead us through the critical steps needed to define and refine our own vision while providing guidance and drawing on their own insight and range of experiences in educational programming."
Once the contract was awarded to the Blue Sky Design/TCI Management Consultants team, the major steps in the process were as follows:
initial working sessions with staff to begin to articulate a mission and goals for Education - these meetings continued throughout the process
a planning retreat with a multi-sectoral advisory group and staff, to look at the broader vision for programming and how it may be prioritised
research survey by the consultants focusing on best practices in education at other large gardens in Canada and the U.S.
analysis of financial performance by the consultants
development of interim and final reports and recommendations
The fourth step in the process was in some ways one of the most daunting. When financial pressures increase in education, deciding how and where to draw the programming line becomes a challenge. When I was first asked to lead the newly amalgamated department, I was directed to see if we could "sniff out any low-hanging fruit" that we weren't already capitalising on – in other words, were there any good botanic garden education programmes that would be a breeze to set up, have no appreciable operating costs, and bring in buckets of loot? I wish! I had hoped the consultants might come across a few; but it seems those types of programmes don't grow on trees (or any other kind of plants for that matter!). Coming up with other programmes that are perhaps slightly more crass, and don't necessarily work with your 'brand' or programming mix may sometimes be less challenging, but are they appropriate? How can one evaluate their 'match' and financial potential with as much objectivity as possible?
Enter the Matrix
No, it's not the movie – it's an assessment tool. The staff at TCI Management Consultants developed a Compatibility and Financial Matrix to help us evaluate our current programming, as well as future plans. While this isn't rocket science, it articulates and objectifies the work that botanic gardens educators instinctively do on a daily basis, and we are happy to share it in the event that it may be helpful to other gardens and arboreta.
Basically, any program can be mapped onto a matrix using 1) compatibility with your mission/goals, and 2) the associated financial outlook, as the two axes. The resulting matrix looks like this: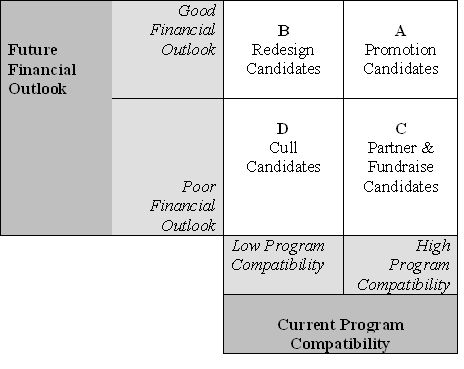 Based on where things graph out,
area A programmes could be expanded and promoted to maximise profitability
area B programmes should be adjusted to work better within the mandate. They may be retained to the extent that they generate a net financial gain, or are particularly important in order to meet public expectations
area C programmes work well with the mandate; but don't generate sufficient revenue on a user-pay basis. They may however, be good candidates for sponsorships, donations or grants
area D programmes are a weak fit and don't bring in sufficient revenue. They may be tolerated as new or innovative programmes, but should be culled if performance can't be improved.
Initially, the evaluation scales may need to be adjusted so that the bulk of your programmes are mapped into the central area of the chart. As shown in the chart below, which maps our full programme portfolio, the scales may be a bit askew. When our programmes were reviewed by staff using the index provided, we found that most were scored higher on the compatibility index than the future financial outlook index, and so the axes were adjusted accordingly.
Educational Portfolio Mix for RBG Current Programmes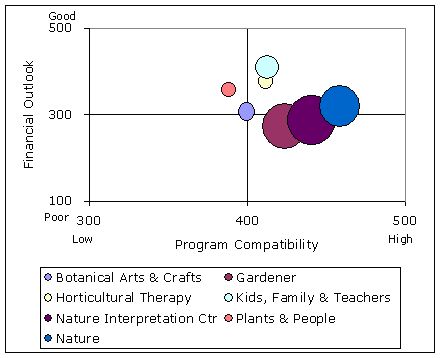 This chart groups whole categories of programmes together; but we also used it to assess individual programmes within each category. Numbers were generated based on assessing each programme's fit/potential fit to each of our departmental goals (on a scale from one to five), and, to a series of financial goals (again, on a scale from one to five). Financial goals included criteria such as the ability to increase attendance, to increase price, cut costs, subsidise with grants/sponsorship, or attract partners.
The Results
As directed at the time of its preparation, our Master Plan proposes actions we could take to fully recover all costs (salaries plus programming and promotion costs), and perhaps generate a modest surplus over the next few years. These actions included some fee increases, new attendance targets, and targets for 'soft dollar' generation through donations, grants and sponsorships. We have a list of programme suggestions and refinements from the plan, and we're on the way towards implementing some of these. The plan still does not have full board approval, as our board has been preoccupied with an enormous financial crisis that RBG has been dealing with since the spring of 2004. Our Science, Horticulture and Education Committee endorsed the plan last June but, because of the crisis, have not yet been able to present it to the board for official adoption.
However, as a direct result of this crisis, the Education Department's revenue generation target has been increased substantially. We are now faced with the daunting prospect of generating a profit after our full overhead has been assessed (this includes insurance, legal costs, supervision costs, depreciation of buildings and equipment and their operating costs, and other overheads). Though some of the Master Plan will become obsolete under these new guidelines, we expect that it will continue to help us to assess new programme options and evaluate older programmes in order to meet these new challenges.
The Master Plan for Education, Royal Botanical Gardens was funded by the Ontario Trillium Foundation. The plan was prepared by Blue Sky Design (www.blueskydesignconsulting.com) and TCI Management Consultants (www.consulttci.com).


Résumé
Le Royal Botanical Gardens (Canada) a préparé un plan directeur pour l'Education au cours d'une période d'un an allant de l'automne 2002 à 2003. Un appel d'offre a été diffusé auprès des consultants en planification pour l'éducation et l'interprétation. Suite à l'augmentation des pressions sur les recettes, un fort accent a été mis sur l'expérience en planification commerciale et pas simplement sur l'expérience en planification en éducation et en interprétation. La proposition qui en est sortie victorieuse était une soumission commune de la part d'une compagnie de planification en éducation et interprétation et d'une entreprise de consultants en commerce et en direction d'équipe.
Une équipe composée du personnel, des consultants sélectionnés et des Conseillers Communautaires a travaillé en coopération pour définir une mission et des objectifs pour l'Education, avoir une vision plus large pour réaliser la programmation et savoir dans quel ordre de priorités procéder, examiner les meilleures pratiques en éducation dans les autres grands jardins au Canada et aux Etats-Unis, et enfin analyser les performances financières des programmes existants.
De nouveaux programmes furent recommandés, ainsi que des actions qui pouvaient aider le Département d'Education à équilibrer son budget ou générer un léger surplus chaque année. Ces actions comprenaient l'augmentation de certains tarifs, de nouveaux objectifs d'assiduité et de nouvelles stratégies pour produire de « l'argent facile » par l'intermédiaire de donations, de subventions et de parrainage. Les consultants ont développé un outil de planification pour aider à la prise de décisions et à l'évaluation des programmes. Cette matrice de compatibilité et de financement évalue les programmes basés sur leurs contributions financières réelles ou potentielles et la pertinence en matière institutionnelle ou de mandat. Le premier choix évident était d'avoir des programmes financièrement rentables compatibles avec le bon déroulement du mandat et les objectifs du Département d'Education.
Peu après le plan a été approuvé par le Comité Consultatif en Science, Horticulture et Education du Royal Botanical Gardens en 2004 et les objectifs de production de recettes furent encore augmentés. L'été 2005, le Département d'Education a reçu pour objectif d'être suffisamment rentable pour couvrir constamment les frais généraux.


Resumen
En el periodo de un año los Reales Jardines Botánicos (Canadá) prepararon un Plan Maestro para la Educación, otoño 2002 - 2003. Se circularon a expertos en planeación y educación peticiones para solicitudes (RFP) a concurso. Debido al incremento y presión de los ingresos fiscales, se hizo fuerte énfasis que participaran expertos en negocios de planeación o agendas, no solamente con experiencia en educación e interpretación. La propuesta ganadora fue presentada por un equipo de profesionales en interpretación/educación y asesores de empresas.
Un equipo selecto de asesores, y una comunidad de consejeros trabajaron en conjunto para llevar a cabo la misión y metas para educación; con vista a un programa de amplia visión, enfocado a como se pueden priorizar tareas; asimismo examinar las mejores practicas en educación en otros jardines grandes en Canadá y los Estados Unidos; por ultimo para analizar el desempeño financiero de los programas ya existentes.
Se recomendaron nuevos programas así como actividades que pudieran ayudan en los diferentes departamentos a producir pequeños beneficios año con año. Estas actividades incluyeron incremento en algunos costos, nuevos objetivos y nuevas metas para generar divisas intercambiables a través de donativos, becas y patrocinio. Los consultores desarrollaron un plan-herramienta para facilitar la toma de decisiones y la evaluación de programas. Esta compatibilidad y matriz financiera evalúa los programas en base a su potencial verdadero o contribución financiera y su mandato o necesidades institucionales. La primera opción obvia es seleccionar que programas son exitosos financieramente, al mismo tiempo que se implementa el mandato y cumplimiento de las metas departamentales.
En el 2004 tan pronto como el plan fue aprobado por los comités Científico, de Horticultura y Educación del Real Jardín Botánico, se generaron de nuevo metas a incrementar o implementar. En el verano del 2005, el Departamento de Educación ha tenido como cometido el objetivo de ser consistentemente redituable en base a gastos totales indirectos.
About the Author
Barbara McKean is the Manager of Education at Royal Botanical Gardens, 680 Plains Road West, Burlington, Ontario, Canada L7T 4H4. Tel: (1) 905 527 1158 ext. 247. Fax: (1) 905 577 0375
Email: bmckean@rbg.ca. Website: www.rbg.ca