Interpretive Master Planning – Keep Your Garden Growing
Volume 2 Number 2 - October 2005
John Veverka
Summary
It's not just botanical gardens that need the care and feeding provided by Interpretive Master Plans –all heritage attractions do. From parks and zoos to other heritage areas – they all need interpretive master planning to keep them growing. By growing I mean that interpretive programmes, services and media can be created that:

are actually interpretive instead of just informational
effectively communicate their main messages to visitors in a format that visitors understand and relate to, and
help accomplish the main mission and goals of the agencies involved.

Thus interpretation keeps your garden growing in visitation numbers, through support by visitors and increased membership numbers. Planning also drives the physical growth of interpretive programmes, services and outreach activities. The benefits help you focus on the short and long term accomplishment of your mission, help you make long term cost effective interpretive programmes and media decisions and help develop your marketing strategy.
What is Interpretation?
Let's start by taking a look at a definition of interpretation:

Interpretation is a communication process designed to REVEAL meanings and relationships of our natural and cultural heritage to visitors through first-hand involvement with objects, artifacts, landscapes, built features, experiences and sites (Tilden, 1954).
To be 'interpretive', I advocate that the communication process must follow or be based on Tilden's interpretive principles (Tilden, 1954). That is, the interpretive communication process must:
provoke attention, curiosity or interest in the visitor
relate to the everyday lives of the visitors. (why would a visitor want to know this?)
reveal the main essence of the story message in a memorable way (the 'Oh yes'effect)
address the whole – that is work to illustrate a common theme, message or 'big picture' concept for the visitor – the one main idea you want them to take away
strive for message unity – use supporting/design materials (sounds, colours, materials, graphics, etc.) that thematically support the message.

When we develop an interpretive master plan, the job of this plan is to insure that the above principles are used across the whole site in every presentation – trails, outdoor displays, live programmes, visitor centre exhibits and other related media.
What is an Interpretive Master Plan?
Imagine your garden as a 500-piece puzzle. What visitors see as they move through the grounds may very well be these puzzle pieces in random order; not receiving a clear message of who you are, what you do, and why you do it (your mission). What an interpretive plan does is provide the picture on the cover of the puzzle box for both the visitors and for you. It helps you organise your main messages for visitors so they can clearly understand them throughout their visit. It also helps you create your strategy and deliver those messages at key interpretive sites and areas.

Parts of an Interpretive Master Plan
The essential elements of an interpretative planning process are presented in the diagram below.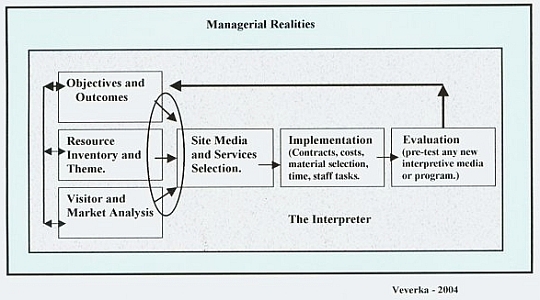 Managerial Realities
The large box represents the managerial realities, the challenges you face with issues such as budget; available staffing, political support, time, existing policies or directives, mission, etc. I recommend identifying these at the start of the interpretive planning process so we can plan with these challenges in mind.

The Interpreter
The box inside the managerial realities' box is called 'The Interpreter'. That's you if you're the interpretive planner, or your planning team. There's always more than one right answer, and each interpreter or team brings their own unique values, ideas, creativity and knowledge to the project. Then within this box is the interpretive planning process, which I have divided into a series of tasks.

Objectives and Outcomes
An interpretive plan must clearly identify the specific objectives, that need to be accomplished by the interpretation, to provide a total botanical garden experience for visitors. These will include learning, behavioral and emotional objectives. For example:


Learning Objective: Upon completion of reading the interpretive panel the majority of visitors will be able to identify three (s) key components of a plant's reproductive strategy.
Emotional Objective: Upon completion of their visit to the Botanical Garden the majority of visitors will value and appreciate their native plants in a new and more powerful way.
Behavioral Objective: Upon completion of their visit to the Botanical Garden 10% of the visitors will want to consider landscaping their home gardens with native plants.
Resource Inventory and Theme
This involves conducting a complete inventory of all the interpretive sites and resources that we want to interpret. From this inventory we are then able to develop our main interpretive theme, sub-theme and story line that we want to present and illustrate to visitors. I generally allocate a code (G = Geological, etc.) to each category as a way of grouping interpretive resources. For example, we may conduct an inventory of the following:

G – Geological sites and Features
B – Botanical Habitats
BD – Botanical Demonstration Areas
SBD – Seasonal Botanical Demonstration Areas
F – Facilities (Interpretive Centres, Gift shops, etc.)
H – Historical sites, facilities or features
R- Research sites, demonstrations or programmes
These codes appear on a standard interpretive planning form to help identify each unique interpretive site or feature within the property (see www.bgci.org/education for a sample of completed forms). So if we have seven different biological habitats within the garden, each will be coded as: B-1, B-2, B-3 and so on.

Visitor and Market Analysis
We also need to know as much about our visitors as possible - who they are, where they come from, age groups and related demographics, seasonal visitation patterns, and their main motivations for the Garden visit. What do THEY want to know, learn, or experience with you today?

Site Media and Services Selection
Here we look at all the sites within the inventory, and consider the objectives we want to accomplish garden-wide, matching up the objectives with the locations. A standard interpretive planning form is used to record this. For each planning form for each individual site we include:

interpretive significance of the site or feature (why are we interpreting it?)
interpretive concept we want to use this site to illustrate (ecological principle, adaptation, stewardship issues, etc.)
site objectives – things we might need to do to prepare the site for visitors, such as add a paved walkway, viewing area, benches, etc.
interpretive objectives. These are the main ideas or concepts that we want the visitors to learn, feel, or do
the recommended media to accomplish those objectives, such as an interpretive panel, demonstration planting, live program, interactive exhibit, self-guiding booklet or other media or services. Also the estimated costs for developing those media.
Implementation
I usually do a summary matrix of all the interpretive sites. On the vertical axis I put the recommended interpretive sites from the inventory. On the horizontal axis I put the recommended media, fiscal year, and costs. This way I can do a 3-5 year implementation strategy for implementation and budgeting of the total interpretive plan programmes, services and media.
Evaluation
One of the most important parts of the interpretive plan is the EVALUATION section. It is critical that you provide a strategy for pre-post testing any new interpretive programmes, services and media to make sure they are accomplishing their objectives. If you paid $2000.00 for an interpretive exhibit – do you have proof that you are getting $2000.00 in benefits from that exhibit?
Conclusions
An Interpretive Master Plan can help you organise the way in which your Botanic Garden presents information and communicates its value to visitors, the community, and perhaps regionally or nationally. By enabling visitors to make sense of their visit and increasing their perception of the benefits they receive, interpretation can encourage repeat visits and support activities such as ecotourism. With careful planning, the interpretive plan will organise the garden's sites, trails, experiences and stories in a way that can help protect the resource while engaging and inspiring visitors.

The development of an Interpretive Master Plan ensures that your messages are truly connecting with, and being understood by your audience in the most cost effective way possible. Can you truly be successful with out one?
References
Tilden, Freeman (1954) Interpreting our Heritage. University of North Carolina Press, USA
Schmitt, Bernda H. (1999) Experiential Marketing. The Free Press
Veverka, John A. (1994) Interpretive Master Planning. Acorn Naturalists, Tustin, California, USA. www.acornnaturalists.com.



Résumé
Il n'y a pas que les jardins botaniques qui ont besoin des soins et de la nourriture apportés par les plans détaillés d'interprétation. C'est le cas de toutes les attractions ayant un intérêt patrimonial. Des parcs aux zoos en passant par les autres lieux patrimoniaux, tous ont besoin d'un plan détaillé d'interprétation pour rester en pleine croissance. Par croissance, je veux dire que les programmes d'interprétation, les services et les médias peuvent permettre:

Qu'ils délivrent aux visiteurs leurs principaux messages d'une façon efficace et compréhensible, qui soit proche des visiteurs, et
Ainsi, l'interprétation permet de garder votre jardin en pleine croissance par le nombre de visites grâce au soutien apporté par les visiteurs et l'augmentation du nombre de membres. Le plan permet également de conduire le développement physique des programmes d'interprétation, des services et des activités à large spectre. Les bénéfices vous aident à vous concentrer sur les accomplissements de votre mission à court et long terme vous aident à réaliser des programmes d'interprétation et des décisions médiatiques qui soient rentables sur le long terme, et vous aident à développer votre stratégie commerciale.


Resumen
No solamente los jardines botánicos necesitan cuidado y de planes rectores interpretativos; de hecho todos los centros histórico y culturales lo requieren. Desde los zoológicos hasta otros centros de nuestro acervo histórico-cultural necesitan de planes rectores interpretativos para mantenerlos en constante crecimiento. Por crecimiento, quiero decir que los programas interpretativos, servicios y medios pueden ser creados para:
comunicar en forma efectiva los principales mensajes al visitante de forma que lo entienda y relacione,
En este sentido, el plan interpretativo manteniendo tu jardín creciendo permite el crecimiento del jardín en términos de visitantes y nuevas afiliaciones. La planificación también regula el crecimiento físico de los programas interpretativos, servicios y actividades de superación. Los beneficios ayudan a enfocarse en los éxitos a corto y largo plazo logros de tu misión; ayuda también a hacer éxitos en términos de costos a largo plazo los programas interpretativos y las decisiones comunicacionales y ayudan a desarrollar las estrategia de mercadeo.
About the Author
John Veverka is President of John Veverka & Associates, 2069 Ashland Avenue, Okemos, Michigan 48864, USA. Tel: (517) 347 2166. Fax: (517) 347 2064. Email: jvainterp@aol.com. Website: www.heritageinterp.com