New Pan-European Education Project
BGCI is delighted to be a partner in INQUIRE, a newly funded European Union project which aims to reinvigorate inquiry-based science education (IBSE) in formal and informal education systems (specifically Learning Outside the Classroom sites) throughout Europe.
Designed to reflect how students actually learn, IBSE also engages them in the process of scientific inquiry. Increasingly it is seen as key to developing their scientific literacy, enhancing their understanding of scientific concepts and heightening their appreciation of how science works.
Whereas traditional teaching methods have failed to engage many students, especially in developed countries, IBSE offers outstanding opportunities for effective and enjoyable teaching and learning. It provides stimulating environments for students to explore their learning in authentic situations.
Knowledge is built through testing ideas, discussion with teachers and peers, and direct interaction with scientific phenomena. In fostering a practical, hands-on approach, IBSE can lead to a 'minds-on¹ comprehension of scientific concepts.

The objectives of INQUIRE are:
To introduce IBSE in formal and informal settings on a large scale
To snowball best practice pedagogical approaches through practitioner training
To establish a key network of educators, teachers, teacher trainers and researchers for the revival of IBSE
To offer front-line support to teachers and informal educators to practice IBSE
To use IBSE to engage young people in a scientific discourse about biodiversity conservation and climate change
To bridge the gap between educational researchers and practitioners
To support the development of European wide standards for evaluating formal and informal education programmes
To make the case for inquiry and context based learning
To examine the implementation of curriculum based innovations
To stimulate and motivate science learning from the earliest stage
To increase self-confidence in girls to study science

Coordinated by Innsbruck University Botanic Garden with support from Botanic Gardens Conservation International, INQUIRE will involve 17 partners in 11 countries. A one-year training course will be developed for LoTC educators in inquiry-based learning methods, research methodology and assessment techniques. Through training, ongoing mentoring and promotion of best practice, the project will aim to roll this course out to as many providers as possible and embed this pedagogy within European education systems.

The subject content of the course will focus on the major global issues of the 21st Century: biodiversity loss and climate change and will build on already published teaching resources as well as on newly created resources. Botanic gardens and other LOtC institutions are wonderful learning sites for children and adults alike. Engaging these sites in offering teacher training courses in IBSE techniques will be an effective way to motivate teachers to implement inquiry learning in classrooms.
If you would like to find further information about the INQUIRE course visit http://www.inquirebotany.org/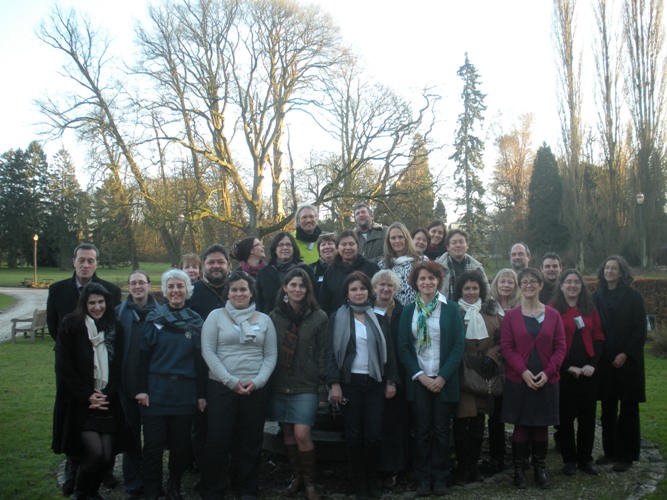 Partners at the Inaugural meeting of the INQUIRE project, Brussels, 20-21 January 2011
The INQUIRE project kicked off with the partners' inaugural meeting which took place in Brussels, 20 – 21 January 2011 at the National Botanic Garden of Belgium. The meeting was a good opportunity for the partners to meet each other, and discuss issues such as the different phases of the project, possible models for the training courses that will be appropriate for each country, dissemination activities, the development of ethical guidelines, and next steps. Workshops of IBSE were also organised by Royal Botanic Gardens Kew, education staff to exemplify how IBSE can be implemented in practice.

IBSE workshop during the Inaugural meeting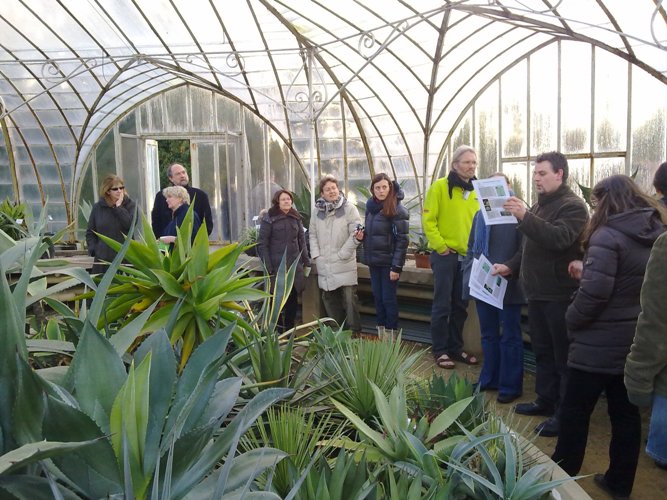 Guided tour at the National Botanic Garden of Belgium, Brussels, 20 – 21/01/2011
List of INQUIRE Partners:

1. University of Innsbruck, Institute of Botany, Austria
2. Botanic Gardens Conservation International, U.K.
3. King´s College London, U.K.
4. Museo Tridentino di Science Naturali, Trento, Italy
5. Royal Botanic Gardens, Kew, U.K.
6. Royal Botanic Garden, Madrid, Spain
7. University of Bremen, Institute of Biology Education, Germany
8. University Botanic Gardens of University of Sofia, Bulgaria
9. National Botanic Garden of Belgium
10. Schulbiologiezentrum Hannover, Germany
11. Bordeaux Botanic Garden, France
12. University of Coimbra Botanic Garden, Portugal
13. Botanic Gardens of the M.V.Lomonosov Moscow State University, Russia
14. University of Oslo, Natural History Museum, Botanic Garden, Norway
15. Botanic Garden & Rhododendron-Park, Bremen, Germany
16. Royal Botanic Garden, Juan Carlos I, Spain
17. University of Lisbon, National Museum of Natural History, Botanic Garden, Portugal