Planet in Peril: An Atlas of Current Threats to People and the Environment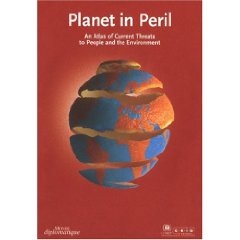 Plants in Peril brings together a wealth of information from the most up-to-date sources on key issues such as climate change, access to water, exploitation of ocean resources, renewable energy, genetically modified organisms and urban development. Written by an international team of specialists, this Atlas uses text, maps, graphics and diagrams to illustrate the interplay of relationships between the world's population and its ecosystems and natural resources. Philippe Rekacewicz, geographer cartographer for the Atlas, writes that 'Understanding our troubled world is not an easy task and the pace of change is ever quickening'. This Atlas provides a sharp perspective on environmental issues and is an excellent resource for educators.

UNEP/GRID-Arendal and Le Monde diplomatique, 42pp
GRID-Arendal publications may be ordered or purchased through EarthPrint www.earthprint.com, the official online bookshop of the United Nations Environment Programme.