Setting up and running a school garden: A manual for teachers, parents and communities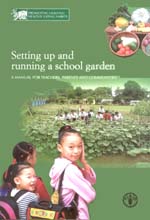 Schools in the West are currently under pressure to ensure they provide children with healthy food; this manual aims to address the issue on a global scale. Produced by the Food and Agricultural Organisation (FAO), the authors argue that education about nutrition must begin at an early age, with learning by doing - growing and eating their own healthy food within a school garden. Aimed at teachers working with 9 – 14 year olds, development of a school garden is thought to improve the social and physical wellbeing of the school community, and give students a better understanding of the natural world. The manual is to assist teachers, parents and communities, drawing on classroom experiences from across the world. Tips include deciding what will be needed, how big the garden will be, how much time it will take, and how to look after 'sick' plants, as well as more complex topics such as integrated pest management. All you could need for setting up your own school garden!

Available electronically at www.fao.org/docrep/009/a0218e/a0218e00.htm, or in Spanish (Crear y manejar un huerto escolar) at www.fao.org/docrep/009/a0218s/a0218s00.htm

Ellen Muehlhoff (ed), 2005
Published by the Food and Agricultural Organisation, Rome
Spiralbound, 208pp,
ISBN 92 5 105408 8

Shop at Amazon

By visiting Amazon using our link, anything you buy will help us continue our critical conservation work. (Just click on the 'powered by Amazon.co.uk' logo to go to the main Amazon site, a percentage of anything you buy will be donated to BGCI).